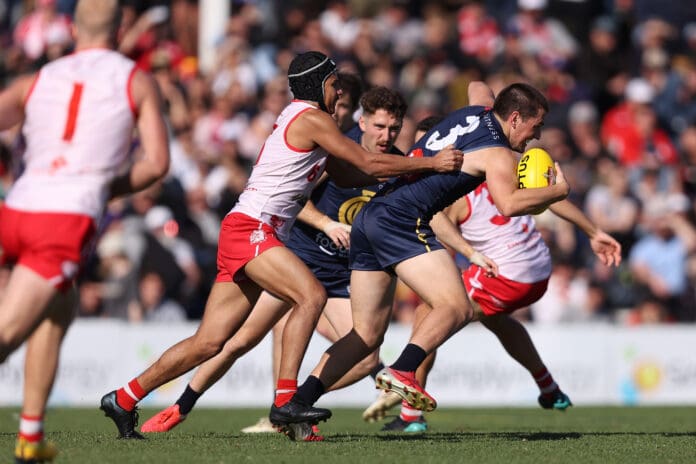 On Friday, April 7 at 1:40pm in Joondalup, the ball will bounce to start one of the most anticipated WAFL seasons in recent history.
All the pre-season talk will be over and the 10 teams will put their heads down and get straight to business on the footy field, with the very best from the west doing battle to lift the WAFL premiership cup.
Will West Perth go back-to-back?
Can Claremont come back from another grand final heartbreak?
Is this the year East Fremantle caps off their rise back to the top?
Can Subiaco rise back up to prominence?
Swan Districts for the five?
Come the last Sunday in September all will be answered. But what fortunes lay ahead for all 10 WAFL teams ahead of a sensational season? Let's take a look...
WEST PERTH
Season 2022 saw West Perth back on top after a nine-year hoodoo, and they go into 2023 with high hopes.
As for the coach, Darren Harris will be back as well, having returned to West Perth last year after being controversially sacked by Claremont in 2020.
Despite losing premiership heroes Anton Hamp [retired] and Trent Manzone [Perth], a lot of the players who were part of that flag will remain at West Perth for this season and it's honestly hard to find a standout in the team, as everybody plays their role very well within any 22 they put out on the field.
Aaron Black & Shane Nelson are stalwarts in midfield, but the depth is strong that they don't have to be relied upon to carry a huge workload.
Luke Meadows, Mitchell Pierce and Tristan Hobley burn through the midfield with solid run and carry, backed up by strong physical pressure, all averaging 25+ possessions a game.
Up forward, there is a spread of goalkickers who ramp up the scoreboard pressure, Tyler Keitel, Keegan Knott and Mitchell Dobson.
Meanwhile, down back there is a ruthless backline that proved valuable last year, led by Zac Guadagnin and Mark Hamilton. In fact, they only conceded 57.9 points a game.
There is no reason why West Perth can't go back-to-back this season, but the evenness of the competition will make it tougher to win.
West Perth will be right up there, giving it a real crack, with the perfect blend of talent at both ends of the ground.
PREDICTION: 3rd
CLAREMONT
One of the great things about Claremont is that they are always up their striving for a premiership. Last year was no exception, making it to their second grand final in three years, but like 2020, they fell short.
Ashley Prescott's side have the burning desire to achieve redemption.
It takes a lot to remain a contender six years in a row and the players in that team show the proof. Jye Bolton remains a stalwart at the club along with fellow Sandover medallist Bailey Rogers, both averaging 28 touches per game last season and will provide leadership to a strong Tigers spine, which is accompanied by some solid talent who shone last year.
Anchoring roles in defence for the two Declans, Hardisty & Mountford, provide such value for the powerful Tigers, and up forward Callan England is a valuable goal sneak.
Alexander Manuel's strong marking prowess inside 50 has also given opposition coaches plenty of headaches.
Youngsters like Zac Mainwaring, Lawrence Evans, Max Minear and Charlie Malone who all debuted last year will provide the Tigers with a strong blend into their side, exactly what is needed to contend for a premiership.
Having said all of that, being in contention for six years in a row and not winning a premiership has to sting for a powerful side like Claremont.
The grand final defeats of 2020 and 2022 may take an effect on the Tigers and this may shock the fans of the Yellow and Blue...
But they'll miss the five...
PREDICTION: 6th
EAST FREMANTLE
The resurgence of the Sharks as a contender after a decade in the doldrums was undoubtedly the story of 2022. There was plenty for the Sharks to be proud of following their heavy run to the preliminary final.
And there is a feeling that Bill Monaghan's boys have more in their sights in 2023.
What stood out in 2022 was their high attacking brand of footy, it was spectacular to watch with players like Jonathon Marsh electrifying up forward and captain Matthew Jupp taking charge of a strong back six that stops even the most potent of forward lines. And then there's the quality in the middle of Sandover medallist Blaine Boekhorst.
Monaghan, who is back at East Fremantle, is also an important factor here, he gels the playing group into a winning combination, he studies the opposition so well and can take his boys to another level of discipline and aggression out on the field.
East Fremantle will go into the season under some clouds however. Boekhorst will be out for at least half the season due to a knee injury sustained in Round 16 last year.
But when he comes back he'll add plenty of midfield zest for the Sharks to accompany the likes of Luke English, Ryan Lester-Smith and the quick Milan Murdock, who emerged as a dynamic midfielder who can break the congestion up the ground.
The returns of Cody Leggett, Dillon O Reilly and Hugh Dixon will make the Sharks a much stronger side than last year.
The stars will align for East Fremantle and 2023 will be the year that the drought will break.
PREDICTION: Premiers
SOUTH FREMANTLE
Seven finals campaigns in a row is nothing to be snoozed at for South Fremantle, but an elimination final loss, plus the retirements of several club greats, leaves the Bulldogs in an interesting position for 2023.
Even more interesting is that the Bulldogs will start the season two wins behind, due to a salary cap breach in early March that docked them $25,000 and eight premiership points.
Three champions called it a day at the end of 2022, Haiden Schloithe, Mason Shaw and Nic Suban all departed, but one champion is back, the rumbling rambo ruckman, Brock Higgins.
Higgins was a huge part in the Bulldogs' memorable 2020 premiership win, but left the club the following September, but after a year away he will go at it for another WAFL flag.
The Bulldogs were the best defence in the competition, averaging only 55 points a game, and with a strong backline anchored by Noah Strom, Blake Schlensog and Chad Person, they can be depended on to deliver the ball up forward effectively.
Their big issue last year was scoring. Several of the Bulldogs forwards were up and down on form, Mason Shaw and Brendan Donaldson struggled to get on the scoreboard consistently, but on their best day, they can provide the fire needed.
With the sprinkling of young guns the Bulldogs will bring in, it will add spark to an already strong lineup, as they are contenders with any 22 they put on the field.
Having missed the big dance last year, they'll be back, even if they start the season two wins behind the pack.
PREDICTION: Runners Up
PEEL THUNDER
Peel were impressive late in 2022 but a semi-final exit shattered their plans for a third premiership. But Geoff Valentine's boys are gearing up to threaten the top five.
It can be perceived that it was the Fremantle alignment that again drove the Thunder to success, but plenty of local players shone through for Peel after a tough season.
One of those was Ty Anderson, the dashing defender-mid who had an excellent first full season with the league team. His run off half-back was an important part of Peel's supply into attack, averaging 11 touches and stepping up to be important for the Thunder's 2023 campaign.
They were a more attacking side this year, scoring almost 90 points per game in 2022 and had forwards blossoming in their roles inside 50.
Sam Sturt's leading and goalkicking will continue to be important to Peel's forward setup, however they will miss Darcy Tucker as their strongman of the forward line who provided the side with added depth.
This season again will depend on how many players are selected for Fremantle and with the Dockers tipped to make the top four, Peel will find it tough to blood in other youngsters despite the strength they have on the field.
The Thunder may not strike this year.
PREDICTION: 7th
SWAN DISTRICTS
Looking at the side they had on the field most of the season in 2022, Swan Districts should have made the finals, but a final-round thrashing by Peel Thunder thwarted their plans.
Swan Districts go into 2023 with a new coach in Andrew Pruyn, who replaces Adam Pickering with a lofty outlook.
They were able to beat four of the top five sides from 2022, so more positives are the go-to looking ahead to this season.
What will stand out for the Swans this year is their midfield setup, and what a line, with Aidan Clarke burning through the guts and Samuel Fisher, whose effective disposal provides plenty of options further up the ground.
Jesse Turner on the wing will again be the prolific winger to watch after an outstanding 2022, he had averaged 30 touches in the last five games of the year and for taggers he will be the primary target.
A huge boost will be the continued improvement of Aidan Clarke, who blossomed in his role as a swingman between midfield and at half-forward and can show his quality as a brilliant onballer.
There will be welcome signs before the season begins, with a return to footy for Frank Anderson who missed half of last year with injury and the new signing Jesse Glass-McCasker to return is a good combo of youth and experience in a good side for Pruyn to lead back into the five.
2023 will be a Swans revival, and they won't just make up the numbers.
PREDICTION: 4th
SUBIACO
It was bizarre not seeing Subiaco in the finals in 2022, given they have been the dominant force of the WAFL for the last decade, but then again they weren't really in contention. Beau Wardman's side face a big battle to get back their status as the best in the land.
However, the Lions did have some positives after last season, Liam Hickmott anchored the midfield and was a consistent driver in the centre rotation.
So to was Stefan Giro, who was rewarded with selection in the WA state team with his spark along the wing, averaging 27 touches.
The same can be said for Leigh Kitchin, the Lions veteran again showed why he is one of the elite mids in the WAFL, averaging 30 touches a game and showing the leadership the Lions have seen as a key to premiership success.
There is also greater improvement in a lot of players despite a poor 2022. Jack Mayo can fire up forward, so to can Jakob Atkinson in tandem with Max Walters.
The Lions' backline took the biggest hit in Round 6 at the WACA against the Sharks, with Jordan Lockyer suffering a season-ending knee injury, their setup still is a concern even with Lockyer set to return mid-season.
With premiership ruckman Lachlan Delahunty retired, it also gives an opportunity for more young guns to fire up for the Lions and they will be the key ingredient to send the Lions back into finals football, but that'll be the first step in a rebuild.
The Lions will roar again, but it'll get louder in the next couple of years.
PREDICTION: 5th
EAST PERTH
The Royals had plenty of hope last year, but six straight losses ruined their chances, now they enter 2023 with new hope and a new coach in Ross McQueen, who takes over for the next two years.
McQueen has a strong record at Colts & Reserves level, whether that can transition into success in the big league will be a question needing to be answered.
One of the Royals' greatest strengths is the core in their midfield and two players from that core, that is Angus Schumacher and Hamish Brayshaw, who form an excellent midfield combination.
Both averaged 27 touches per game and while that was a positive for East Perth, they were unsupported, which left them carrying the workload. They need a little extra backup in 2023 to be even stronger on the field.
A big problem for East Perth on the other side of the coin is how they start, they were the eighth-ranked side for first quarters, but that will give the new coach with plenty to work from in 2023.
They also need an X-Factor up forward with the loss of Sebit Kuek, after he was drafted by Fremantle, can Tom Medhat fill that role? It's up to him to perform at the next level.
It will be a season of character for East Perth, but the results may not show such.
PREDICTION: 9th
PERTH
A lot of the disappointment at the Perth Demons in 2022 can be put down to their horror run of injuries, especially to key players.
But like East Perth, Perth enter the new season with a new coach, Peter German, who will look to have the same effect on Perth as he did at Subiaco two decades ago.
Perth need to field a strong 22 on a regular basis, as last year they had no chance due to their injury run, with Conor McPartland, Josh Smith, Michael Sinclair and Brayden Ainsworth all playing less than half the season.
But it's not all bad, with one major positive for Perth coming in their forward line.
Harry Quartermaine emerged as a quality forward in Round 10 against West Perth with four goals in the second half, and now it's a matter of making a consistent impact inside 50 that will be important for Perth's chances.
Down back, Kasey Nicholas also relished new life as a key defender for the Demons.
His intercept marking and positioning inside defensive 50 should make him a defender opponents need to take notes on, especially on his ability to set up play out of the backline.
Perth may be in for a new era under German, but even he is looking at the long-term picture, maybe missing finals won't be something the Demons will lose sleep about.
PREDICTION: 8th
WEST COAST EAGLES
Injuries and COVID top-ups were the talking points all year at West Coast, and it may be more of the same in 2023, but mostly down to who fields a spot in the AFL side given their senior team also had a season from hell.
Apart from their shock victory over South Fremantle in Round 10, there weren't many positives for West Coast, but those positives deserve to be outlined here.
Playing 16 of the 18 matches, Harry Creasey was valuable in the half-back line for the Eagles. His speed across the ground and creative flare was vital as he averaged 17 touches in the season and can drift up forward to boost the scoreboard pressure.
The bottom line for West Coast is that they will continue to field competitive lineups in the 2023 season, but it's a matter of being a healthier side and not having a horror injury list.
It'll be a miracle if they can get in contention for the five.
PREDICTION: 10th
SEASON PREDICTIONS
PREMIERS: East Fremantle
GRAND FINALISTS: East Fremantle VS South Fremantle
SANDOVER MEDALLIST: Jesse Turner [Swan Districts]
BERNIE NAYLOR MEDALLIST: Tyler Keitel [West Perth]
MAJOR HEADLINE: Sharks shock Souths In WACA boil-over on Derby day
OUT OF THE BLUE: A Top 5 coach will get sacked
Ladder
East Fremantle
South Fremantle
West Perth
Swan Districts
Subiaco
Claremont
Peel Thunder
Perth
East Perth
West Coast