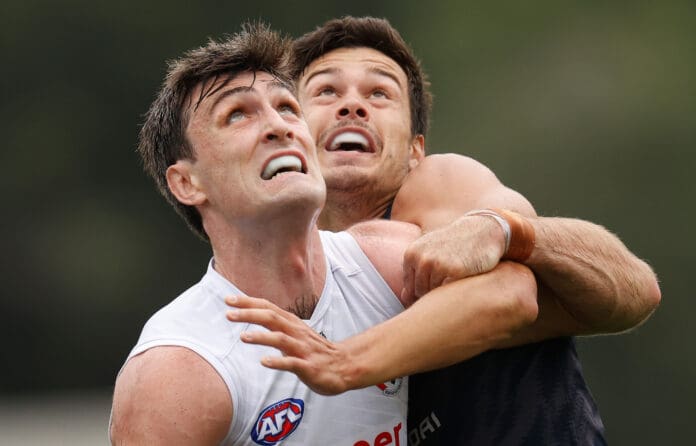 St Kilda coach Brett Ratten is confident Rowan Marshall will only miss one week with a corked quad after being withdrawn from the Saints' Round 7 match against Port Adelaide in Cairns.
The 26-year-old ruckman travelled with the Saints to north Queensland but failed to prove his fitness, leaving a spot for Tom Campbell to make his club debut after stints at North Melbourne and the Western Bulldogs.
Speaking to media on Friday ahead of the Round 7 clash, Ratten confirmed Campbell will be handed the second ruck spot after Paddy Ryder rejoined the team following his two-week suspension.
"He is a competitor, Tom. It is his third club, but as we know with ruckmen, they get better with age. At 30 years of age, there is a fair bit of footy left in him," Ratten said.
"For him to come into our team, ready to go, he's been playing good AFL footy. We've got full faith in him that he can help Paddy and get the job done there. He's worked extremely hard since he's been in our footy club."
Campbell has played 54 games during his time in the competition and will make his first appearance in red, black and white after joining the club at the end of 2021 as a delisted free agent.
With fellow ruckman Jack Hayes ruled out for the season with an ACL injury, Campbell has an opportunity to prove himself before Marshall's expected return in Round 8 against Melbourne.
SEE ALSO: Saints to re-sign rookie following heartbreaking ACL injury
Elsewhere at the Saints, Jack Billings and Zak Jones are expected to feature in the VFL this weekend after spending time on the sidelines.
Billings is returning from a hamstring strain suffered during the AAMI Community Series, while Jones is recovering after exiting health and safety protocols earlier in the week.
"We'll just wait. Him (Jones) and Billings will play VFL this weekend. Zak had COVID – his partner had COVID, then he got COVID – it started off as seven days and turned into 10. He'd only played one game in roughly six or seven weeks," Ratten said.
"No need to rush him. People recover a little bit differently with COVID; some bounce back really quickly and we've found others have just taken their time a little bit. We'll take it easy with him."
The Saints are due to face Port Adelaide on Saturday night at Cazalys Stadium, aiming to go 6-1 for the first time since 2009.