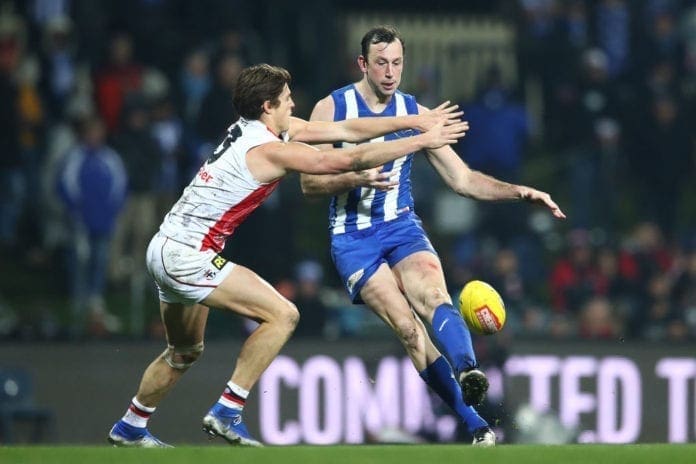 St Kilda has confirmed its interest in Essendon's Sam Draper and North Melbourne's Todd Goldstein.
The news follows multiple reports that the Saints were interested in the pair of ruckmen, with St Kilda keen to bolster its ruck stocks to lend support to emerging ruckman Rowan Marshall.
St Kilda CEO Matt Finnis said that while the club holds Marshall in high regard, the club is looking for someone else to be able to assist him on-field.
"We've got a young ruckman in Rowan Marshall who I think everyone has been incredibly impressed with this year," Finnis said on 3AW.
"But the fact is he has done it all alone. He needs some help.
"We like Sam Draper as a young player (and) we like Todd Goldstein as an experienced player.
"And there are other ruckmen who fit within that framework as well.
"But the reality is we are in the market for a ruckman to help out Rowan Marshall who we think is going to be a great player."
Both Draper and Goldstein are out of contract at year's end, and the Saints are hoping that they will be able to entice the duo to move across to Moorabbin.
According to The Herald Sun, Draper has a four-year contract being offered to him worth $1.8 million, a lucrative contract for the Bombers ruckman who is yet to play a senior AFL game after tearing his ACL in May.
Goldstein has also been heavily on the Saints' radar, with Jay Clark reporting that 2015 All-Australian has been offered a three-year contract by the Saints.
Essendon is believed to be confident of retaining Draper, while North Melbourne is reported to have offered Goldstein a revised two-year deal, with a trigger clause for a third season.
The Saints will seek to hire a senior coach in a permanent role to further entice players to come across to their club.
Departed coach Alan Richardson conceded that it was difficult to speak to trade prospects while knowing that he wouldn't be at the club next season.
"There are conversations with players that we are not allowed to talk about from other clubs and you are turning up and you are pitching and you are wanting them to join your footy club and there is uncertainty around the senior coach," Richardson said.
"That doesn't really work."