Those in the know claim it is the toughest position to play. A spot on the ground that requires as much effort when holding the ball as without it.
It's the place on the ground where future midfielders cut their teeth. The place where Gary Ablett ascended from golden-haired boy to the close-shaven wizard opponents everywhere came to fear.
It's the line on which Dick Reynolds and Alex Jesaulenko cemented their immortality. It also acts as the section on the coach's whiteboard that Cameron Rayner and Archie Perkins are currently keen to flee.
Neither all the way forward or involved in centre stoppages, the role of a modern half-forward is both here and there. Asked to lock down and facilitate; create and confiscate, these conduits from the coalface often earn plenty of scrutiny and very little thanks.
It's no task for the faint of heart. One that requires a finely-tuned game sense, lion-hearted sacrifice and battle-hardened resilience. One best served by a reliable pillar rather than an overawed teen.
Ahead of his 16th season at Tigerland, Trent Cotchin has seen his magnet moved, with the triple premiership-winning skipper now set to call the forward 50 home instead of the centre square.
While innocuous enough in the wider scope of Richmond's off-season, the 32-year-old's change of scenery has already seen him earn the nickname Trent Coleman from teammates, as well as the chagrin of the game's leading instigator.
"If he's not in the centre bounce, in the phone box where he does his best work – when he's diving on boots, when he's tackling, winning clearance, pushing the ball forward – I don't think, if he's not playing that role, he's in Richmond's best 22," Kane Cornes proclaimed this week on SEN radio waves.
"He's kicked 16 goals in the last five seasons, Trent Cotchin. I give it two weeks. I give the experiment two weeks."
Though never noted for his ability to sit on fences, Cornes' death knell appears off-base, as there remains a clear role for Cotchin to play in Richmond's attack; a highly-specified, now vacant, job that the Brownlow medallist saw performed with aplomb for over a decade.
SEE: NAMING RICHMOND'S BEST 23 FOR THE 2023 SEASON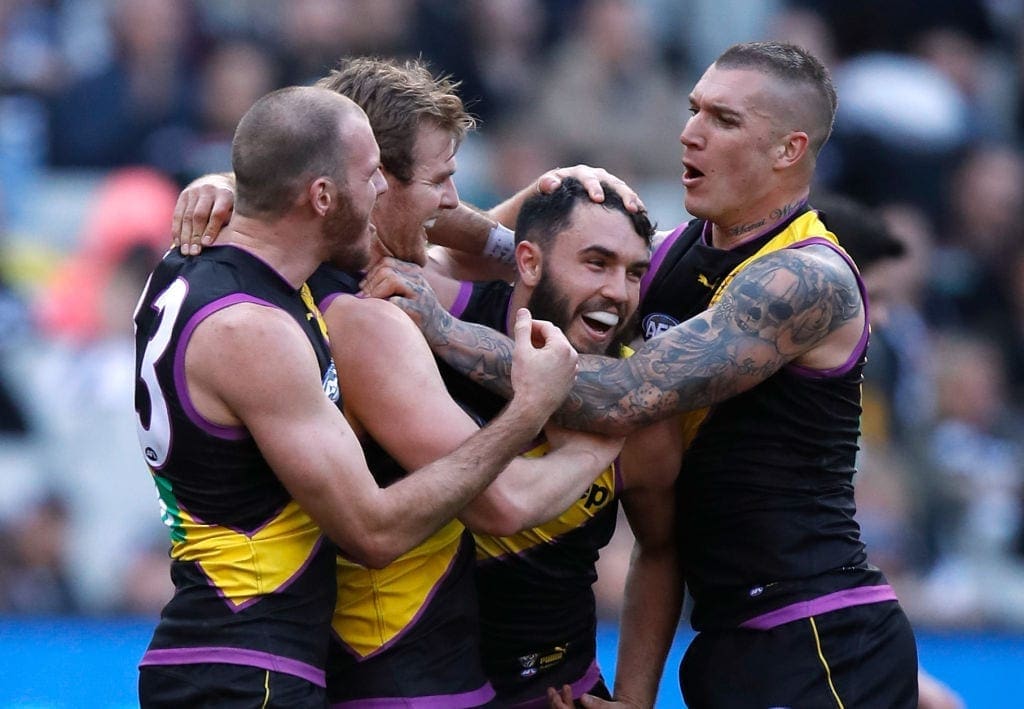 For the better part of sixteen seasons, Shane Edwards provided a dependable steel and a lucrative avenue to the Tigers, capping his days at Punt Road after 189 goals from 303 games.
The fifth Tiger to enter Richmond's 300-club, Edwards appears set to be joined in this esteemed class by Cotchin later this year. That is if the former captain can hold his spot for more than a fortnight.
Drafted 12 months apart, Cotchin and Edwards sat side-by-side in the backseat as the club skidded and skirted through the latter years of the Terry Wallace era. Promoted throughout the Hardwick administration, the pair continued their parallel rides, tasting September success thrice over before parting ways after last season's elimination final loss to Brisbane.
While spending much of the 2013-15 period alongside one another in midfield, Edwards transitioned back to his post forward of the ball in 2016; a position he announced himself in during the 2012 season, averaging nigh-on a goal-and-a-half and more than 17 touches each week.
2012 also saw Cotchin reach his career peak, turning in a Brownlow-winning campaign, built off the back of 27.6 disposals and 5.1 clearances throughout his 22 appearances.
Intriguingly, the third season of Hardwick's reign also acted as the skipper-in-waiting's most lethal in terms of scoring, with Cotchin producing 37 scoring shots, 21 of which resulted in goals.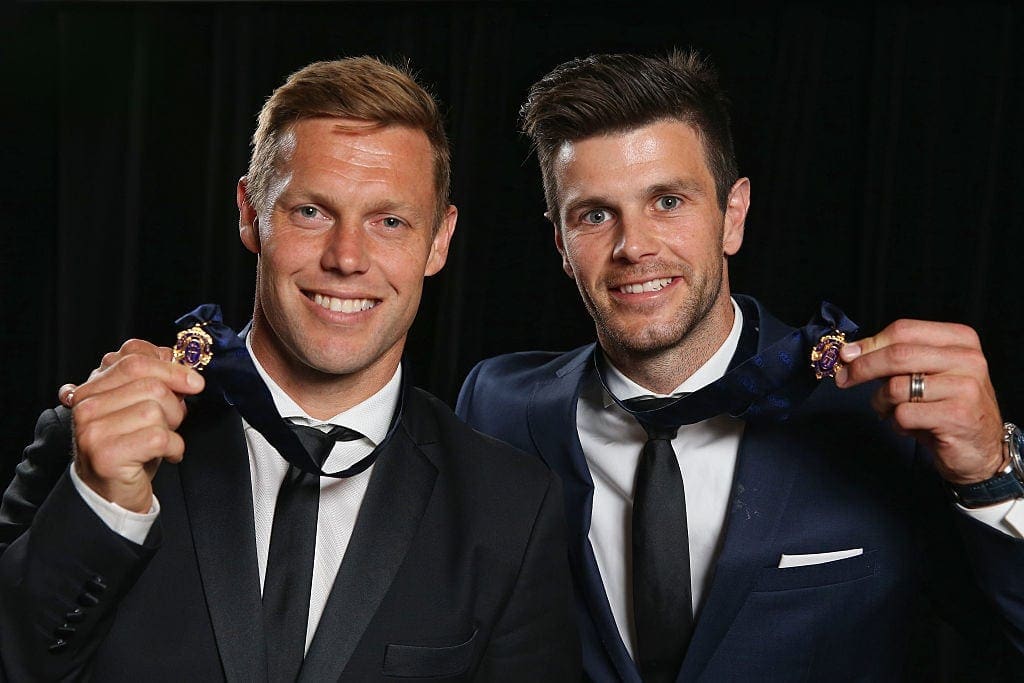 Wind the clock forward - past the silverware and a brief stint off half-back - and Edward's final season in yellow and black now acts as Cotchin's benchmark for what looms as his own swansong as a Tiger.
Though far from Richmond's main line to goal, Edwards produced 15 goals for the year at an average of 0.68 - a minor, but not meaningless, spike from his career mean of 0.62.
However, it was the South Australian's assistance numbers that acted as his calling card, with Edwards producing 19 for the season at an average of 0.86 per game.
Though fractional, this total saw the retiree sit 13th in the league rankings last season and top of the pops at Tigerland. Refocus the lens, and Edwards' average may have ranked him as the 17th most prolific in the competition, but it also saw him slide back to third at clubland.
Richmond's leader in this regard?
Take three guesses who.
Although classified as the Tigers' second-most potent clearance player behind Dion Prestia, Trent Cotchin - or should I say Trent Coleman - led his side for average goal assists last season, with his marker of 0.95 each week seeing him sit 11th in league rankings.
So, while Cornes' grievance with the new-found forward's scoring output may hold weight, the tagger-turned-talkback host's sights are also far too fixed on the end of each chain.
With five goals in 2022, the acid will be on the three-time Jack Dyer medallist to improve when facing the sticks. But with a unit around him that produced 334 goals last year, bags of Jack Titus proportions are hardly necessary.
It's horses for courses, or in this instance, Tigs for gigs.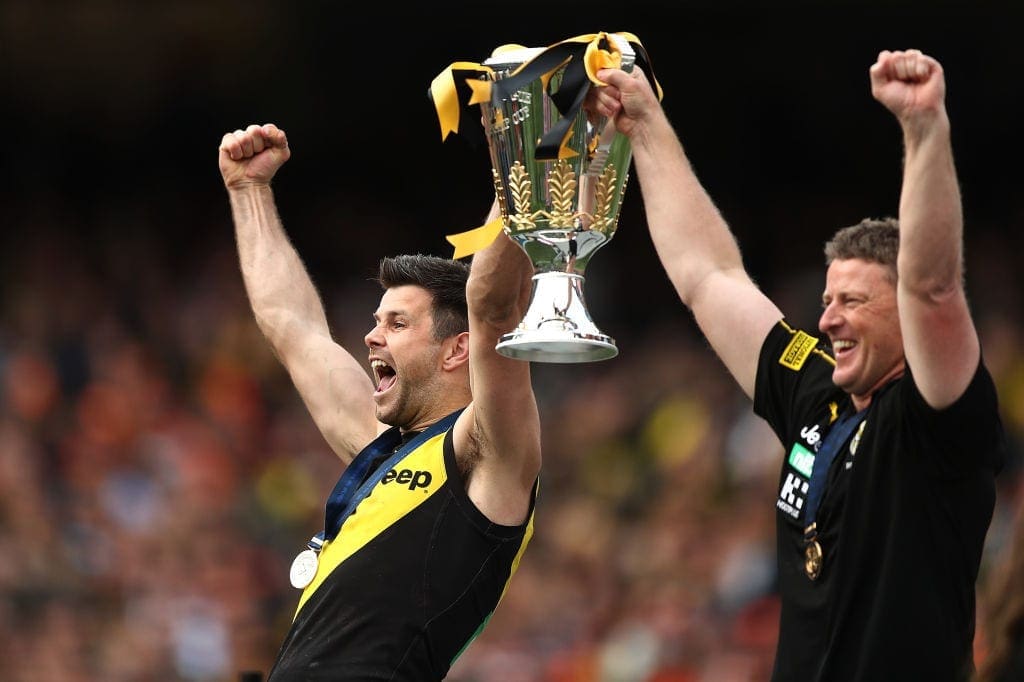 In the simplest of terms, Richmond's most recent golden era has been built on chaos and pressure; measurable qualities that are still prized at Punt Road. For the most part, Cotchin has been the face of the brand, both on the podium and on the park.
Although the rigours of a half-forward role have made minced meat of many in the past, the clean-cut veteran with the hard nose has what it takes to tackle things. He has, after all, tackled everything else en route.
Well into his second decade of league life, Cotchin still loves "diving on boots", a view bolstered by the decorated leader's 54 tackles and 35 one-percenters from 19 starts last season.
These are the figures that will act as the key to his new role, not his showing on the scoreboard. And while he may require some redirection come the opening bounce of the season, the head down, bum up operator is primed to translate his wares from the "phone box" to the forward 50 given the bar's current height.
Last season, Edwards laid a total of seven tackles inside 50 from his 22 appearances, a marker that saw him ranked as Richmond's equal 11th-best in the area.
Right beside the retired Tiger with a shared average of 0.32 per game?
Take another three guesses.
With six of his own tackles within the forward arc, completed in three fewer appearances and 63 per cent more time spent in midfield, Cotchin has already proven he can get the job done ahead of the ball, a fact that has earned little credence away from Tigerland.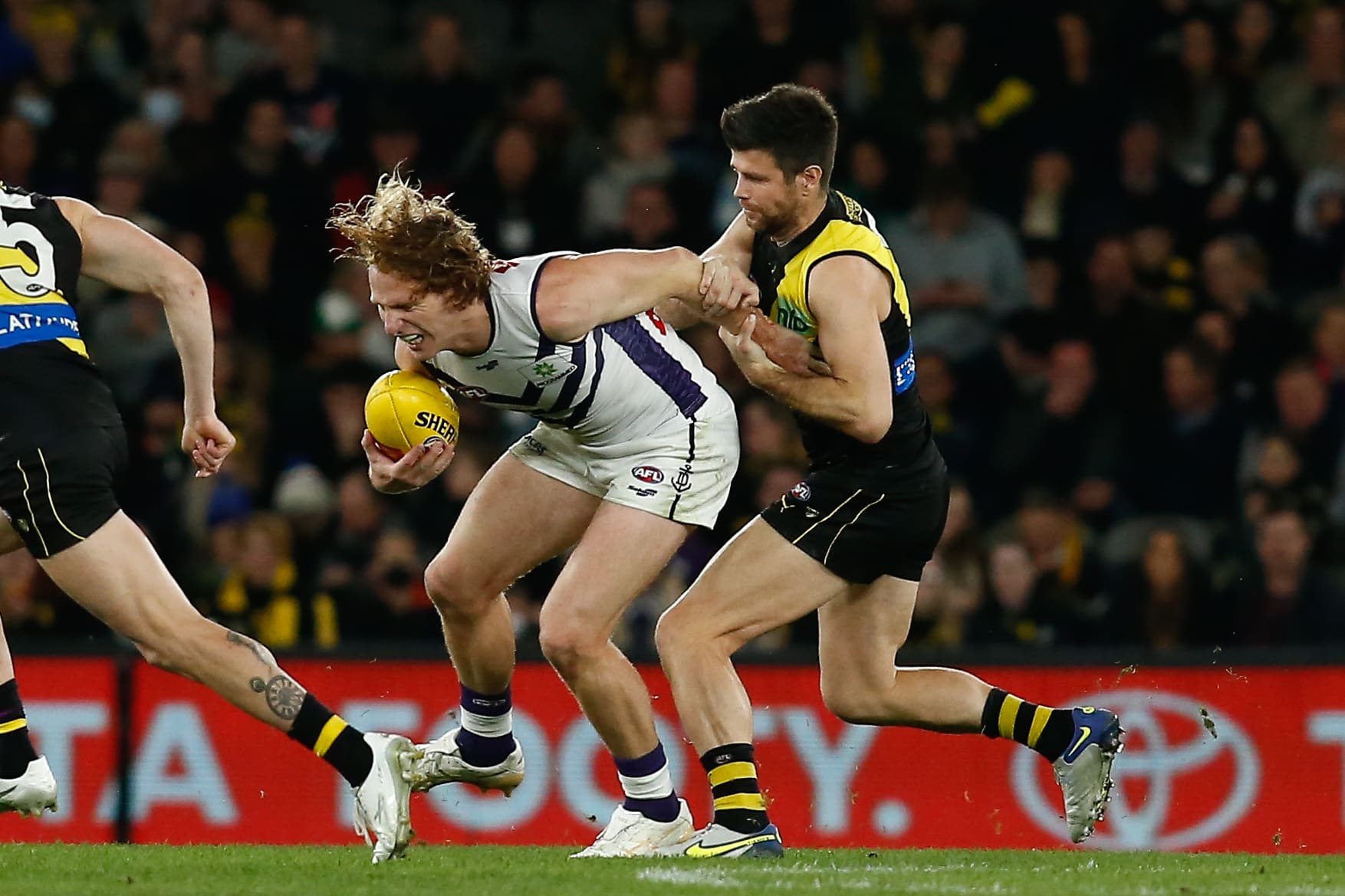 For all their similarities and shared experiences moulding Richmond from milquetoast to menacing, Cotchin and Edwards remain different players and people. Few will deny the former is the finer player. A talent that, despite age, holds the ability to decode what has become a young man's role.
While hamstring and shoulder complaints capped Cotchin's 2022 season at 19 games, the veteran was still able to spend 76.8 per cent of these appearances on the ground - a base that should spike this season and let him swerve the dreaded sub's vest.
But what else can be expected of Cotchin in 2023?
No matter the esteem in which he is held at Punt Road, success is no fait accompli, with his 33rd birthday on the horizon and no deal beyond the end of the year.
Given the lack of time up his sleeve, Cotchin's post will be seen as a transitional one. A short-term move aimed at flying one more flag above the Dyer Stand before the sun sets further down Brunton Avenue.
Without any long-term security, the future Hall of Famer will be required to sharpen his wits and grow eyes in the back of his head, as if the rollout doesn't roll smoothly, the Tigers' offence won't be hamstrung. They have plenty of depth in this area, with the likes of Jason Castagna, Judson Clarke, Noah Cumberland, Maurice Rioli and Tyler Sonsie all vying to buttress Shai Bolton, Tom Lynch, Dustin Martin and Jack Riewoldt.
Still, for a finely-tuned, lion-hearted and battle-hardened competitor like Cotchin, this is just fuel for the fire; a challenge that will be met head-on before the last rays of his days in boots fade from view.
After poking the bear, or the Tiger Army, earlier this week, Cornes' callboard is sure to have lit up like late December, with Richmond's monolithic membership base all pelting their shrapnel in.
But for a consistent campaigner like Cotchin, one that has always let his actions do the talking, it's tough to imagine that his credits built up over 15 years will expire after one rough fortnight.
It's even tougher to imagine that the change of scenery will rankle him, not when the blueprint for forward success was drawn under his watch.