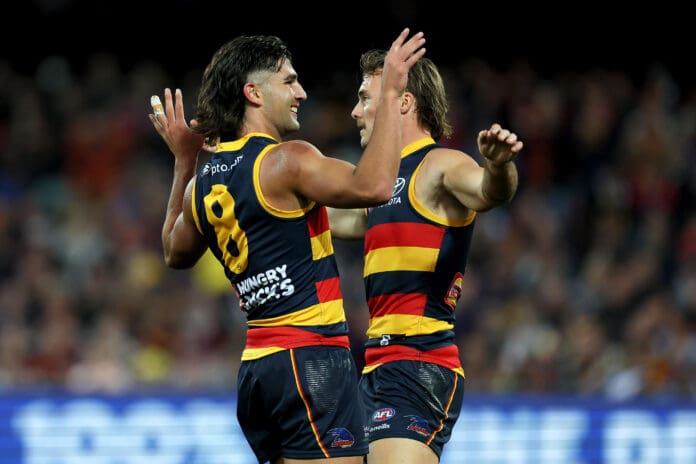 Adelaide coach Matthew Nicks says his team is ready for the challenge that awaits this weekend - a fresh Collingwood side at the MCG.
The Crows have not yet travelled to Melbourne this season, with Sunday to be their first hitout at the MCG for the year. However, it will be the second time they have played Collingwood this year, with the two sides having clashed in Round 7, with Collingwood winning by one point after finding themselves in front for only 20 seconds of the game.
Speaking to reporters at West Lakes on Thursday, Nicks acknowledged how challenging Collingwood are to play against, particularly at the MCG, but believed his side has had strong preparation going into the match.
"It's a challenge because a lot of people haven't got it right against Collingwood," he said.
"I think Collingwood are very strong in those scenarios where it's a close game. We learnt a lot from that last game, a lot of positives came out of that game as well.
"We know we've got the game if we bring it, the challenge will be we're playing on their home deck in front of their supporters.
"It's really the opposition that we're up against that's our biggest challenge."
A big topic in the last week has been the ability of teams coming off the bye to record a win, with only 46.67 per cent of teams winning their next game off the bye.
Both Collingwood and Adelaide are coming off the bye going into this game. Collingwood went into the bye after a narrow loss on the King's Birthday to Melbourne, whilst Adelaide went in riding the highs of a 122-point win over West Coast in Taylor Walker's 300th game.
"We've worked hard for a week and a half now so it's not like we're coming in off of no work. We've gone pretty hard. Both teams are coming off the bye which is an interesting one and so far the results off the bye this year haven't been strong," Nicks said.
"A start will be crucial for us and especially on that venue, we haven't been there this year but we're excited to get down to Melbourne but more importantly on the MCG."
It's been a big week for Adelaide on the retention front, re-signing young guns Josh Rachele, Jake Soligo, Chayce Jones and Max Michalanney to new contracts.
Nicks expressed his pleasure in the club's busy signing period, noting the bright future the club can now turn toward.
"Really pleasing week for the footy club to be able to announce, I guess the young crop that are coming through, a really exciting group," the Crows coach said.
"The reason we signed these boys for longer-term deals is because they're pros. We're confident we're going to see those guys continue to improve."
Adelaide will play Collingwood at 1:10pm (AEST) on Sunday at the MCG.