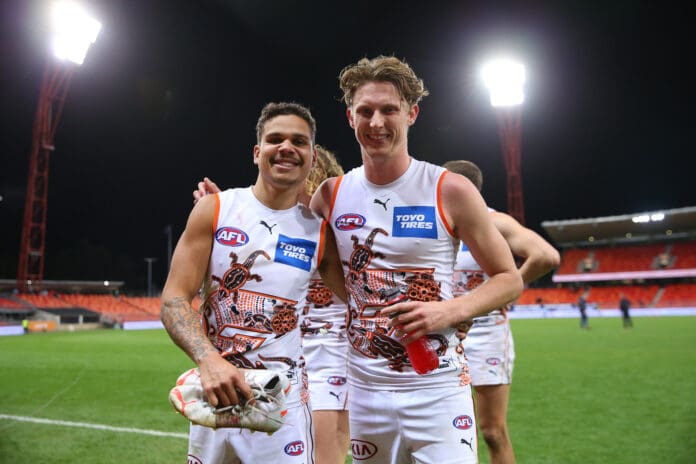 With plenty of moves still to be made before the annual AFL trade period wraps up at 7:30pm tonight, Wednesday is set to be a hectic day on the trading floor.
Before the final siren sounds and the league's 18 clubs turn their eyes to the draft, stay up to date with all of the names that are set for fresh starts in 2021.
7:30pm - No deals for Hill, Xerri
Giants forward Bobby Hill looks destined to remain in New South Wales for the 2022 season, with the Bombers unable to facilitate an agreed deal with Greater Western Sydney.
Hill remains contracted to the Giants for next season, a similar situation to North Melbourne's Tristan Xerri, who had also requested a move away from his own club this off-season.
Xerri had looked for a move to St Kilda, with a trade unable to be reached between both parties.
SEE: Updated list of AFL Draft picks and points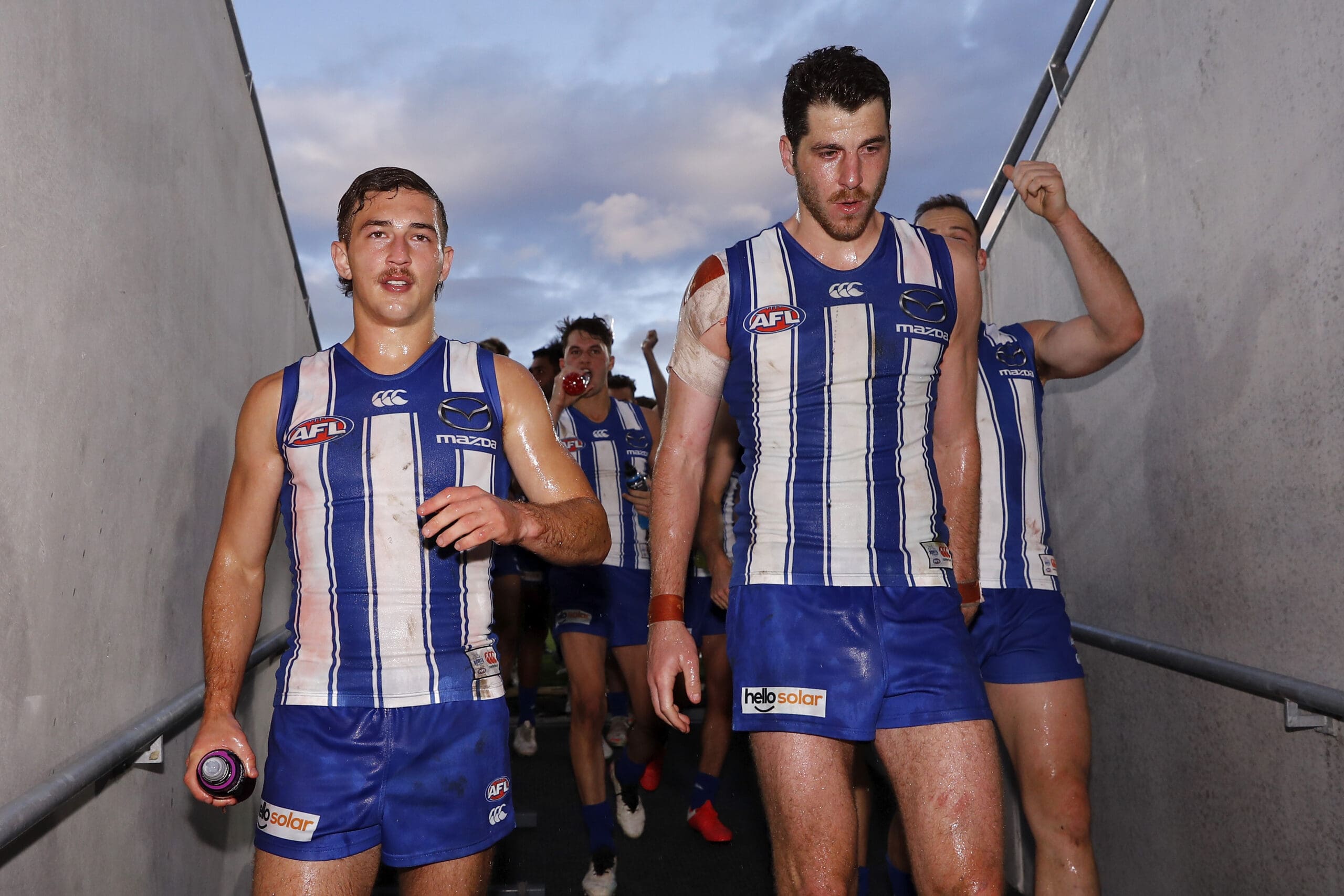 7:19pm - DONE DEAL: Lynch swaps nests in move to Waverley
Collingwood ruckman Max Lynch has been traded to Hawthorn along with Fremantle's future third-round pick and Gold Coast's future fourth-round selection.
The Magpies will receive Hawthorn's future third-round pick and Brisbane's future third-round selection.
Lynch played just three matches for Collingwood, including two appearances in 2021.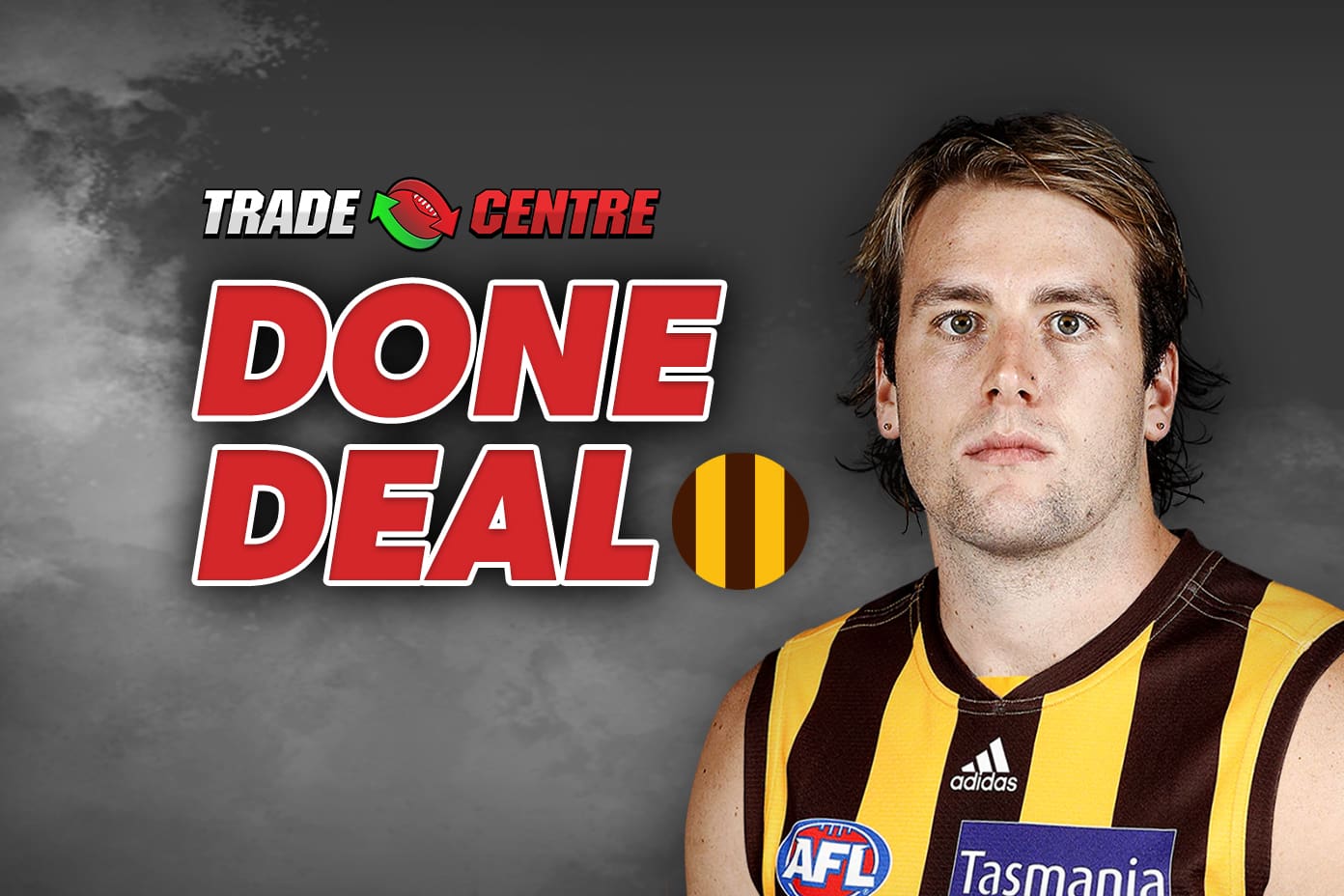 7:13pm - DONE DEAL: Ladhams flies east to Swans
Port Adelaide ruckman Peter Ladhams has been traded to Sydney, with multiple picks first-round picks changing hands.
The Swans will also receive Pick 16, while the Power receive Pick 12 and a future third-round selection.
Despite being contracted to Alberton Oval for next season, Ladhams was granted permission to assess his options elsewhere, with Sydney his preferred club of choice.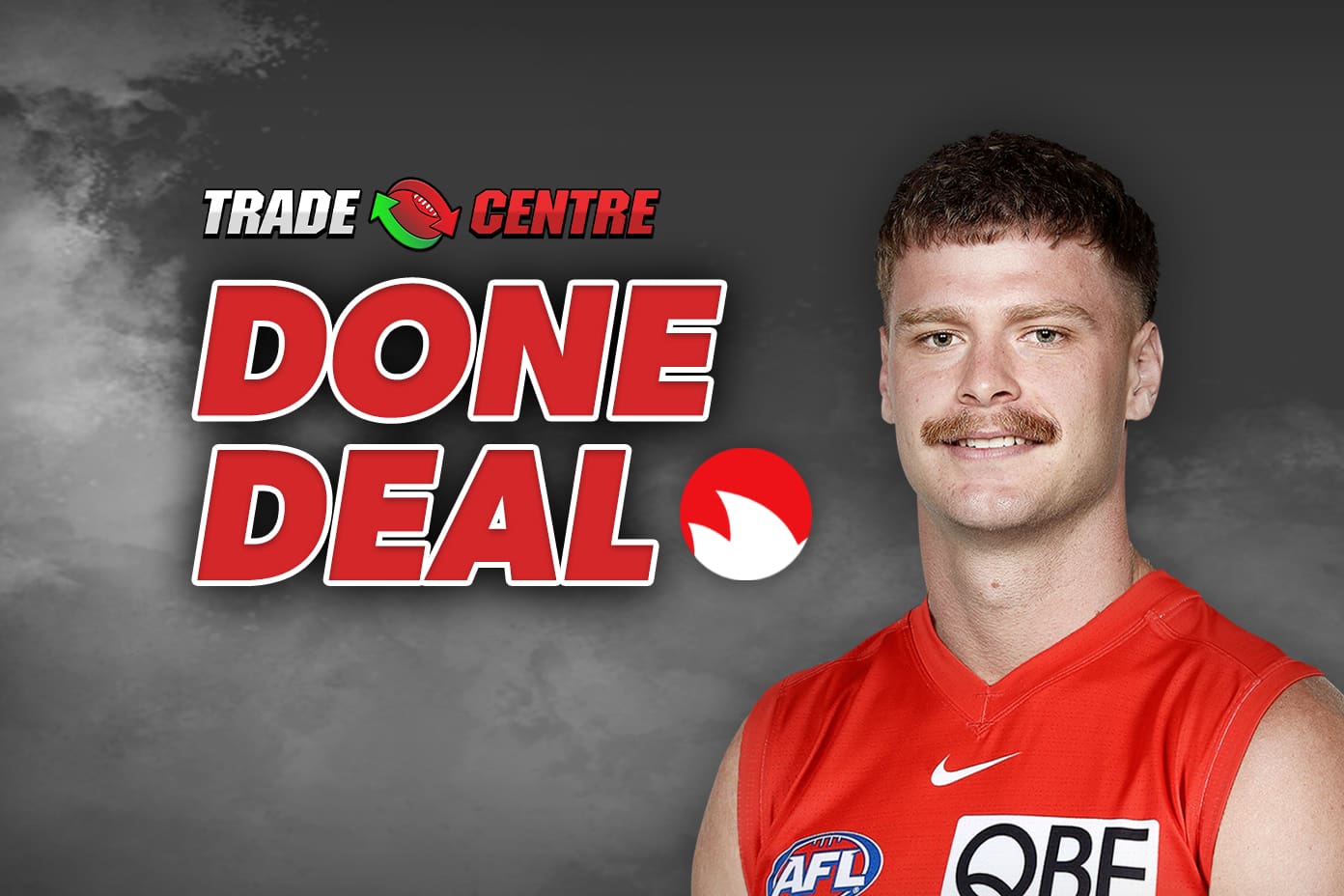 6:51pm - DONE DEAL: Dockers and Cats agree to Clark trade
Geelong have traded contracted utility Jordan Clark to Fremantle in exchange for Pick 22 and a future third-round selection, which is tied to Carlton, per The Age's Michael Gleeson.
The Cats have also sent a future fourth-round pick to the Dockers along with the 20-year-old.
Despite being contracted, Clark will depart Kardinia Park in a move back to his home state of Western Australia.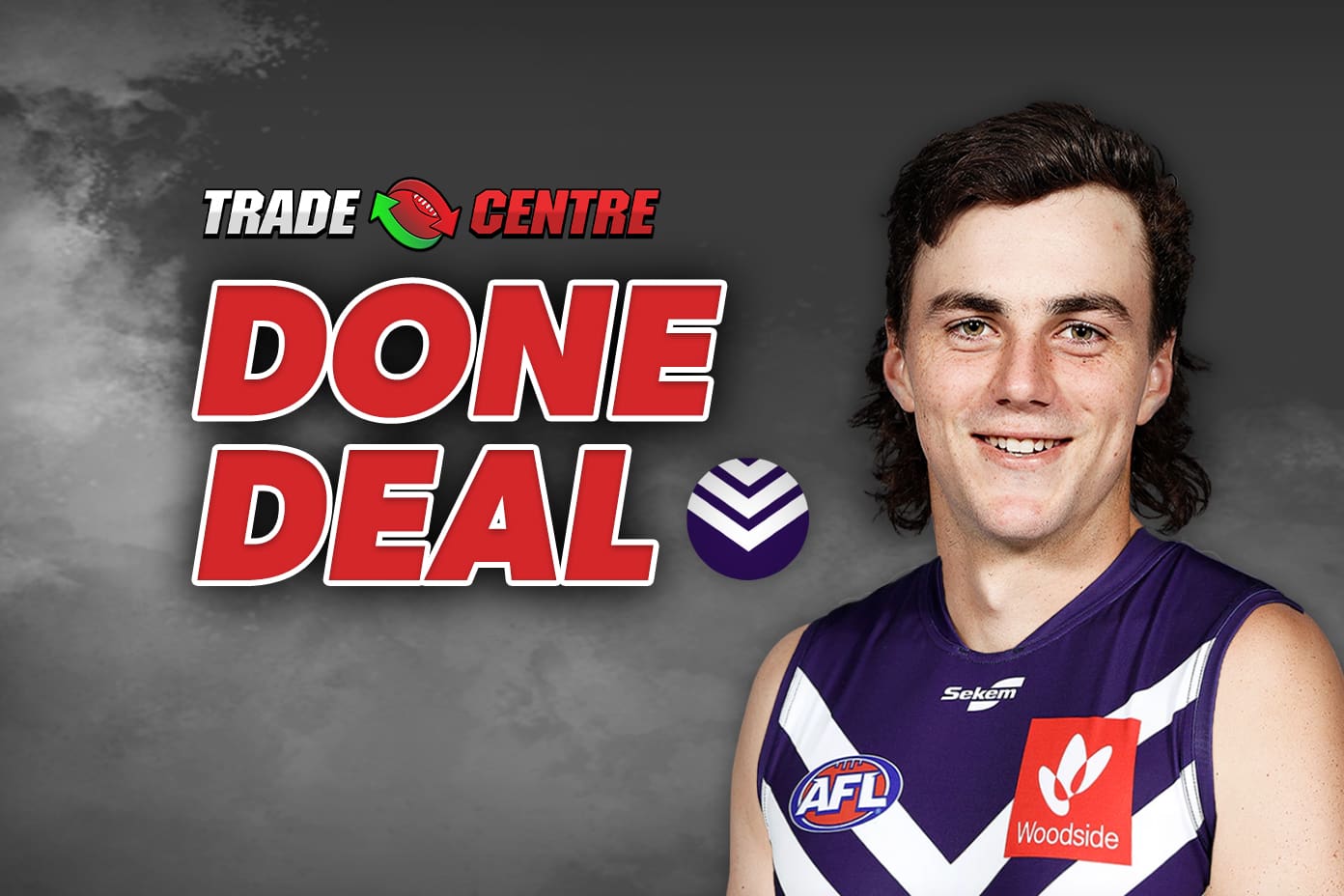 6:46pm - DONE DEAL: Ceglar joins Geelong, clubs swap picks
Geelong have secured Jonathon Ceglar from Hawthorn, sending a future third-round selection to the Hawks - which was recruited to the Cats in their trade with Brisbane for Darcy Fort.
The Cats will also receive a future fourth-round selection from Hawthorn.
Ceglar is tipped to have signed a two-year deal with the Kardinia Park club, with Hawthorn understood to be contributing a portion of his wages.
The 30-year-old brings 101 games worth of experience to Geelong, first debuting with the Hawks in 2013.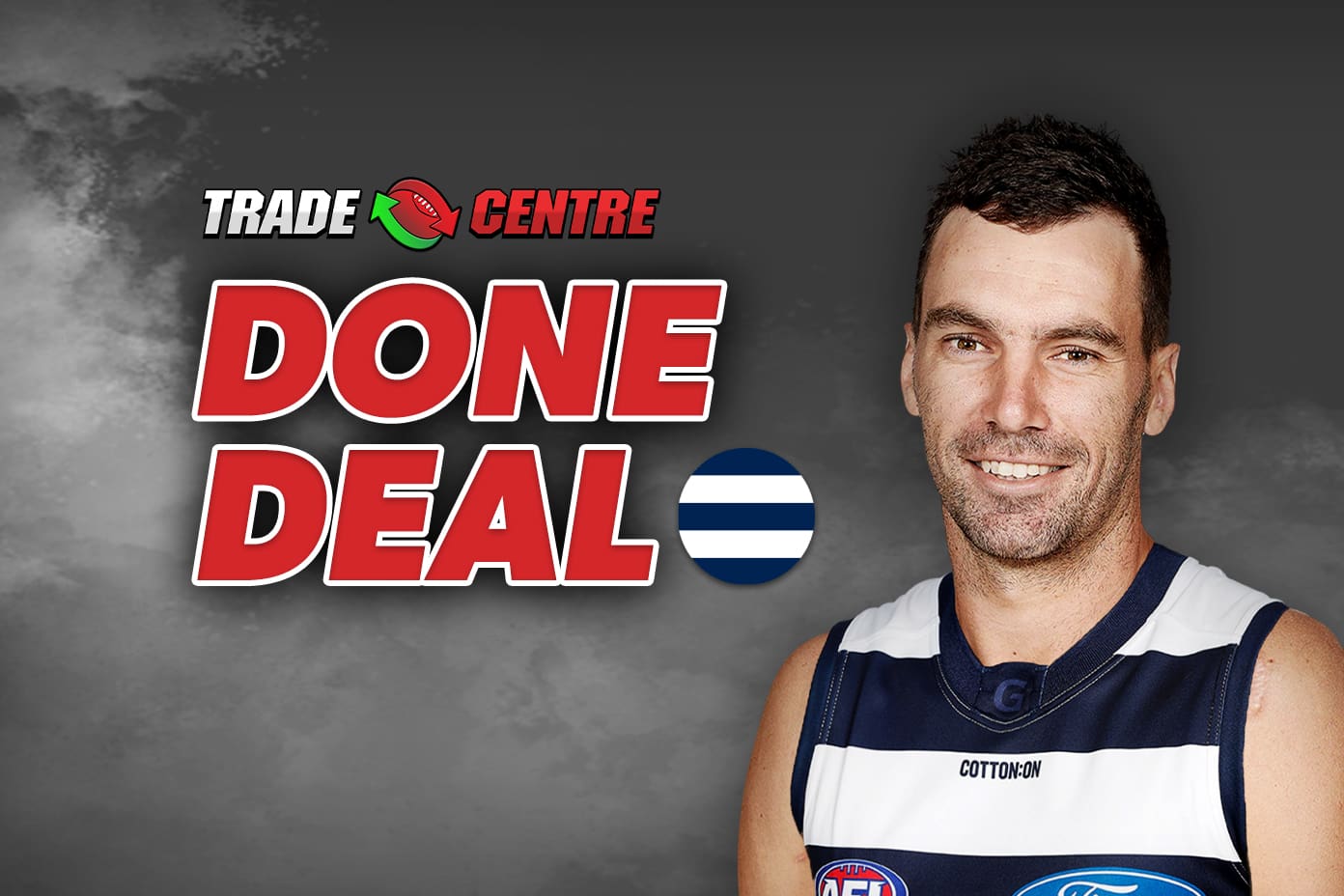 6:20pm - DONE DEAL: Fort joins Lions
Geelong has traded Pick 41 and Darcy Fort to Brisbane in exchange for Picks 50 and the Lions' future third-round selection, per AFL.com.au's Cal Twomey.
The Lions will look to utilise Fort to reinforce their key-position stocks, with Eric Hipwood set to miss a majority of next season due to an ACL injury.
Fort played eight AFL games for the Cats, however, failed to break into Chris Scott's side this season.
This exchange is set to kickstart a range of swaps for ruckmen, including Collingwood's Max Lynch and Hawthorn's Jonathon Ceglar.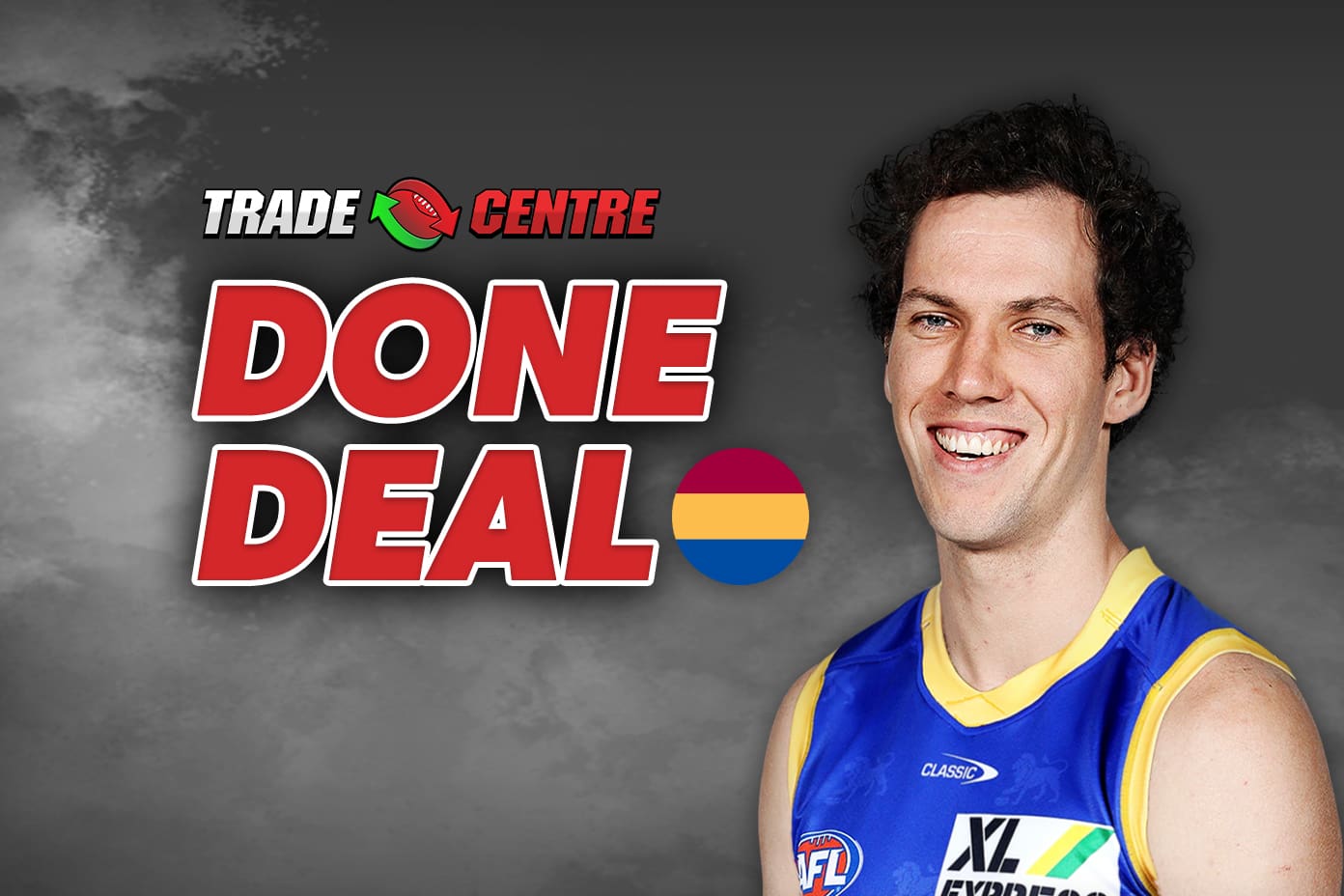 5:29pm - Hill "adamant" about leaving Giants
Greater Western Sydney forward Bobby Hill is understood to be demanding a move to Victoria in order to be closer to family.
Hill's desired move to Essendon has left the Giants in a difficult position as the 21-year-old remains contracted for 2022, however is seeking an exit on passionate grounds.
Speaking on Trade Radio on Wednesday, AFL.com.au's Callum Twomey revealed that Hill's manager Colin Young stated his client is "adamant" in moving to Victoria.
"He is not budging on his trade request," Twomey said.
"He is adamant that Bobby Hill does not want to go back to GWS."

Watch Deadline Day live: https://t.co/TNXvLDLzRd pic.twitter.com/Jdtsu2uJfG

— AFL (@AFL) October 13, 2021
4:55pm - Saints up their offer for Roos ruck
After negotiations seemed on their final breath, St Kilda have offered an "improved" trade package to North Melbourne in hope of acquiring Tristan Xerri from Arden Street.
The Kangaroos have requested a second-round selection from the Saints, who have now put forward a future third-round pick along with later pick swaps to potentially play to the Roos' desires.
According to AFL.coom.au's Riley Beveridge, talks are continuing between the two parties, with a future second-round selection still a priority for North Melbourne should they move Xerri to Moorabbin.
St Kilda's improved offer for Tristan Xerri featured a future third-rounder and a swap of later picks. North Melbourne adamant a future second-round selection must be involved, or no deal. Talks still ongoing. More on @AFLcomau and @traderadio.

— Riley Beveridge (@RileyBev) October 13, 2021
4:35pm - Pies open to splitting Giants' and Dons' differences
Collingwood still looms as an option to land Ian 'Bobby' Hill following Essendon's latest rejection on the trade front.
According to 7AFL's Mitch Cleary, the Magpies are poised to swoop on the Western Australian who has repeatedly told the Giants that he is desperate to make a move to Victoria.
Collingwood still interested onlookers in the Bobby Hill situation as any GWS-Essendon deal remains some distance apart @7AFL @7NewsMelbourne

— Mitch Cleary (@cleary_mitch) October 13, 2021
While a shift to the Holden Centre is not Hill's first preference, it will allow for him the 21-year-old to be closer family ahead of next season.
Although a trade package has yet to be agreed upon, SEN's Sam Edmund reported on Tuesday that Hill and his management had been offered a long-term deal by Collingwood.
"Collingwood have come in for Bobby Hill with some significant interest," Edmund revealed.
"He approached Essendon, not the other way around, Collingwood have come in after the fact to try and get a deal done for Bobby Hill.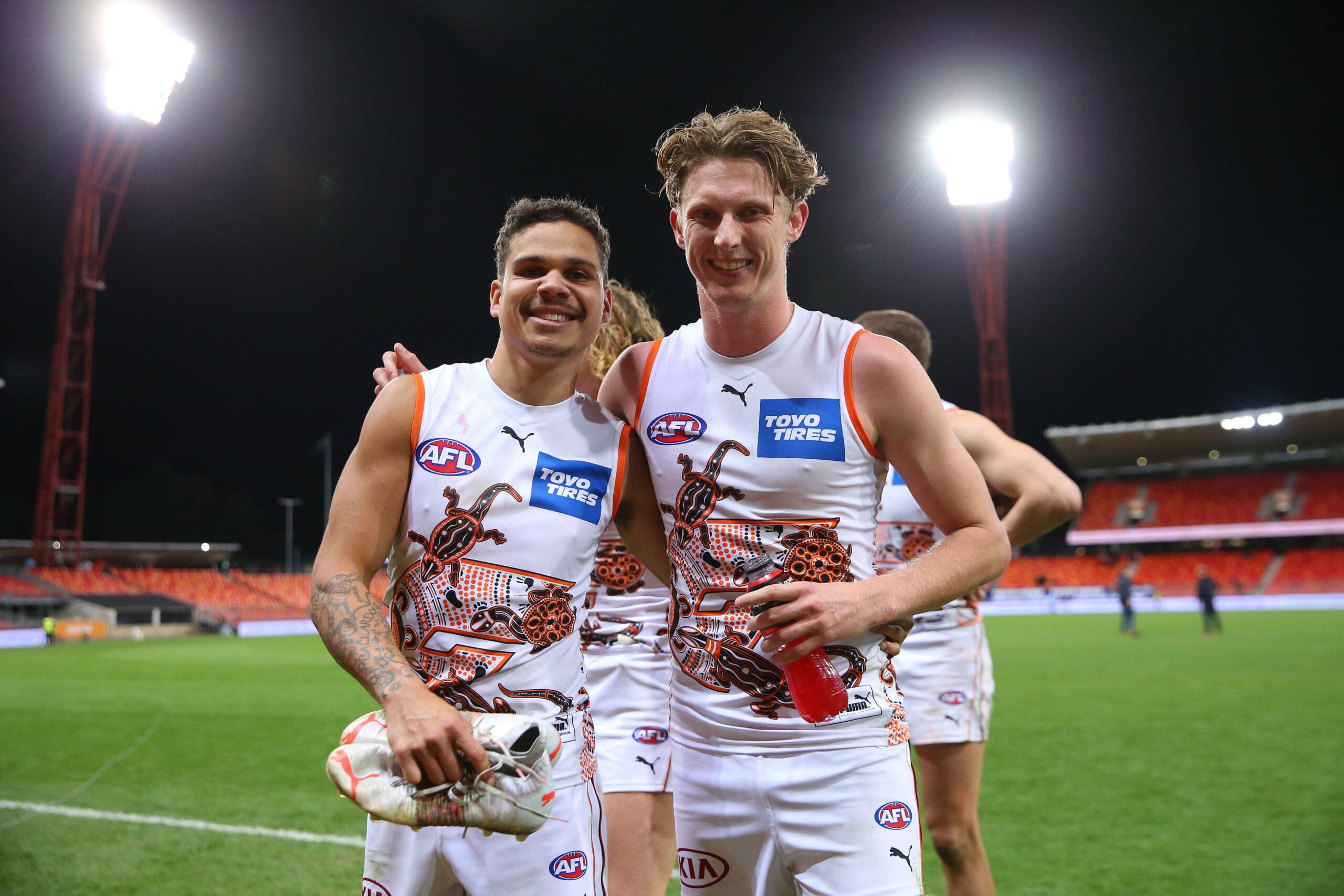 "How they would actually do that when you look at the [draft] points is unclear. We know that if the bid comes for Nick Daicos at pick two, how do they get it done for Bobby Hill? They obviously think they can get it done because they met with the player over the weekend.
"[There are] multiple year deals on the table from Essendon and Collingwood for Bobby Hill.
"He's determined to get to Essendon, so even after Collingwood have come in, he really wants to play for Essendon."
The Woodsmen's draft hand is currently made up of picks 27, 36, 46, 48, 55, 58, 78, and 79.

3:31pm - Giants tell Bombers to back off
Essendon's latest attempts to land Ian 'Bobby' Hill at the trade table have been turned down by the Giants, per reports from The Herald Sun's Marc McGowan.
The Giants have said no to the Bombers' latest offer of a standalone future R2 pick for Bobby Hillhttps://t.co/DGpbtsw7ny

— Marc McGowan 🗣✍️👨🏻‍💻📰 (@ByMarcMcGowan) October 13, 2021
According to the aforementioned source, the Dons' offer of a future second-round selection that was stumped up earlier this afternoon was rejected, with GWS' general manager of football, Jason McCartney, reportedly seeking more for the contracted Hill.
McGowan also re-raised the notion that the 'bad blood' between the rival clubs could be at the heart of this latest twist.
Said standoffishness was created during last season's trade period when Giants' officials felt they were swindled in an exchange that saw Jye Caldwell become a Bomber.
As has been previously mentioned, Hill remains contracted to the side from Sydney's west for another season but has nominated a move to Essendon so as to be closer to family prior to the birth of his first child.

3:17pm - Roos and Saints stuck in rucking stand-off
Discussions to allow Tristan Xerri to trade Arden Street for Moorabbin have reached a potentially terminal impasse.
In the view of AFL Media's Riley Beveridge, the Kangaroos' big-man is unlikely to make the cross-town move to his preferred home as the two clubs are unable to agree on a fair asking price.
"I can't see it happening at the moment, I think there's too much difference in the valuation from North Melbourne and St Kilda.

- Riley Beveridge on the Tristan Xerri deal#AFLTrade

— AFL Trade Radio (@traderadio) October 13, 2021
North Melbourne has stated that they will accept nothing less than a second-round selection for the contracted 22-year-old, while those at Linton Street have claimed this tag is too rich for their tastes.
Tom Morris has since stated that the Moorabbin men were only willing to part with a future third-round selection to land the 202cm ruck's services.
NMFC and St Kilda are refusing to budge re Tristan Xerri. Details 👇🏼https://t.co/5XeMhMLjXv@FOXFOOTY pic.twitter.com/KXS7odee4D

— Tom Morris (@tommorris32) October 13, 2021
The Saints' draft hand currently stands at picks 9, 62, 66, 67, and 85.
The one-time premiers will be desperate to retain each of their selections so as to match any potential bids for NGA-linked prospects Mitchito Owens and Marcus Windhager.
Xerri has played 12 games for the 2021 wooden spooners across the past pair of seasons and has another year to go on his deal with David Noble's side.
The clubs have been at loggerheads since Thursday last week when the Western Jets product officially nominated St Kilda as his optimal landing spot for 2022.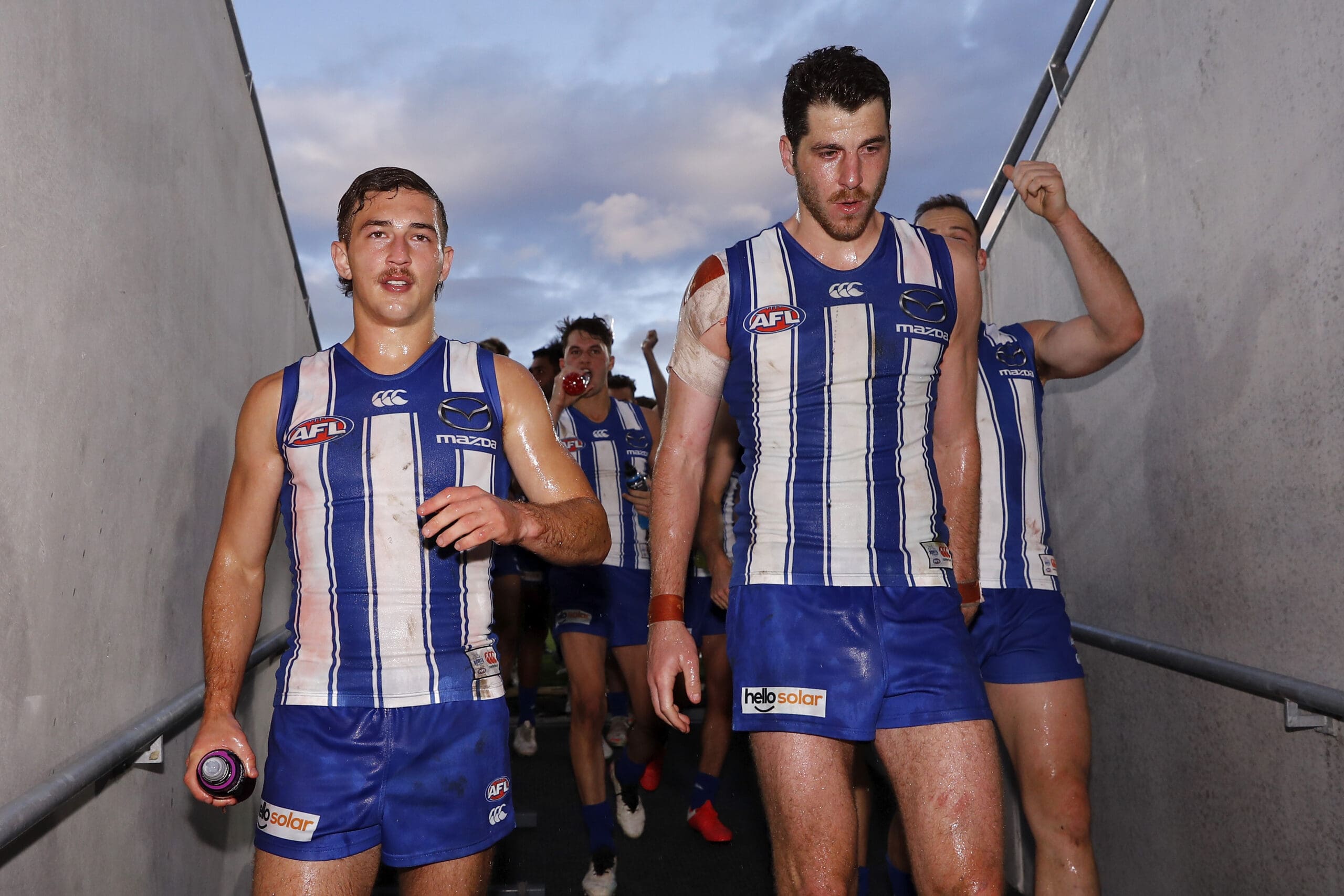 2:52pm - Giants eye off another Hawks' forward
After their advances to obtain Chad Wingard were rebuffed earlier this week, GWS have reset their sights on Waverley Park with the aim of securing an alternative name.
According to AFL Media's Callum Twomey, the Giants have formally inquired about securing veteran Luke Breust's services for the 2022 season.
Given the expansion franchise are reportedly willing to use pick 13 as part of a package to land the sharpshooter, all signs point to GWS inching closer to a concession that Ian 'Bobby' Hill will become a Bomber today.
Breust remains contracted to Hawthorn for a further two seasons and is said to be keen to see out his career in a brown and gold guernsey.
Just like their interest in Chad Wingard, Greater Western Sydney has explored interest in Luke Breust over the last day. Would similarly have been willing to use pick 13 in a deal, but like Wingard, Breust has been reluctant to move from Hawks. More on @traderadio @AFLcomau.

— Callum Twomey (@CalTwomey) October 13, 2021
DETAILS: Hawks forward in rival's sights for 11th-hour bid

2:25pm - Eagle set to land elsewhere outside of trade period
Fox Sports' Tom Morris has claimed that while several clubs have inquired about acquiring Eagle Jarrod Brander, West Coast will not be part with him during this trade period.
Still, Morris held the view that the former pick 13 would land elsewhere as a delisted free agent.
Carlton had previously held an interest in acquiring the 22-year-old who is reportedly keen to ply his trade as a tall forward in 2022.
The 195cm prospect has played 22 games across four campaigns for the Perth-based club but has only managed to accumulate a career total of 5.10 in front of goal.
West Coast won't be trading Jarrod Brander, but he's almost certain to become available for free, reports @tommorris32.

📝 #AFLTrade latest: https://t.co/UlT3nfsPFA pic.twitter.com/f0ajXWzK41

— Fox Footy (@FOXFOOTY) October 13, 2021

2:17pm - Swans left mulling 'unfair' trade package
Sydney's general manager of football Charlie Gardner has stated that while Jordan Dawson has departed Moore Park with their blessing, the Swans weren't quite content with Adelaide's final offer.
Speaking via an official statement in the wake of the deal that saw Dawson return to South Australia, Gardner revealed that a greater haul would have been obtained in a perfect world.
"We made clear from the outset that we rated Jordan as highly as any player available in this trade period," the former Cat and Saint said.
"Throughout the trade period, we worked extremely hard to reach a fair outcome in regards to Jordan, despite challenging circumstances. Ultimately, we have settled on a deal that we don't think quite reflects Jordan's true value but is one that, after extensive negotiations, we don't believe we could improve upon.
"After strong consideration, we believed it to be in the best interests of the club to accept the deal available and move forward.
"Holding two first-round selections for the 2022 draft does put us in a very strong position and gives us great flexibility to improve our list in the future.
"We thank Jordan for the contribution he has made to the club over the past six seasons."
FULL STORY: Swans left sour with Dawson deal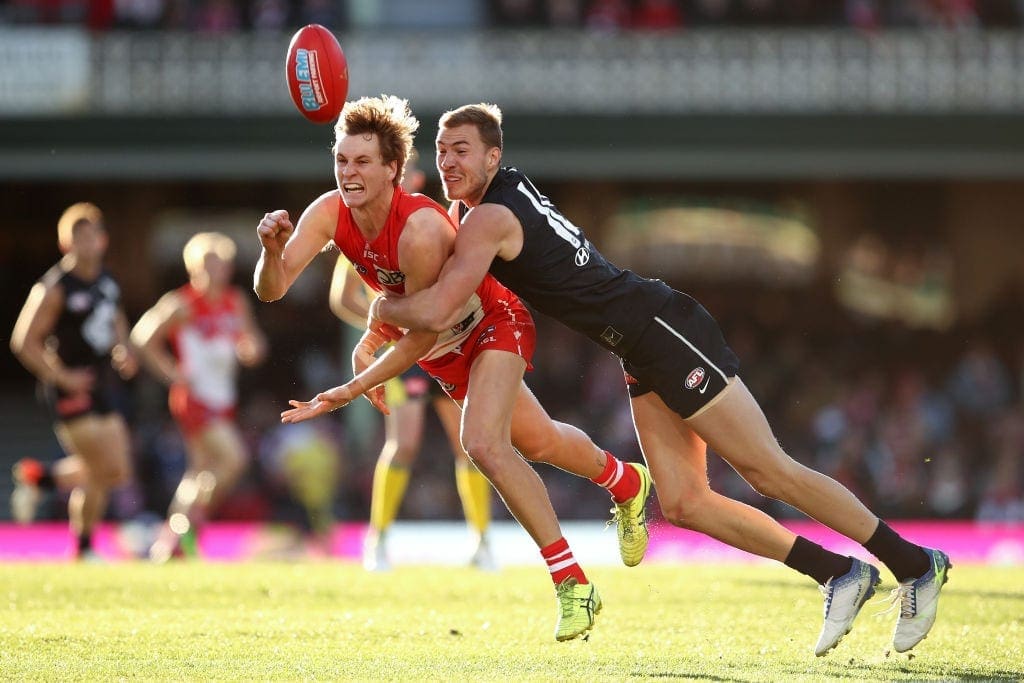 1:45pm - Dons set to appease Giants in proposed small forward switch
Essendon is set to part ways with a future second-round pick for Ian 'Bobby' Hill despite previously desiring a future third-round pick as well.
This latest development was broken by Fox Sports' Tom Morris only moments after Hill's manager, Andrew McDougall, explained that talks between the Bombers and Giants had stalled.
As Hill remains contracted to GWS, there remained a strongly held view that if the Dons were not prepared to 'play ball', the Western Australian would have been made to see out the final year of his contract in an orange guernsey.
A final decision on whether to grant the expectant father an exit on compassionate grounds has not yet been made by the Giants' general manager of football, Jason McCartney.
Essendon has bowed to GWS' wish re Bobby Hill. It's a future 2nd for the small forward and that's it now. The Giants are weighing it up. https://t.co/iGkZPIAhge@FOXFOOTY

— Tom Morris (@tommorris32) October 13, 2021

1:25pm - Hill anxiously awaits preferred trade
GWS small forward Ian Hill's manager Andrew McDougall has stated that his client remains both "nervous" and "stressed" ahead of the trade deadline.
Speaking on SEN radio waves, the former Eagles stated that the ball had yet to recommence rolling in a deal between the Giants and the Bombers.
McDougall claimed that Essendon has offered the side from Sydney's west a future second-round selection in an effort to acquire the expectant father, but the Tullamarine-based club is yet to hear if their extension is satisfactory.
The player-manager also divulged that conversations between the two parties had not made any progress since this morning.
'I spoke with Jason McCartney this morning, neither club is really involved at the moment. Essendon tabled a deal involving a future second pick, hopefully discussions ramp up.'

- Bobby Hill's manager Andrew McDougall#AFLTrade

— AFL Trade Radio (@traderadio) October 13, 2021

12:57pm - DONE DEAL: Dawson flies home
South Australian-born Swan Jordan Dawson has secured a trade from Sydney to return to his state of origin and join Adelaide.
As stated earlier in the day, the deal that saw the 24-year-old change his feathers was for a future first-round selection that the Crows initially acquired as part of a four-way trade with the Bulldogs, Demons, and Saints last week.
Having produced a breakout campaign on a wing, Dawson will now link up with current Crow Paul Seedsman to create a deadly arc-to-arc pairing.
FULL STORY: Swan set for homecoming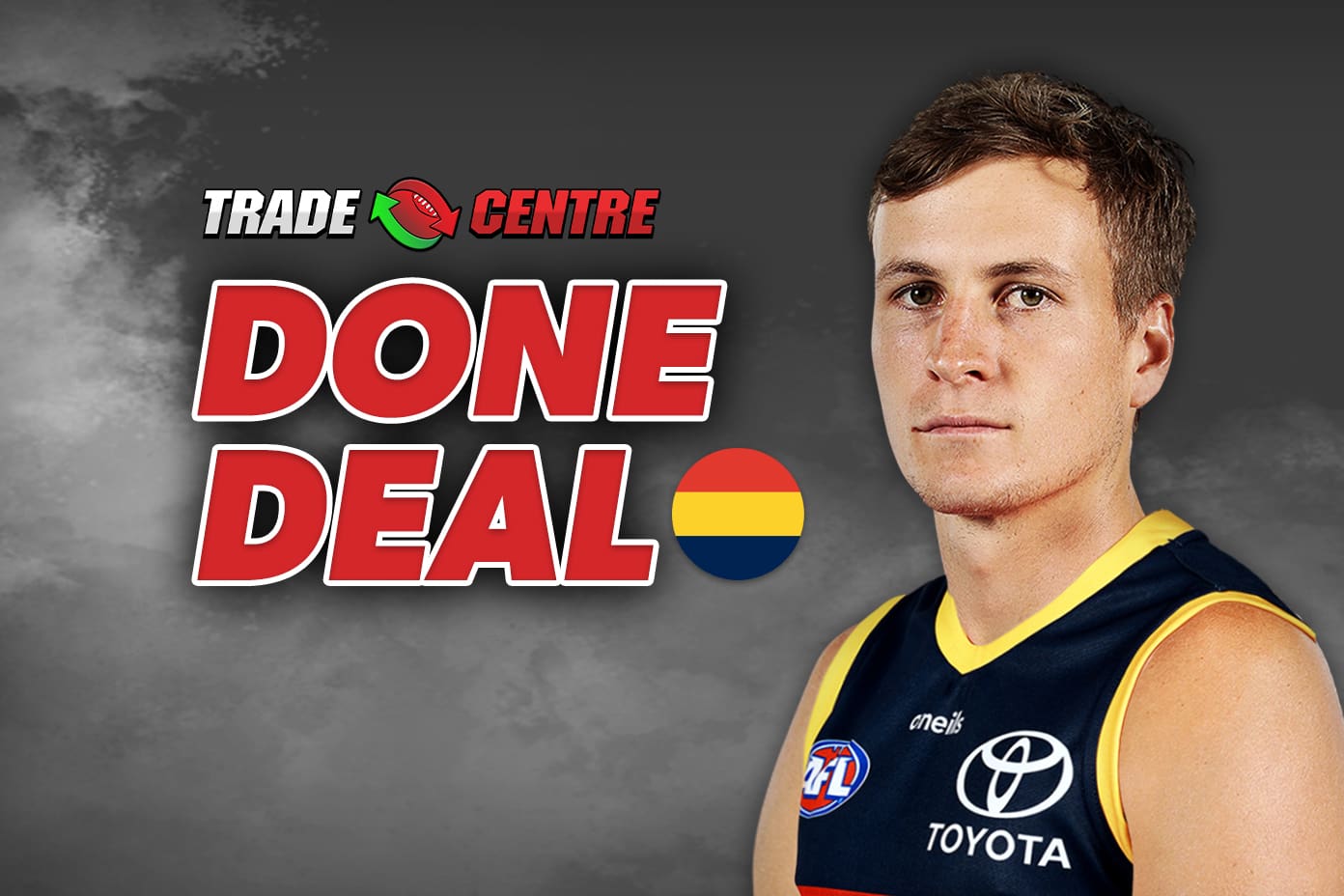 12:28pm - Geelong's multi-layered ruck moves still in motion
Darcy Fort and Jonathon Ceglar are still set to join the Brisbane and Geelong respectively following kinks in both trades being ironed.
Per a tweet from AFL Media's Callum Twomey, Fort, 28, is set to trade Corio for the Sunshine State, while Ceglar, 30, will swap brown and gold for blue and white hoops next season.
Twomey also stated that Hawthorn is likely to be satisfied by third-round selection from Geelong for Ceglar's services.
The pivot city side's draft hand currently stands at picks 30, 32, 34, 41, and  91
The keys are in the ignition for the ruck merry-go-round. Movement has been made this morning for Darcy Fort to Brisbane, Jon Ceglar to Geelong, a future third likely to head to Hawks. Last piece remaining is negotiations on Ceglar's deal at Cats. More on @AFLcomau & @traderadio.

— Callum Twomey (@CalTwomey) October 13, 2021

12:12pm - Cat tells club he won't be coming back
Jordan Clark has reportedly told Geelong that even if a deal to get him to Fremantle is not brokered, he won't be back at Kardinia Park next season.
According to SEN's Sam Edmund, Clark had a "heated phone conversation" with the Cats' list manager Stephen Wells in which the Western Australian parlayed a message akin to: "I'm not coming back. I'm desperate to get to Fremantle. Please make this happen".
Wells was reported to have told the 20-year-old that as he remains contracted, he will be forced to return if a trade does not come to fruition.
.@Sammy__Edmund: "Wells responded again, 'if we can find a deal suitable for both parties, we'll orchestrate a trade. If we can't, you're contracted and you will be coming back.'

"I'm told shortly thereafter, Jordan Clark hung up on Stephen Wells."

— Whateley (@WhateleySEN) October 13, 2021
The Dockers and Cats are currently at an impasse as the former is only willing to cough up pick 22, while the latter will only accept the 19th selection, per Edmund's report.
MORE: Cat and list boss reportedly involved in "heated" phone call
12:05pm - Hawks forward tipped for Waverley exit
Damian Barrett of AFL Media believes that Jack Gunston is more likely than not to find a new home by the time the trade period is brought to a close.
The 29-year-old's name has been linked with an exit from Waverley Park for the entirety of the exchange stretch, but as of yet, no concrete offers have arisen.
Still, Barrett explained that if the former Crow was fit, a deal would almost certainly be done to take the Victorian to his third footballing home.
"I still expect something to potentially happen today for one of those guys," he said on AFL Trade Radio.
"Gunston is almost the asterisk. If his back is OK, he's going to be absolutely in demand. But there must be some issue with his back that kept him out of 2021 because there's just been no obvious taker to this point."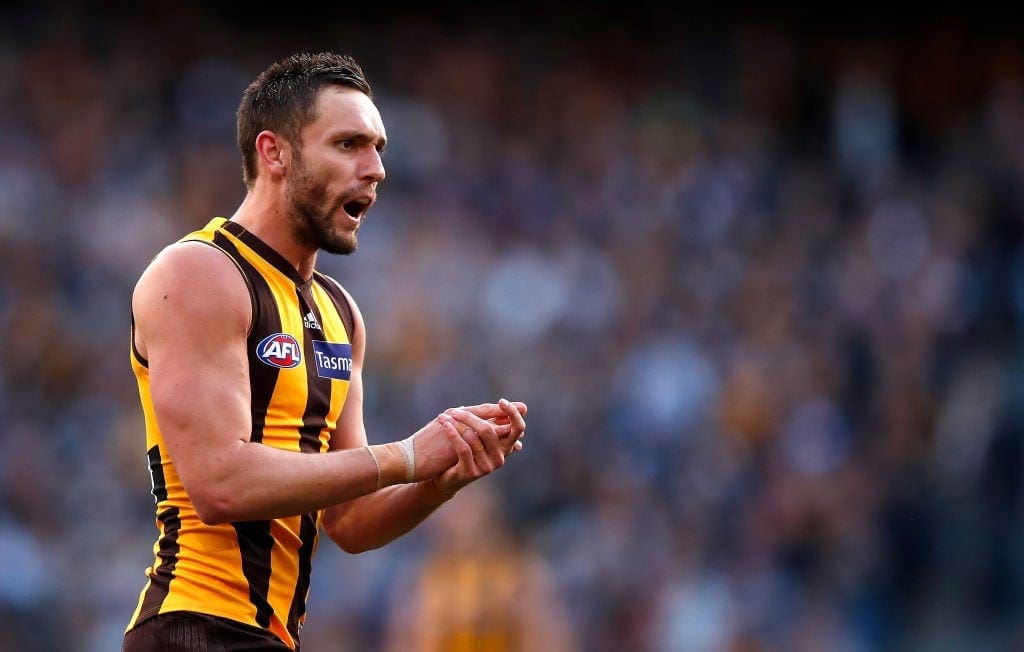 11:13am - Port and Sydney close on price for Ladhams trade
The Herald Sun's Jon Ralph has reported that a deal for ruckman Peter Ladhams to exchange Alberton for Moore Park is close to being finalised.
The price for Ladhams is yet to be agreed upon, but Ralph was of the view that a selection in the vicinity of 25-30 should see the 23-year-old become a Swan.
As it stands, Sydney's draft hand is currently comprised of 12, 31, 39, 70, and 88, so a straight swap involving the 31st selection is likely to see the trade completed prior to the 7:30pm deadline.
Peter Ladhams is all but certain to get to Sydney. Swans now have 12, 31, 39, their future first and Melbourne's future first. And their own future second. Have handed Port a range of possibilities. But broad agreement the deal will get over the line. https://t.co/hApeffSiRN

— Jon Ralph (@RalphyHeraldSun) October 13, 2021

10:54am - Lobb's manager explains why Dockers departure fell apart
High-profile player-manager Colin Young has told SEN listeners that Fremantle's insistence to hold Rory Lobb to the final two years of his contract saw his potential return to the Giants scuppered.
Young also stated in a tell-all interview that GWS' insistence on retaining Bobby Hill was another factor in the multiple-party trade reaching an impasse.
DETAILS: Lobb's manager breaks silence on broken deal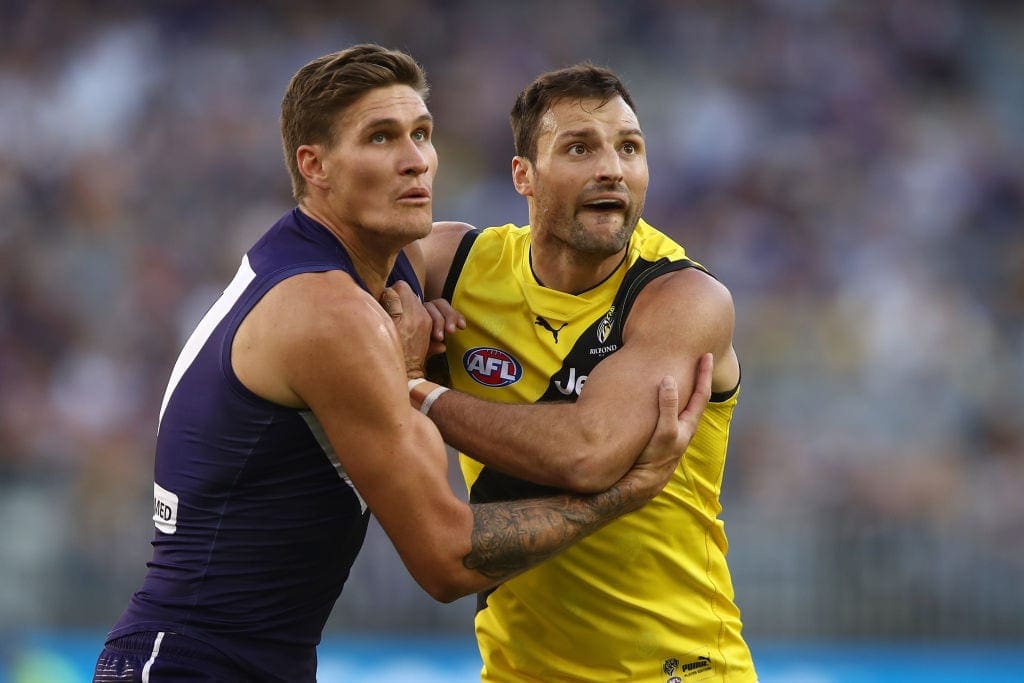 8:37am - Dawson deal brokered by Swans and Crows 
In-form Sydney wingman Jordan Dawson is set for a return to his state of origin after Sydney and Adelaide shook hands on a deal.
While several prior offers were rebuked, Fox Sports' Tom Morris has reported that the Swans have accepted the Crows' offer of a future first-round selection for the 24-year-old's services.
DONE DEAL: @Adelaide_FC & the @sydneyswans have agreed to a trade for Jordan Dawson, who will officially become a Crows player tomorrow afternoon. 👇🏼https://t.co/nsLlHzvIdr@FOXFOOTY pic.twitter.com/o9tCusa65d

— Tom Morris (@tommorris32) October 12, 2021
FULL STORY: Crows and Swans shake hands on proposed Dawson deal