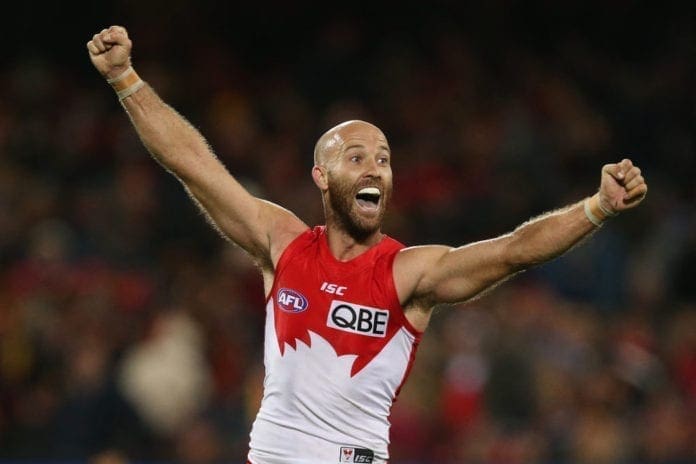 Sydney premiership player Jarrad McVeigh has called time on his playing career, after 324 games over a 17-year career.
McVeigh co-captained the Swans during their premiership triumph and was the club's skipper from 2011-2016, as well as winning himself a spot in the 2013 All-Australian.
Swans coach John Longmire paid tribute to the veteran on the club's website on Thursday.
"I was very fortunate to arrive at the club at the same time that a young curly-haired Jarrad McVeigh was first drafted. To see him develop from a young player with talent into an elite AFL player and leader, has been a great privilege," Longmire said.
"Jarrad has displayed the very best qualities that you could ever wish for in a player – he's talented, a fierce competitor, selfless, a great decision-maker, strong leader, elite trainer, has first-class football knowledge and he's a fantastic teammate. Not to mention he's a wonderful husband and loving dad.
"As a coach, I'm forever indebted to how he has played and led this club. He walked into my office in 2011 when I first took over as coach and said that he wanted to lead the club. He was appointed co-captain with Adam Goodes, and the next year stood on the stage absolutely exhausted on Grand Final day and held the Premiership cup aloft – achieving his dream. He then continued on to set a great example for every single player that pulled on the red and white jumper. Jarrad has simply made as large an impact on and off the field as any player that we have had through this successful period.
"In addition to his leadership with the team, Jarrad has been an extremely trusted confidante for many years. In 2020, we are very fortunate that Jarrad will join the Sydney Swans coaching panel where he will continue to have a major influence on the club's next generation of young players."
The 34-year-old announced the news to his teammates on Thursday morning.