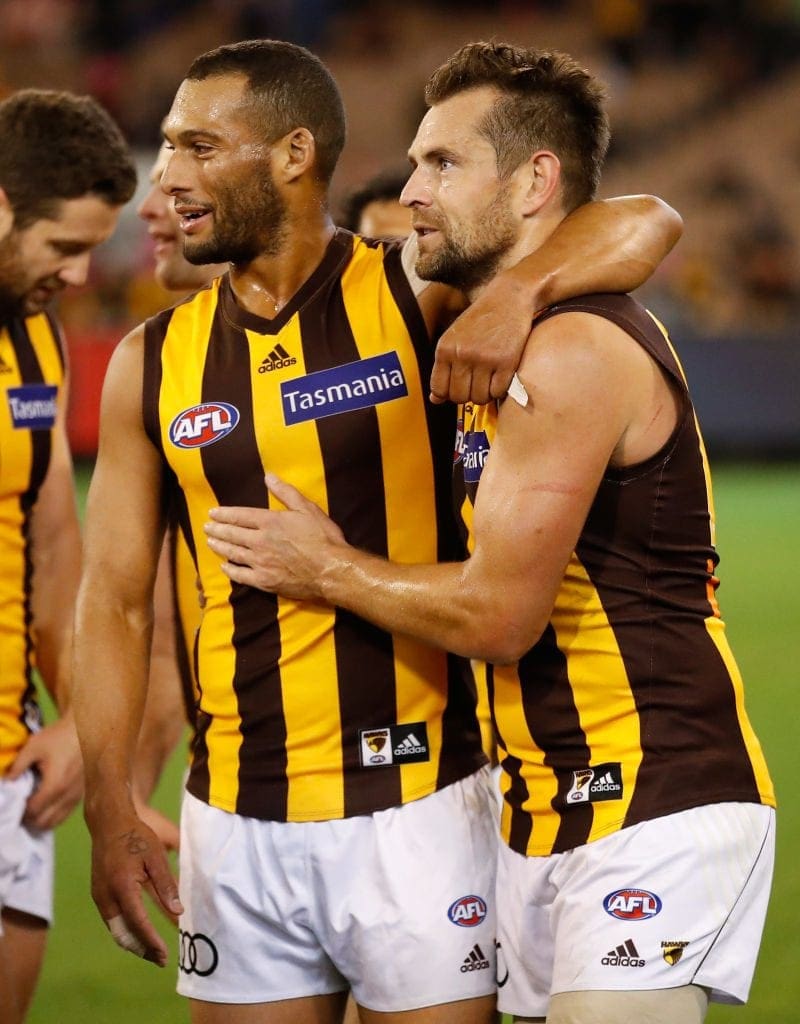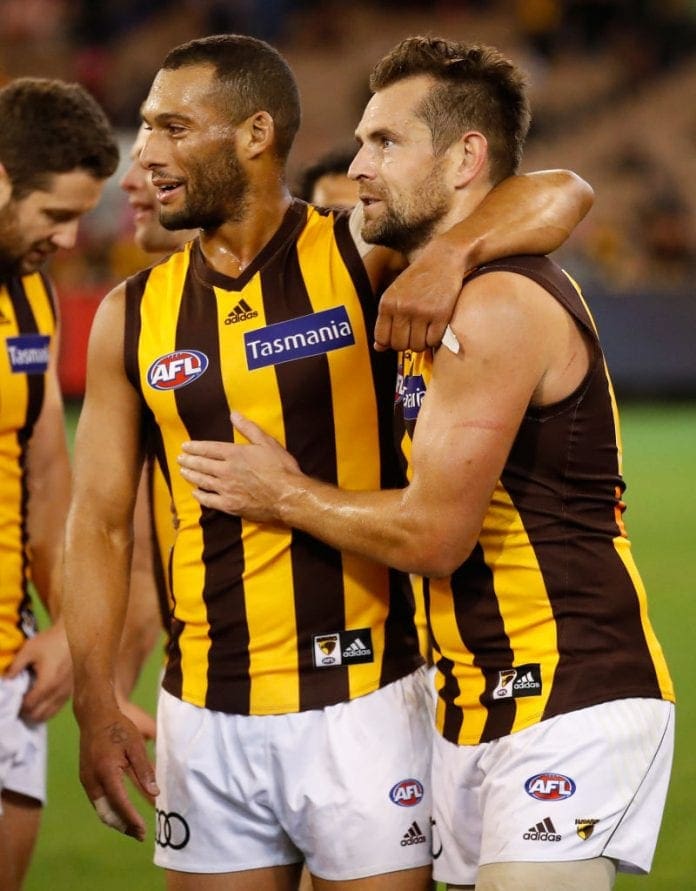 Three-time Hawthorn champion Josh Gibson has opened up on his move to the Hawks at end of the 2009 season, and the shaky road he took to becoming one of the AFL's best defenders of the modern era.
Gibson, who first joined North Melbourne ahead of the 2006 season via the Rookie Draft, played 65 games for the Kangaroos across four seasons at Arden Street, being utilised as both a run-wth player and as a defender.
Following meetings throughout the year with Hawthorn coach Alastair Clarkson and club greats Jason Dunstall, Luke Hodge and Sam Mitchell, Gibson was attracted to a move to Waverley, and soon requested a trade away from the Kangaroos.
Hawthorn parted with a pair of draft selections and would gain Gibson via the trade period, with the now-37-year-old revealing how mid-season discussions prompted his desire to become a Hawk.
"After the talk with Clarko I had a second meeting with Jason Dunstall and I think 'Hodgey' and 'Mitch' were there... I knew that was where I wanted to be," Gibson revealed on The Jim Session Podcast.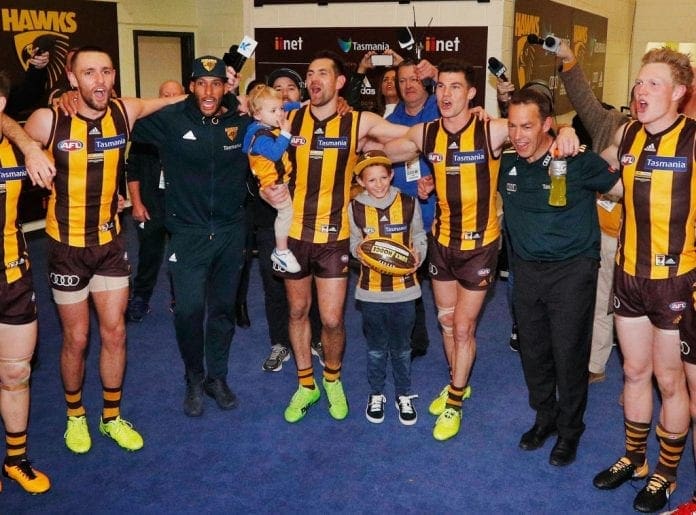 "They really saw me and valued me as a defender. They liked some of the work I did on Buddy (Franklin).
"Obviously Croady (Trent Croad) had been amazing for them, but he smashed his ankle in that '08 Grand Final, so '09 he didn't play.
"I was playing in the midfield as a tagger. I felt my best football was down back.
"North thought their plan moving forward was going to be (using) Lachie Hansen, Scotty Thompson, Nathan Grima.
"I was really comfortable with the decision and then thought it's going to be the best for me to play the position that I think that I can give the most to the team."
Gibson added that he immediately matured when he arrived at Hawthorn, believing a more senior role was "thrust" up him.
"When I was at North Melbourne I really felt like a younger player," he said.
"You had the Adam Simpsons, (Andrew) Swallows, Sav Roccas, Shannon Grants... the list goes on.
"When a team trades for you, and gives up early picks, you do come in feeling a bit more senior.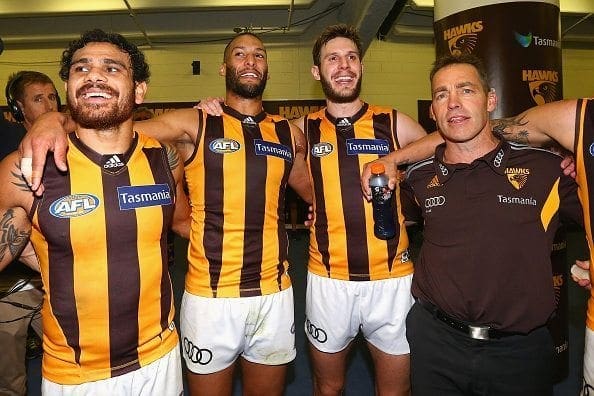 "It was a younger group. So you know, you're probably thrust into a more senior role straight away."
Gibson first season at the Hawks didn't get off to a great start, however it became the wake up call he needed to better his focus on football.
After being caught by the club for partying at the Australian Grand Prix early into the 2010 season and also being pulled over for speeding on his way to a club appointment, Gibson's move to the Hawks was quickly being questioned.
The two-time best and fairest revealed Clarkson slammed him in front of his new teammates, stating he must "fit in or f*** off".
"Clarko did give me the old 'fit in or f*** off' in front of the group," Gibson said.
"I was actually talking to Taylor Duryea about it the other day, he says it was the thing that moulded him, seeing how serious the footy club was.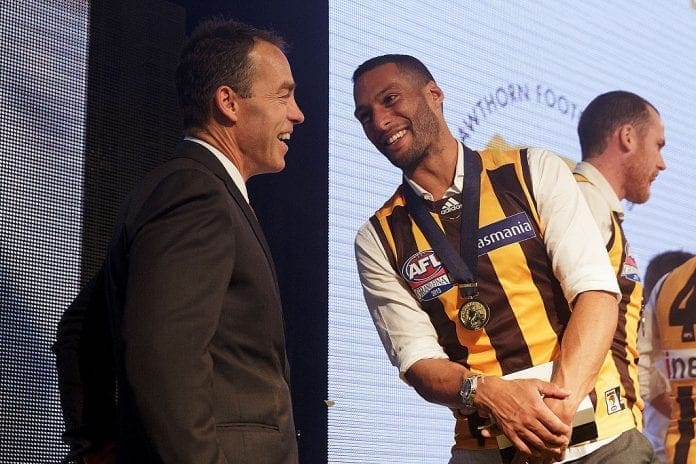 "I like the fact that it sort of had a lasting impression on some of these blokes, but it definitely had a lasting impression on me because I think I was pretty good after that. Yeah,
"I focused on the fit in and not the f*** off."
That lesson soon placed Gibson on the path to become one of the club's greatest defenders, being a key contributor to their eventual success and three-peat between 2013-2015.
Gibson would go on to play 160 games for the Hawks, calling time on his career at the end of the 2017 season.