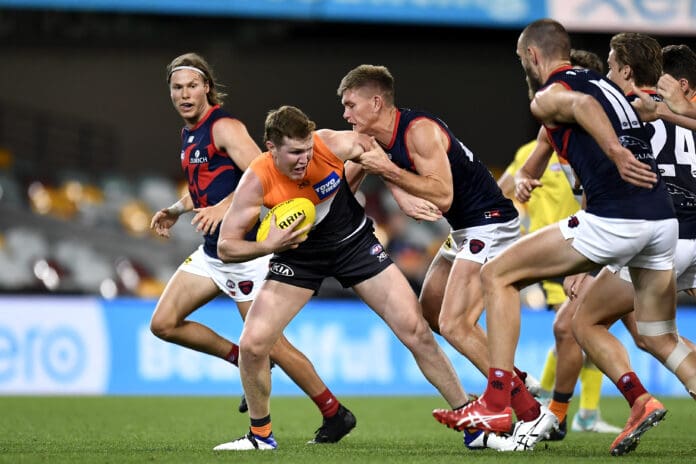 Since graduating from the GWS Giants Academy, Tom Green has been widely talked about in AFL circles as potentially one of the AFL's next superstar midfielders.
Highly touted coming through the junior ranks, the Giants were given priority access to the Canberra local and swooped on the midfielder early on draft night after a rival bid.
Since establishing himself in the Giants lineup, Green has developed into a player capable of gathering bulk contested possessions and will no doubt be looking to take his game to a new level in 2023.
With Tim Taranto and Jacob Hopper gone, now is the time for Green to step up as the main man at the coal face for GWS. The inside midfielder is widely seen inside the Giants as a potential future captain of the club, making it that much more important that they retain his services.
As Green enters the final year of his second contract with the Giants, his importance to the club has never been more apparent.
At just 22 years of age, he has become a fan favourite. The 'Tom Green Fan Club', a tent situated at Canberra's Manuka Oval is a testament to that.
"It's funny, but it's also a little bit embarrassing," Green told AFL.com.au. 
"Particularly if I go to Manuka Oval, like I did against Fremantle and against Brisbane last year, and I can barely get a kick. When you're playing like that, it's not great to look over and see a tent with your name on it."
See Also: James Sicily unveiled as Hawthorn skipper
The bullish onballer will have a decision to make on his future this year, much like Taranto and departed midfielder Tanner Bruhn did with their expiring contracts in the off-season.
But while many before him in the orange and charcoal have departed for rival states, Green feels at home in Sydney's west and hasn't given his contract much thought ahead of he 2023 season.
"I'm obviously aware that this is the last year of my contract, but I haven't thought about it too much. I really love Sydney and I really love the GIANTS," Green said.
"I don't have too many football goals for this season. When I say that, it's because it's more been around getting to know the new coaches and the new gameplan. That's where my mind has been. I have been thinking about it (the contract) a little bit and talking with my manager and stuff, but I haven't given it heaps of thought yet."
Season 2022 was somewhat of a breakout campaign for Green, playing 21 matches and averaging 24.3 disposals, 4.2 tackles and 5.0 clearances a game, placing him in the above-average category for those statistics.
As even more opportunities loom in 2023 for the impressive rising star, GWS will be hoping that his on-field abilities and off-field love for the club lead to him sticking around for many years to come.