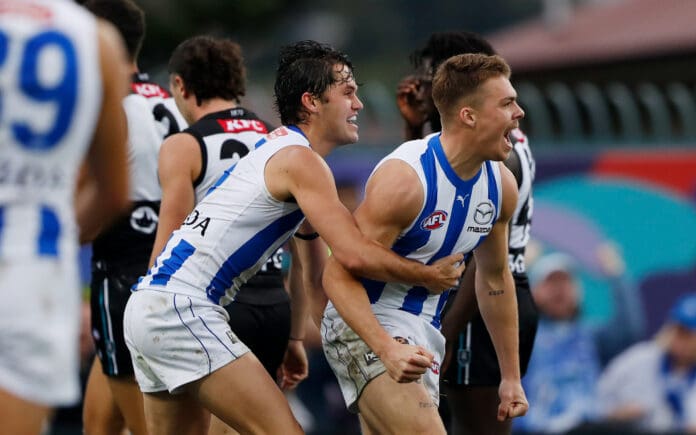 North Melbourne will have to make do without Cam Zurhaar for at least two matches as the young forward battles a foot injury.
After a flare-up was detected in the 24-year-old's foot, the Roos are expecting him to be sidelined until at least Round 15's clash against Adelaide.
"We've found a hotspot on his foot, so he won't play for the next couple of weeks," General Manager of Football Performance Daniel McPherson said to club media.
"We're hopeful he'll play in our first game after the bye."
North have the bye in Round 14, but will face Gold Coast and the Giants before their break in a bid to claim a second win for the season.
Elsewhere at the Kangaroos, young forward Charlie Comben will head into surgery to help relieve ongoing soreness in his leg, expected to be sidelined for at least five weeks.
"He has to have a couple of screws from a previous surgery removed from his lower leg," McPherson said.
"Hopefully all goes well, and we'll see him back in around five or six weeks."
Cam Zurhaar will miss the next two matches, after a hotspot was detected in his foot 😔

The latest on McKay, Comben, Coleman-Jones, Spicer and more, thanks to @AIAVitalityAU 🩺

— North Melbourne FC (@NMFCOfficial) May 31, 2022
In better news, both Tristan Xerri and Ben McKay are expected to feature against the Suns.
"Provided he gets through training tomorrow, he'll play on the weekend," McPherson said on McKay. The 24-year-old has been sidelined since Round 8 with a knee injury.
Callum Coleman-Jones is also a chance to return after sitting out of last week's VFL game with soreness.
"He pulled up a bit tight in the quad last weekend, prior to the game," McPherson said.
"He'll have to tick a few boxes at training tomorrow before he's right to play. We'll wait and see."