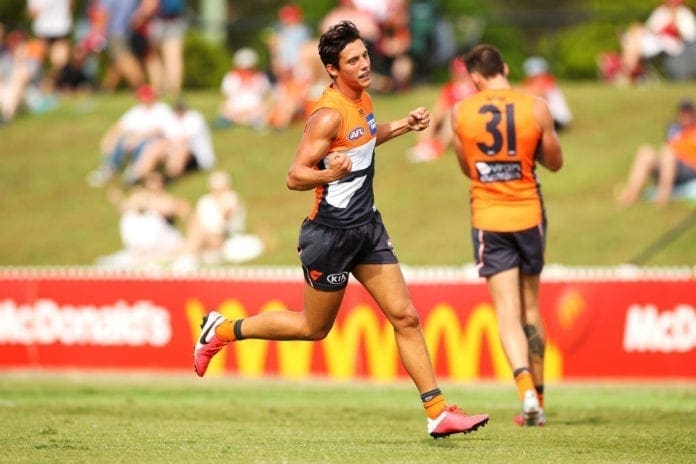 Greater Western Sydney general manager of football Jason McCartney has suggested to the AFL they reform the contracts handed to first year players as the Giants look to hold onto a number of young guns.
Newly drafted rookies are handed two-year deals, with the likes of Jye Caldwell, Jackson Hately and Xavier O'Halloran all having their contracts come to an end this year after being taken in the first round of the 2018 draft.
McCartney has called for the league to allow clubs to extend the initial contracts for first rounds picks by an extra year or two, as the Giants struggle to keep hold of their prized trio.
"For those first-round draft picks, there needs to be considerations for a mandated three or even four-year contracts rather than just the standard two at the moment," McCartney said on SEN Breakfast.
"That's something that needs to be looked at."
Hately is set to leave the Giants after requesting a move to Adelaide, while Caldwell is reportedly being heavily chased by St Kilda and Essendon.
Speaking on Caldwell's future, McCartney said the club were doing everything they can to retain the midfielder.
"We've actually got a meeting this morning with Jye's manager. Jye's manager is actually up in Sydney, so it's good to be able to have some face-to-face (conversations) with managers," he said on Tuesday.
"Jye hasn't made a decision yet and hopefully we will know more on that over the next couple of days.
"He's from Victoria and I suppose this is the one. It's not Jye, but probably something as an industry we'd love some consideration in the negotiations between the AFL and the AFLPA, when you've got a second-year player coming out of contract, they shouldn't be exposed to the offers that are getting put in front of the players.
"It's just not right, it confuses the players. Jye loves being in Sydney, he's really enjoying the football club.
"He got some good opportunities this year, I'm sure he'd like more opportunities as an inside mid, but I just don't think it's fair on the player after two years to have to go through something like this to be honest."