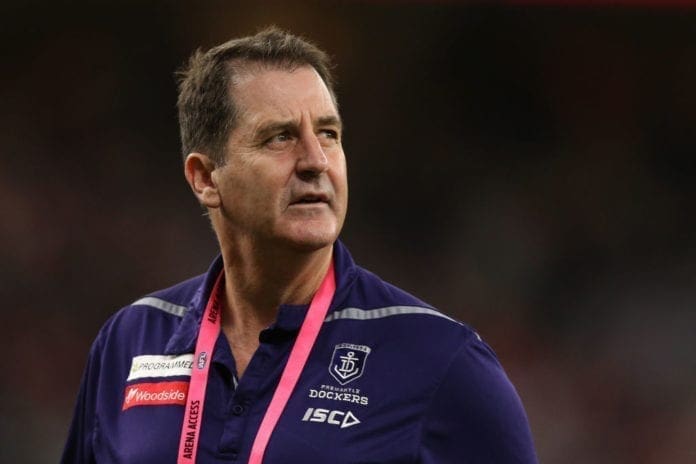 Former St Kilda and Fremantle coach Ross Lyon has pulled out of the race for the North Melbourne coaching job, while the Kangaroos have added Paul Roos to their selection panel.
It is understood that the club have listed 30 potential candidates to succeed Rhyce Shaw, with Lyon now making it clear he has no interest in taking over at Arden Street.
A number of contenders for the vacant position are believed to be hesitant as the AFL looks to recover from the COVID-19 pandemic, with the league suggesting slashed payouts to sacked coaches.
Brisbane legend Jonathan Brown told contenders, including former teammate Michael Voss, to steer clear of the vacancy due to the lack in its job security.
North Melbourne great David King slammed any suggestion that the club should be forced to make guarantees over the timeline and security of the position.
"If you have concerns about a six-month payout or are demanding a four or five-year deal, then don't bother applying," he told the Herald Sun.
"I just don't understand why the Kangaroos have to give guarantees no one else does. There are 18 jobs like this in the country. If you sit back and wait for the perfect one, you might be left holding the can.
"Not one Kangaroos supporter will be judging the next 24 months on wins and losses.
"We want to come along the ride. We understand this is a big task with half a dozen good kids who are there and with the young players to build around yet to be drafted.
Roos will join the club's selection panel to name its next senior coach, with CEO Ben Amarfio, GM of football Brady Rawlings, Football director Glenn Archer, Board member Sonja Hood and Centre for Leadership Advantage co-founder and director Terry Coyne also on the panel.
North Melbourne chairman Ben Buckley has backed the panel to find the best option for the club's next era, per nmfc.com.au. 
"We are thrilled to have Paul and Terry among our coaching panel, alongside Ben, Brady, Sonja and Glenn," Buckley told North Media.
"Our aim is to identify and appoint the best coach available. We firmly believe we have established a well-rounded coaching panel to help us identify the person that can bring us success and build a foundation for the future.
"We have been working on a shortlist of candidates and will be conducting interviews shortly. We expect to be in a position to announce the successful candidate in due course."