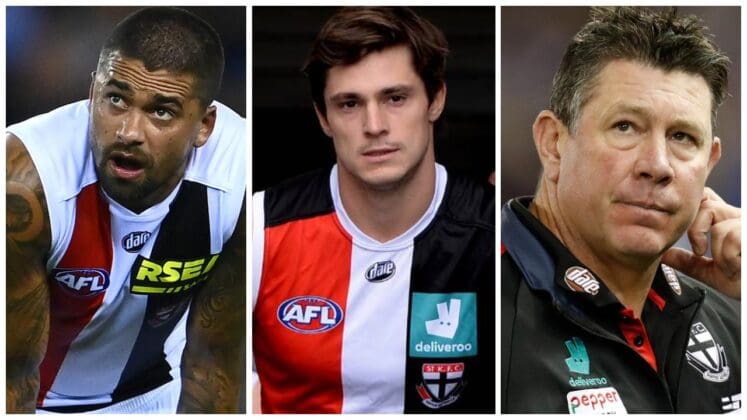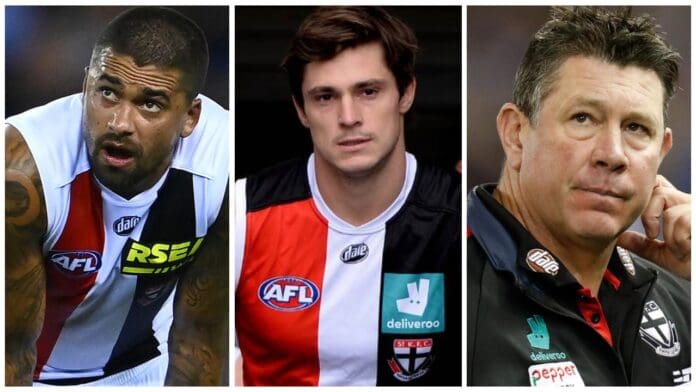 Here's one for you.
How many albums on your iPhone, Spotify playlists or CD stackers were composed by one-man bands?
Irrespective of the gendered idiom, I'm not talking about those solo artists that relied upon others to bring their sound to the world, but more those of the ilk of Stevie Wonder, Trent Reznor and Australia's own Tash Sultana who went forth and filled every role in the booth.
If your flick through the tunes has left you with just a few wax discs at your disposal, you're far from alone.
If you've managed to pluck a number of them, then I can quite comfortably say your musical tastes are either eclectic enough to rival Prince in his symbol days, or you live on one of the 17,000 square feet of the 'Bananas' record store in Florida.
Whether you're left clutching thin air, or a first press copy of 'Tubular Bells', the term that has transcended the world of largo, leggero, and legato is widely understood by all walks of life - including many more footy fans than certain advertising buffs are likely to give credit for.
With digital avenues allowing artists to be uncovered on a minute-by-minute basis and thus the age of musical collaboration reaching a crescendo, there is good reason why there aren't many totally singular outfits consistently earning radio play.
The facts that it often takes multiple people to truly hit the perfect pitch and that many musicians are able to take criticism better than the likes of Phil Collins have also seen the practice become diminished.
But in the case of the St Kilda Football Club, there was only one voice, one guitar and a lone backing track of tackles and torture borne from teammate's turnovers played on heavy rotation this season.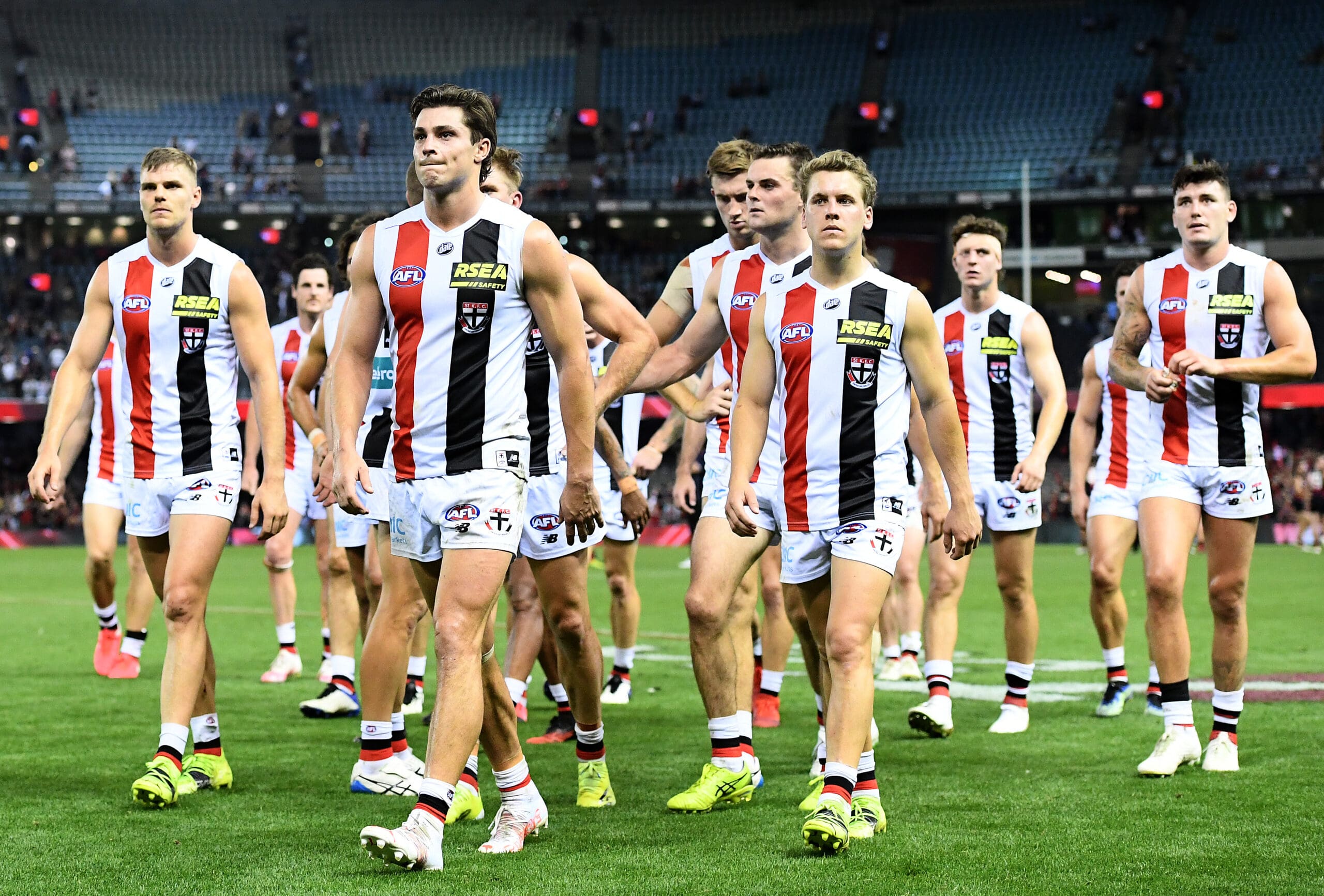 Since crossing to the Saints for the princely sum of a future second-round draft pick, Jack Steele's game has enjoyed a rise akin to Willy Wonka's ceiling-shattering elevator.
Though several seasons under ex-mentor Alan Richardson were either spent tasked as a tagger, or wasted as a backpack depending on your line of thought, the quiet-lipped achiever now acts as a juxtaposed bucking bull at the league's set of gates.
SEE ALSO: Every non-finalist's blueprint for success in 2022: North Melbourne

This careening growth has nigh on peaked across the past pair of seasons, as the former Giant has capped twin campaigns with a duo of Trevor Barker medals, a set of All-Australian blazers, and back-to-back top-five finishes on Brownlow night.
Still, are these just rewards likely to fulfill St Kilda's 'Man of Steele,' or simply leave him fatigued?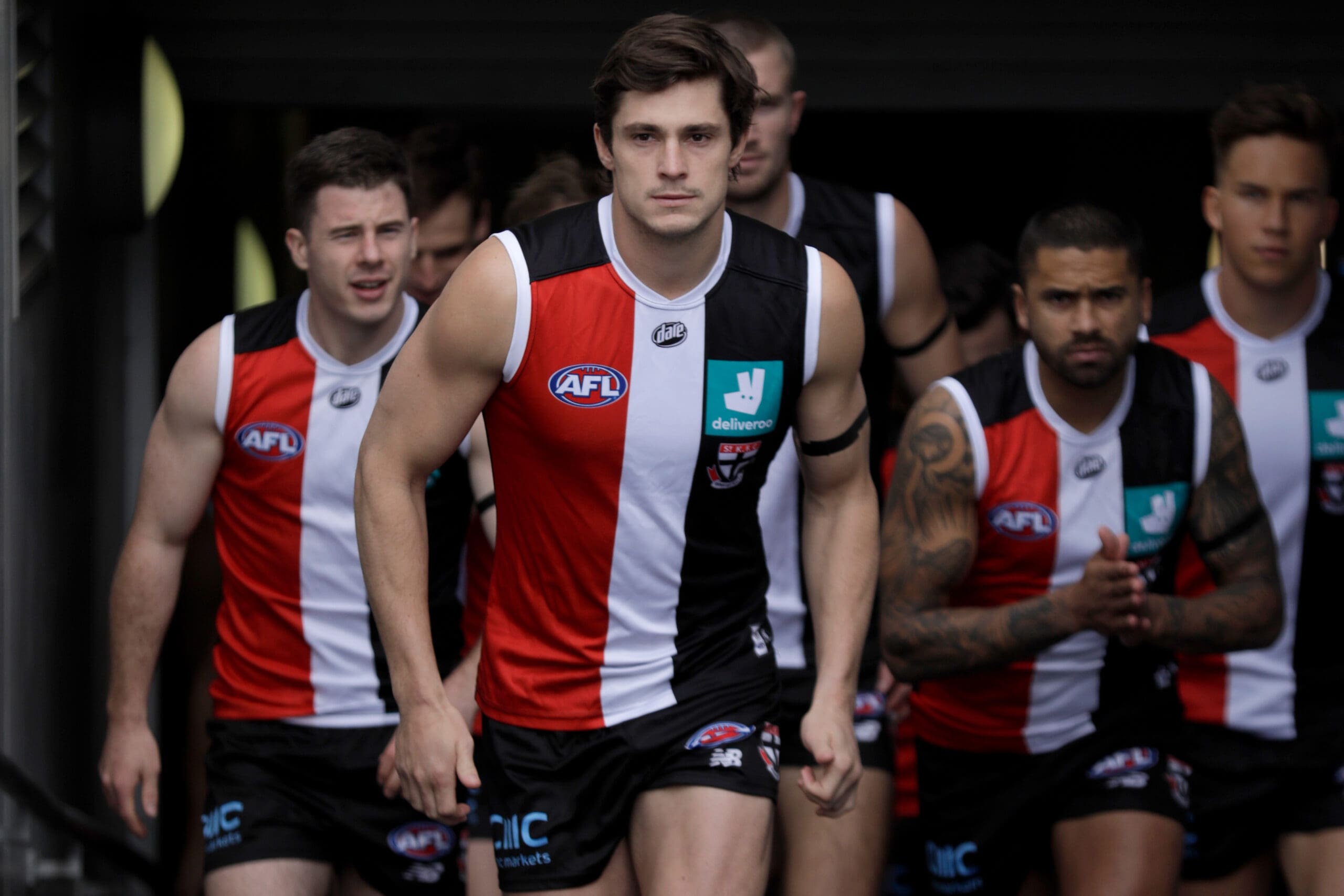 While the now 25-year-old was unable to ever sew up a consistent spot in Leon Cameron's senior side, his shift south and evolution of game style has led him to become more than just a part of the Saints' nucleus but almost the entire thing.
Having claimed his second successive intramural Best & Fairest award in September, the Canberran's deeds across a year when he came correct each week left him a mammoth 79 votes ahead of anyone else he currently shares a locker room with.
SEE ALSO: Every non-finalist's blueprint for success in 2022: Collingwood
To put this chasmic distance into perspective, should Steele's seasonal tally had been just these near on 80 nods, he would have only missed the Saints' top 10 by a few quiet quarters.
According to the eminent number crunchers at Stats Insider, the co-captain's 2021 tallies of 642 disposals and a league-high 185 tackles saw him finish ahead of any of his haloed contemporaries by margins of 113 and 76 respectively.
In late September, and occasionally early October, the wreath-adorned cup is gifted to the competition's best collective, with each member of the band handed a medal.
Although some in this flag-gaining club are known for their ability to peel off face-melting solos with others simply keeping the beat with a tambourine at their hip, all play a role in turning the meshed riffs into a top 40 hit.
However, unless Steele gets a hand from the array of names sitting idle in the Saints' studio, then the formerly man-bunned midfielder can put a pin in any drafts he has for an acceptance speech before the confetti is cannoned.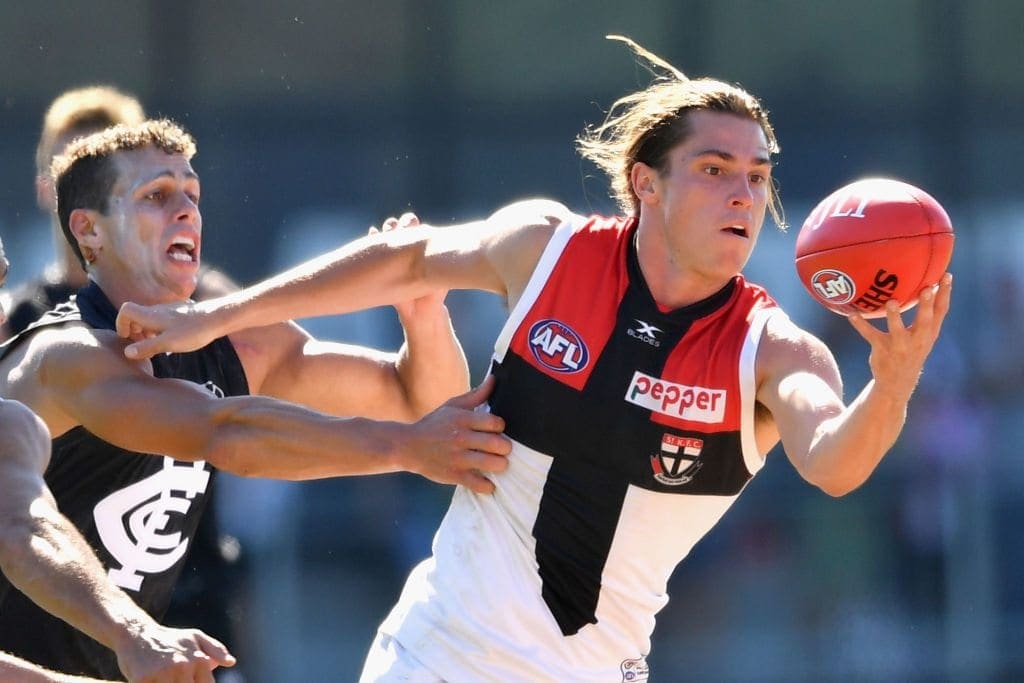 Although I don't wish for this to be seen as a hit piece at a side that is attempting to progress, some jabs need to be thrown at some of Steele's sidekicks that are yet to consistently bear their brunt of the slack.
Following a sound debut year in a red, white and black guernsey, Brad Crouch can be given a pass mark for 2021, as after finding his feet following his drugs ban, the output provided by the former Crow was at a level that should see him hold his head high.
SEE ALSO: Every non-finalist's blueprint for success in 2022: Gold Coast
Fellow passes can also be granted to the injured Jade Gresham and the interrupted Zak Jones, as knocking inconsistency due to injury or absence itself is about as fair as a loaded die.
Ticks too were earned by the young trio of Jack Bytel, Ryan Byrnes, and Leo Connolly, with each elevating their benchmarks when afforded the opportunity.
Be these marks as they may, whether based on drafting, development, or a messy mixture of both, the Saints are yet to receive sterling service from other names that were brought to Moorabbin to fulfill roles in the middle of the park.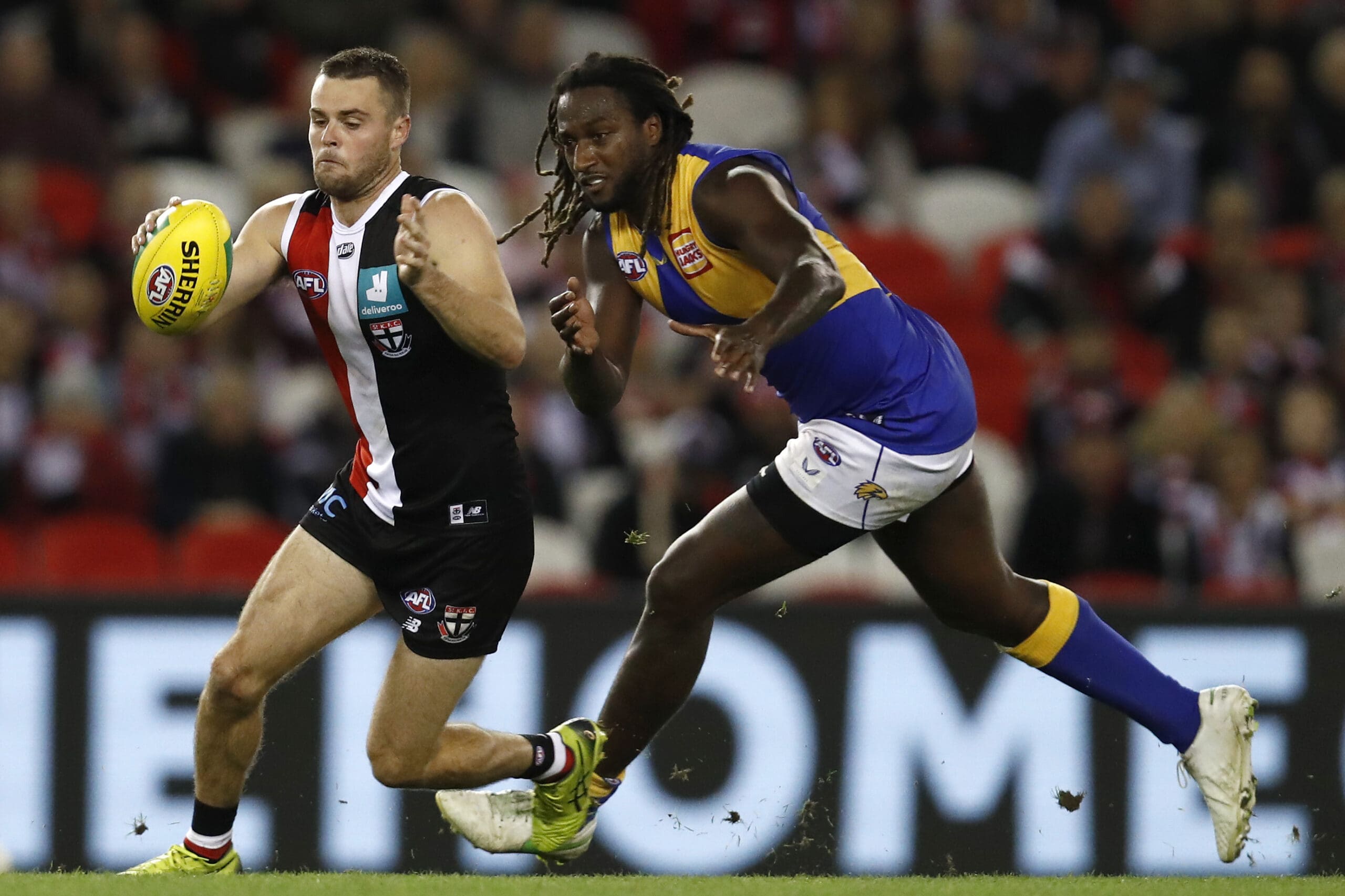 Though also cut in on after being forced to eat through a straw following his collision with Adelaide retiree David McKay, a question mark still resides over the headbanded head of Hunter Clark.
While his flashes of brilliance have grown longer each week, and his ability to find the Sherrin continues to steadily mount, it has been the Vic Country product's propensity for being deployed outside of the centre square that should raise eyebrows.
After attending 19 centre bounces, collecting 24 touches, and clearing the pill seven times during St Kilda's Round 1 victory against GWS, the view amongst long-suffering Saints fans was that Clark was on the precipice of a real rise.
SEE ALSO: Every non-finalist's blueprint for success in 2022: Adelaide
However, after only lining up the guts at a further 34 starts across his final 12 games for the year, this week one average was reduced to just 2.8 per start after what initially appeared to be a breakthrough.
With the mulleted Jack Sinclair staking his claim across the half-back arc and fellow flanker Ben Paton set to return next season, the time is high for Clark's training wheels to be removed after serving his apprenticeship behind the ball.
Sure, this view seems harsh on a 22-year-old that is still steadying himself at the grade. And yes, the product from the Saints' old zone down on the Peninsula doesn't pick or choose where he plays, but the side, and Steele, will be better served by sending the former top-10 pick into the portion of the paddock he was drafted to cover.
Put simply, 2022 is a big year for both Clark and the club.
Though further down the track in terms of age and experience than the kid that sits four lockers down from him, a similar premise for promoted performances also applies to Jack Billings next season.
Despite the long-made references to the former pick three and the brilliant Bulldog selected directly after him, it is clear that the Scotch College graduate is not a personality - or a player - that is truly prone to grabbing games by the scruff of the neck.
SEE ALSO: Every non-finalist's blueprint for success in 2022: Hawthorn
And while this is fine, as is his placement outside of the centre square, another campaign outside of the club's best 10 players on awards night surely won't suffice.
Brownlows, MVPs, and a gung-ho attitude may never be the bounty that Billings brings to the table, but, having inked a four-year deal to remain as a member of the leadership group at Linton St, the 26-year-old's career return of just over 20 touches and less than a goal a week cannot remain the status quo.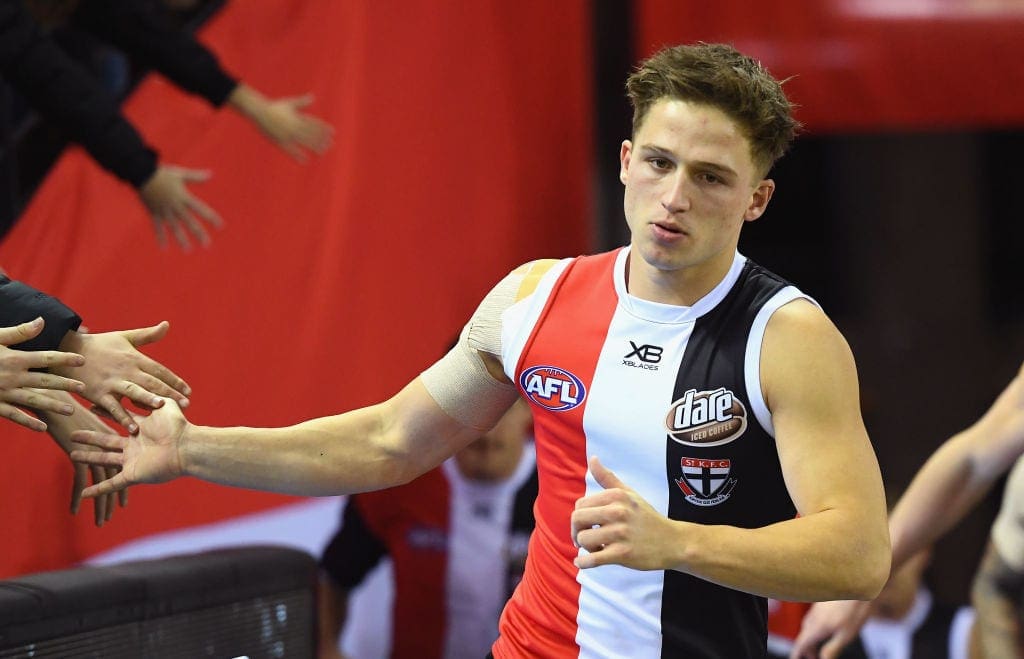 Irrespective of the fact that some Saints backers have warmed to the idea of berating Bradley Hill following his cooling form, the former Hawk and Docker's back-end to the year provided ease for both parties' blood pressure.
But even though it's true that the inked winger found the ball with far more simplicity just prior to the mid-year bye, the manner in which many of his kicks arose should not escape scrutiny.
SEE ALSO: Every non-finalist's blueprint for success in 2022: Carlton
Following a six-touch return against North Melbourne in which he was soundly tagged out of the contest by father-son selection Bailey Scott, the 28-year-old speedster may have rounded out his final 11 games with a mean of 22.5 disposals, but there was a catch.
Across this stint from Round 12 to 23, more than a week's worth (26) of these touches came whilst playing on from kick-ins - a truly inordinate number for a player that was brought to the club to send the leather inside forward 50.
SEE ALSO: Every non-finalist's blueprint for success in 2022: Richmond
Though the move behind the ball settled the at times embattled name, and allowed him to run through opposition roadblocks, a similar leg up with a warm cup of cocoa from head coach Brett Ratten should not be on offer in 2022.
Even while Hill managed an equal fifth finish during the Saints' club awards ceremony this season, if his ability to impose himself on the scoreboard's showing fails to re-rise when the next fixture list arrives, rightly or wrongly, there are sure to be plenty of nails set to continue picking at both his match-day and financial figures.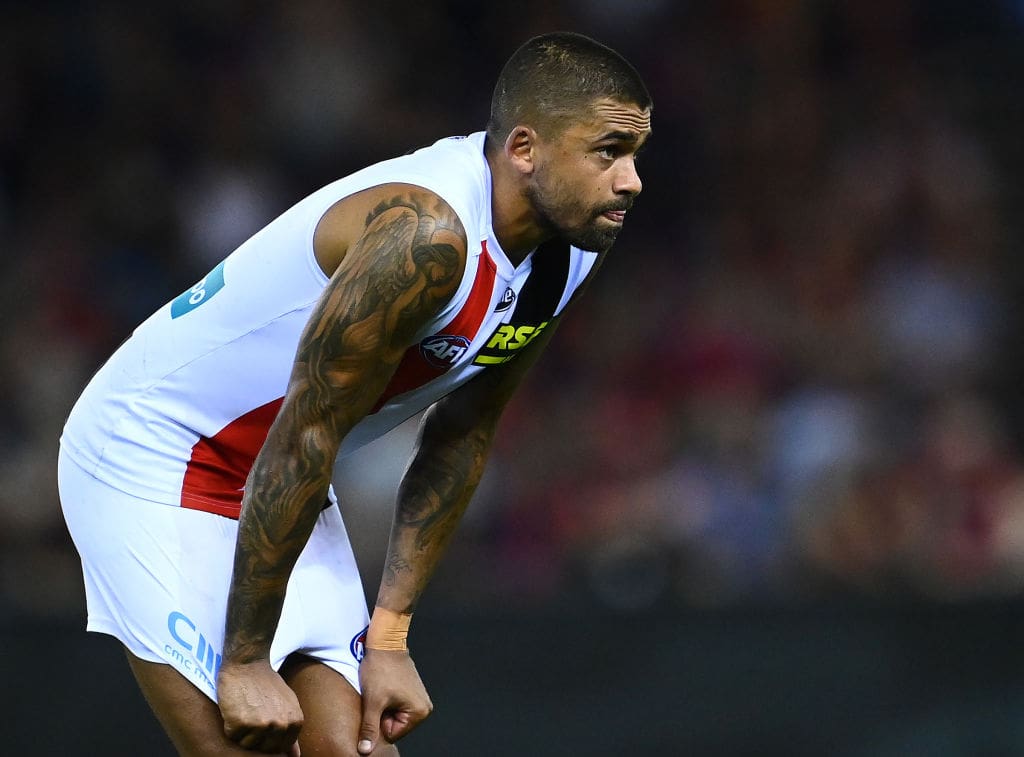 As proven by Melbourne within the last month, a rise to prominence will come with speedbumps, yet it is how they are tackled and overcome that is the critical difference between a pugnacious progression or a stillwater stagnation.
I am certain that there will be plenty of paid-up members of the Saints that may disagree with my candid stance, as is your right. Nevertheless, I have only sought to highlight this trio of names as they have another key trait in common apart from the obvious.
SEE ALSO: Every non-finalist's blueprint for success in 2022: Fremantle
Like the messages from teachers to those that drag their heels on homework assignments and seem far happier to stare out the window when the academic whips are cracking, my sternness on Clark, Billings and Hill comes from a place of care as their potential is far too great to fritter.
Even if there may be other names that sometimes earn a place in Ratten's senior side, and several alternatives that get granted runs on the ball, aside from some obvious offensive and defensive assets, arguably none are more important to a potential push for a flag than the aforementioned pair of high-end draftees and the luxury recruit.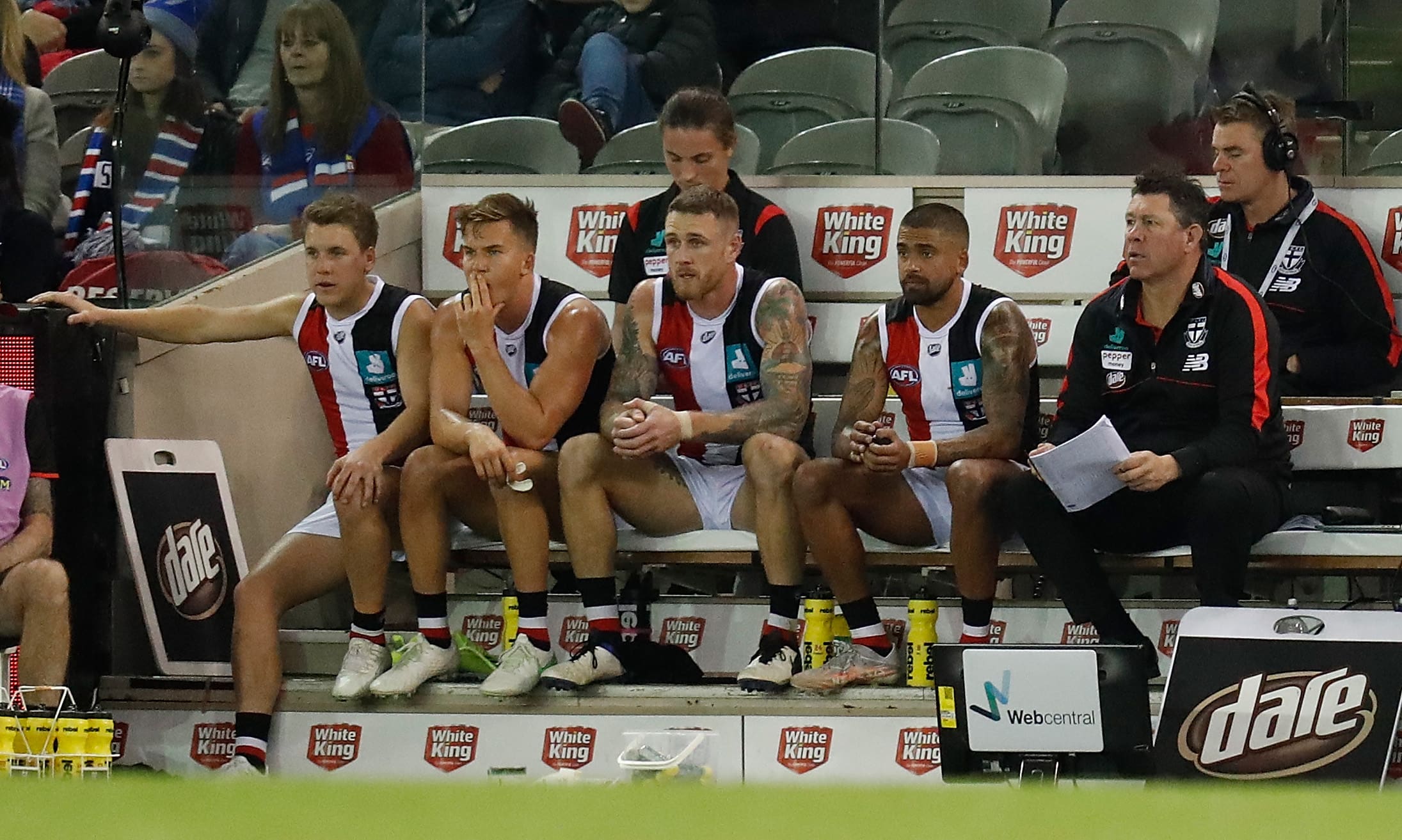 With the club's 10-12 record this season likely robbing the first-year skipper of several votes during the tuxedoed count last month, Steele would have every right to demand eyes and a rise when the Saints reconvene in November for pre-season training.
But given his altered levels of patience and autocracy to many recording artists, I am sure it will be the one-man band's actions that will continue to speak louder than his words.
Still, if St Kilda is to reacquaint themselves with September football and eventually find a friend for their lone cup in their dusty cabinet, several names are going to have to pick up the sticks, picks, and microphone, as backup dancing doesn't sell records, just as single-player teams don't win trophies.