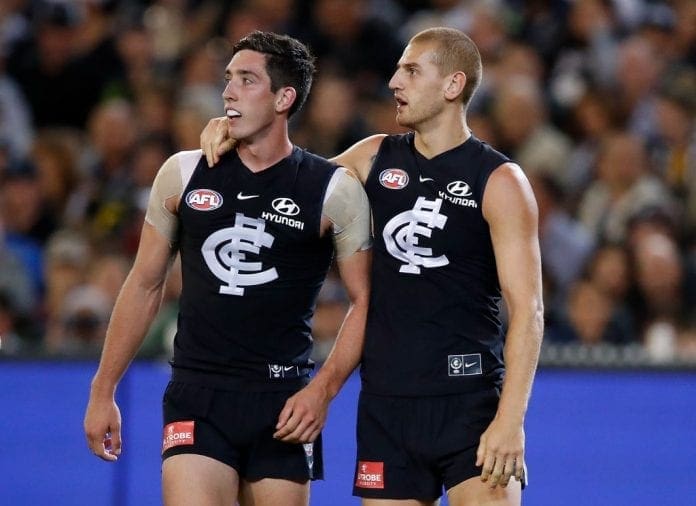 Western Bulldogs football boss Chris Grant has confirmed the rumour he recently met with former Carlton defender Liam Jones in hope of potentially luring the 31-year-old back to Whitten Oval.
Following his retirement from Carlton at the end of last year due to the AFL's vaccine mandate, Jones has since plied his trade in the QAFL with Palm Beach Currumbin in hope of keeping himself in shape should another opportunity in the top flight arise.
Following the AFL's recent easing of their vaccine policy, interest in Jones has spiked, with the Tasmanian native having already met with the Bombers in recent weeks, while the Suns are also believed to be keen on potentially acquiring the backman's signature.
The Dogs had been rumoured to be mulling a move for their former forward, with Jones and his manager reportedly spotted entering Grant's house in recent weeks.
While Dogs senior coach Luke Beveridge did his best to extinguish the murmurs, Grant has since confirmed he recently hosted Jones at his Williamstown home.
"I've got to be up front and honest … I obviously caught up with Jonesy," Grant told RSN. 
"You think let's do it nice and private, a nice cup of tea together, a nice cup of coffee and then two hours later it's been tweeted.
"It doesn't matter what you do in Melbourne, people find you."
Jones began his AFL career in the blue, white and red in 2008 as the 32nd overall selection in the National Draft, playing 66 games and booting 68 goals across six seasons at the Kennel.
A move to Carlton at the end of 2014 saw Jones emerge as a formidable defensive asset, making the move to the back third and pairing with Jacob Weitering on the last line.
The Bulldogs are likely to look towards bolstering their backline this year, but Grant understands the competition his club will face in hoping to pry Jones back to Victoria.
"I know he's met with a couple of other teams as well," Grant said.
"He feels he'd like to come back to AFL footy. The AFL are still to confirm to him and his player manager, Shane Casley, what that mechanism will be so it was pretty much an exploration meeting for us both.
"He's been playing footy … it's not at the level of the AFL or the conditioning levels of the AFL, but he's still in pretty good nick.
"Over the the next month or so, the AFL will confirm (the mechanism) for him and we'll wait and see what it means for us."
Jones has stepped away from his duties with Palm Beach Currumbin in recent days, with his sights likely set on a reprieve into the AFL.
The move to leave the QAFL club will act as insurance to prevent any untimely setbacks in Jones' journey back into the league.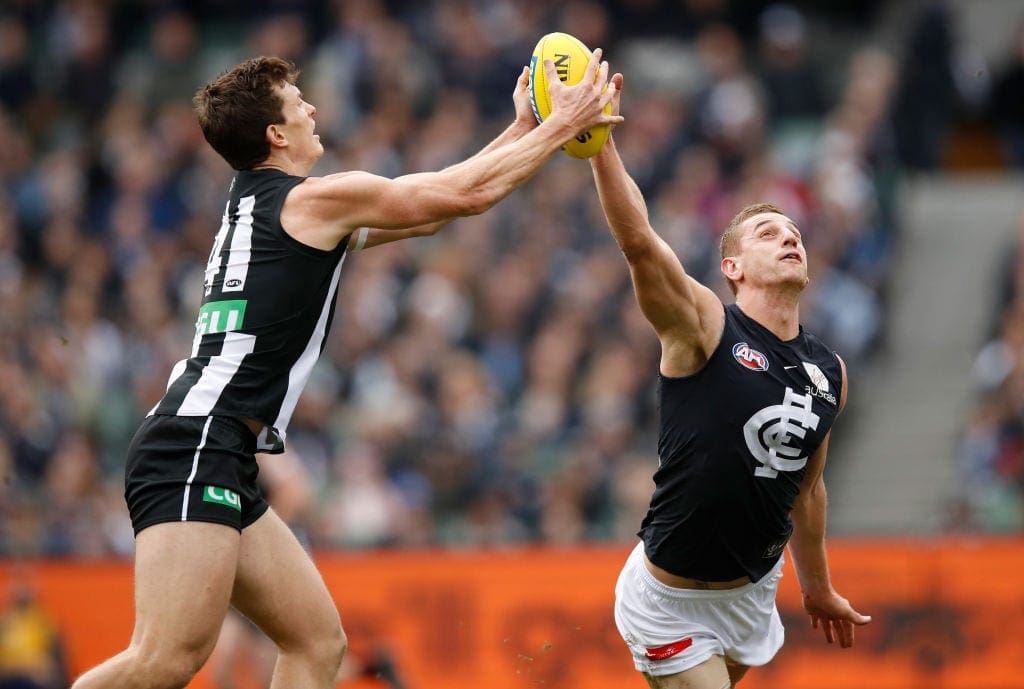 "He has got to get ready for pre-season and they said if he gets injured between now and then the contract will be invalid," Palm Beach Currumbin coach Russell Maloney recently told The Gold Coast Bulletin.
Carlton are expecting the AFL to consider handing them draft compensation should Jones be able to join a new club ahead of next season, with league laws stating players who retire are unable to return to the competition for 18 months.
Should Jones be unable to gain an exemption from the AFL, the 2023 Mid-Season Draft firms as his next open window to return to the league.