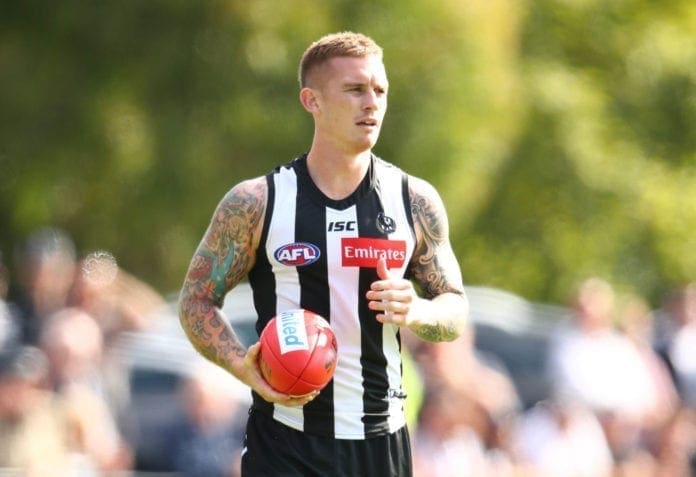 Collingwood and the AFL are closing in on a payout settlement with Dayne Beams after the 30-year-old announced his retirement from the game last month.
A settlement could fall under the league's medical payout allowance rather than the Magpies' salary, with the club finding themselves "in no man's land" and forced to move on four players in the trade period.
Beams opened up on his gambling and prescription drug addictions on The Sacked podcast, with the former Collingwood and Brisbane player also battling mental health issues.
Speaking on SEN on Monday, Collingwood chief executive Mark Anderson said the club was working with the AFL, Beams and his management to prematurely end Beams' contract that remains to have two-years to run out.
"Yeah, we're working through all of that," Anderson said.
"And we'd hope that we do end up at a fair outcome.
"The primary thing for us has been really disappointing that we find ourselves in the position, but we want to make sure that we're looking after Dayne not only for the moment, but actually ensuring he's got a good future ahead of him.
"He is in a good space.
"He's progressing and his life's on track. Our job is to ensure that that continues and that's been our primary concern throughout. I think we and he have managed that situation well in what was disappointing for everyone."
Anderson added that it has been "a really difficult situation for everyone and Dayne's handled himself really well".
"His agent's managed it really well and to be fair, we've handled the situation really well with Dayne as well," he said.
"It's been disappointing for all, and it hasn't played out the way anyone hoped, but we've stood by him, we've supported him through and importantly we've done that directly with Dayne and not talked about it a lot.
"But we've stood by him and looked after him and that's continuing but hasn't reached a conclusion yet."