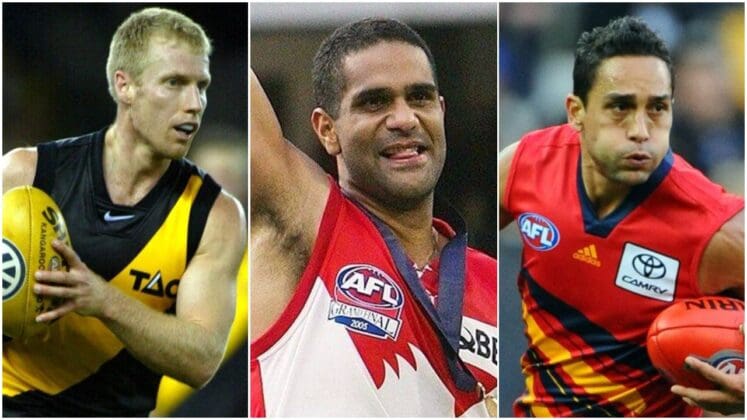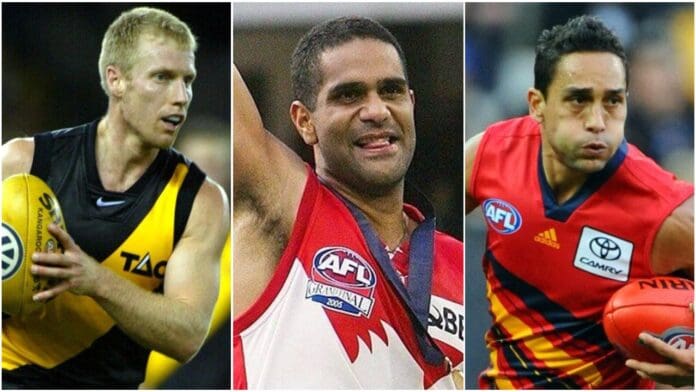 Except for a criteria change, the Brownlow night invitations would look a lot different.
Since its inception in 1924, the Brownlow Medal has changed the lives of the 88 footballers who have won the prestigious award. Future winners would join an elite group and breath the rarefied air of a Brownlow medallist.
Watching the Brownlow over the years, we have grown accustomed to hearing, 'N…Fyfe…three votes' and this gave me cause to ponder just how good is this bloke? Nat Fyfe in fact, has the third-highest percentage of three vote games in history.
That means, out of his 176 home and away games he has polled three votes in 23.29% of them. Patrick Dangerfield is the only other current player who has a percentage of 20 or higher. 1976 Brownlow medallist ruckman Graham Moss has the second highest with 25.30% and the first Brownlow medallist in history Carji Greeves* leads all with 27.10%.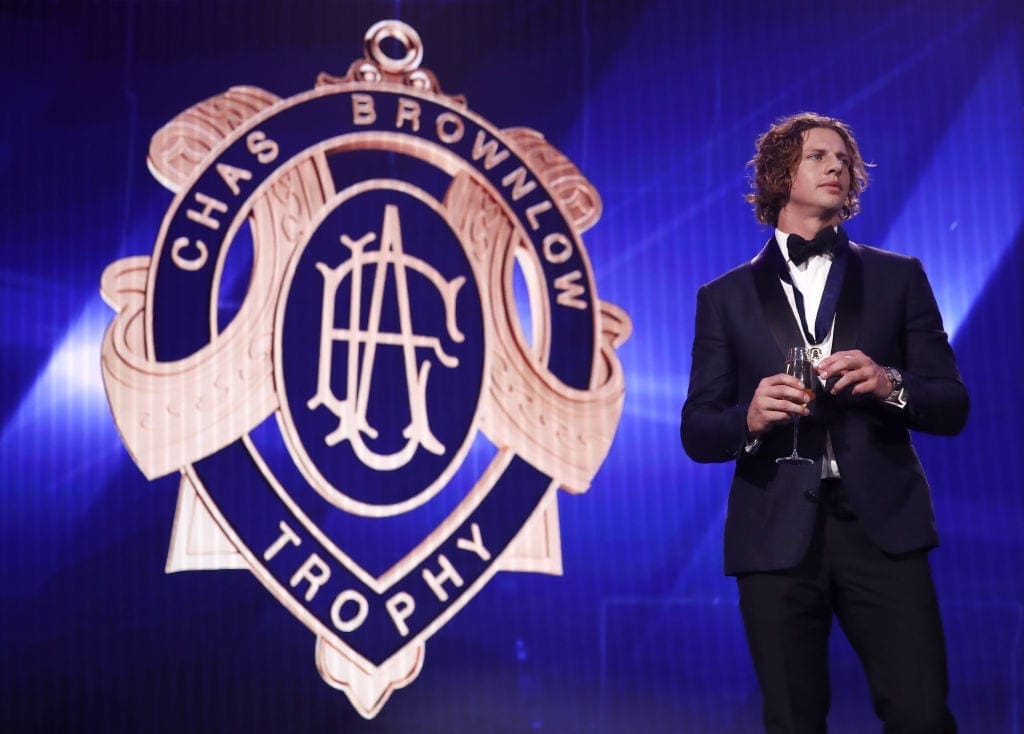 *Although it states Carji Greeves only polled 29 votes, these votes were regarded as 29 best-on-ground performances because the umpires only paid one vote per match.
The voting system of the medal has changed throughout the years. Until 1930, one best-on-ground vote was given to the deserving player. On a tie, the medal would go to the player who had played the least number of games.
An article from The Argus on the 25th of April, 1931 proposed an alteration to the voting system to the 3-2-1 method used now. This method was implemented after three players (Harry Collier from Collingwood, Stan Judkins from Richmond and Allan Hopkins from Footscray) were all awarded four best on grounds during the 1930 season. Players were only allowed to tie for the medal after 1981 (coincidentally, former teammates Barry Round and Bernie Quinlan tied for the medal in 1981) till then, the player with the least number of games would win.
If both players played the same number of games, then the player with the most two-vote games would win. In 1989 players who tied for the medal, but lost on countback, were awarded retrospective medals.
Let's hypothesise, what if they kept the same voting system used up until 1930, yet still awarded medals to players who tied for the least amount of the games?
Then greats of the game like Polly Farmer, Michael Long, Stephen Silvagni and Leigh Matthews would all be Brownlow medallists. Allan Hopkins, Ron Clegg, Andrew McLeod, and Kevin Murray would be dual Brownlow medallists. Gary Ablett Jr would be a triple Brownlow medallist and the great Haydn Bunton Sr would be a quadruple Brownlow Medallist.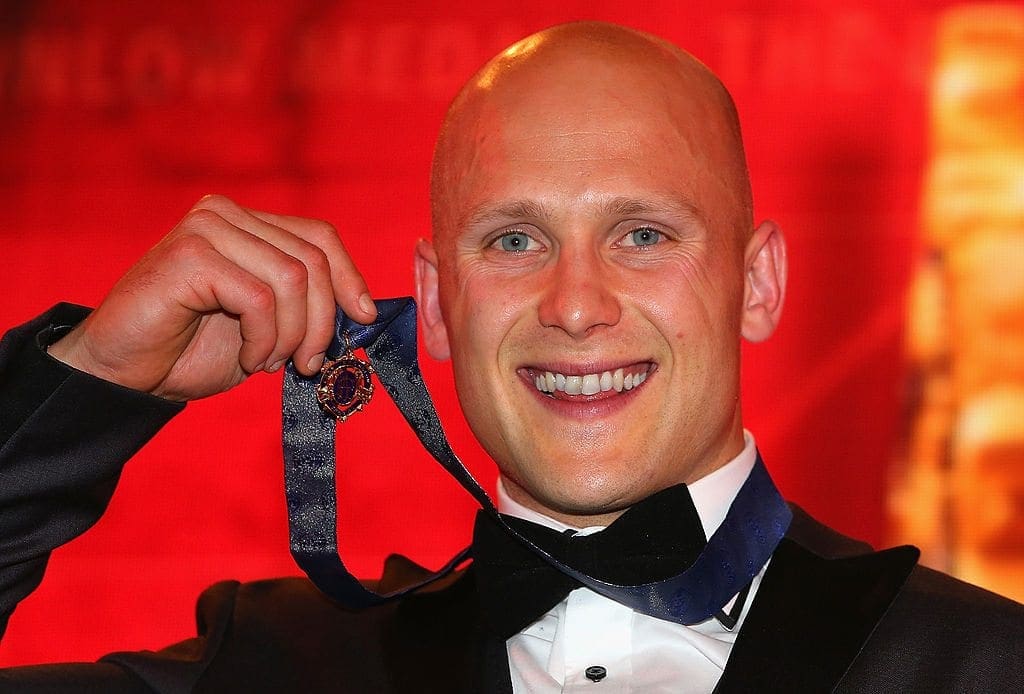 Triple Brownlow Medallist Haydn Bunton Sr polled votes in 38 out of 66 games between 1931-1934. He also polled 18 three-vote games at a percentage of 27.27%.
Lesser-known players such as Bruce Abernethy, Paul Meldrum, Phil Carman, Mark Lee, Graham Wright, Matthew Allan and Justin Charles would have their lives changed forever. How might their careers have changed if they were hailed as Brownlow medallists?
The late Polly Farmer would create history becoming the first Indigenous Footballer to win the Brownlow, cementing his place as the greatest ruckman of all, having also won three Sandover Medals in the WAFL.
Two of the greatest rovers of all time in Dick Reynolds and Bob Skilton would be dual Brownlow medallists instead of triple, whilst Fitzroy rover Haydn Bunton would be talked about as the greatest of them all, with four Brownlows and three Sandover Medals.
Brownlow history would experience seismic shifting. Reynolds, who was the youngest to win the award in 1934 at 19 years and 90 days, would finish second in the count with four best on grounds. Bunton finished with five, and 20-year-old Keith Shea in his third season would create history in becoming the youngest Brownlow Medallist at 20 years and 34 days, equalling Bunton with five best on grounds in Carlton's Round 18 clash against St Kilda.
Fitzroy Legend Kevin 'Bulldog' Murray would win two Brownlow's in 1960 and 1962, yet, would finish second in the 1969 count which he won. The 1969 medal, in fact, would go to durable St. Kilda full-back Bob Murray who finished with five best on grounds.
The Fabulous Phil Carman, in his first season of V/AFL football, would win the 1975 medal from only 14 games!
Melbourne Legend, Robbie Flower who came so close on several occasions would be the Demons' greatest footballer with a Brownlow in 1979, tying with Collingwood's Ruckman Peter Moore.
Sturdy Richmond Ruckman Mark Lee would have a Premiership and a Brownlow in the same year with five best on grounds, winning him the award in 1980. Two more ruckmen would create history as the second pair of brothers to win the medal, with Simon Madden winning it in 1983 and younger brother Justin winning the Brownlow in 1985 with Carlton. Justin Madden in fact would have pulled off the greatest win of all time. 'Big Harry' didn't poll his first best on ground till round 14, then went on to be named best on ground in five consecutive rounds from Round 17 to 21 to poll one more than Footscray attacking defender Brad Hardie.
Two of the unlikeliest victories would occur in 1986 and 1987. Bruce Abernethy's win in 1986 might have changed his life spectacularly. Recruited to North Melbourne as a 19-year-old triple premiership player from Port Adelaide in the SANFL, Abernethy's stint at the Kangaroos was short and he was offloaded to the Pies for $160,000. Kevin Bartlett in fact labelled Abernethy as one of the game's biggest disappointments in 1985, failing to live up to his hype. The next year, 1986, Abernethy hit his straps and was awarded his fourth-best on ground in round 21, equalling hard-nut Robert DiPierdomenico. Because there was no countback, Abernethy would pip 'Dipper' for the Brownlow playing two fewer games. After 1986, Abernethy would move back to Port Adelaide winning another three flags, he may have stayed back at the Pies and won a flag in 1990 if he was a Brownlow medallist. Magpies premiership players are Gods – how worshipped would a Pie Brownlow and Grand Final medallist be?
One of the greatest footy stories of all time concerned Paul Meldrum, who emigrated from London as a child. He walked into Carlton's office at Princes Park and asked for a run at pre-season. Recruiting manager Shane O'Sullivan assured Meldrum that the reigning premiers would organise an invitation for him. That invitation never arrived, and the super-fit Meldrum went back to O'Sullivan's office and finally asked to join in, IF he could keep up with the demands. Meldrum succeeded. After successful seasons from 1984 to 1986, Meldrum started the 1987 season hot, with five best on grounds in the first eight rounds. Not polling another 'BOG' in the last 14 rounds, Meldrum held on to win the 1987 Brownlow holding off a fast-finishing Tony Lockett who polled three 'BOGs' in his last six games.
In 1990, the verbose Collingwood captain Tony Shaw, who the umpires all but reviled, produced the most unlikely Brownlow win. Shaw jumped out to lead the count with four 'BOGs' leading Tony Liberatore, Saints big man Stewart Loewe and Geelong Forward Billy Brownless with three. Team of the Century full-back Stephen Silvagni tied with Shaw in Round 18, and they were tied until Round 20 when Shaw's Collingwood teammate Graham Wright polled two 'BOGs' in the last two rounds to produce the second three-way tie in history. Shaw's status as a Collingwood legend would be further enhanced by becoming the first footballer in history to win a Brownlow, Norm Smith Medal and captain a flag in the same season, Silvagni would have been the third Full-Back to win the award.
The next year in 1991, Matthew Knights would become the fifth 20-year-old to win the Brownlow, racing to five 'BOGs' by round 12, two votes clear of Michael McLean, Craig Turley and Paul Hudson. Melbourne's Irish Ruckman Jim Stynes would then poll three best on grounds across Round 17-19 to tie with Knights. Both players did not poll for the last five rounds and were both award Brownlow Medals.
The Battle of the power forwards took place in 1992, with St Kilda's Centre Half-Forward Stewart Loewe winning the award with five best on grounds. He finished one ahead of Hawks full-forward Jason Dunstall and young North Melbourne centre-half forward Wayne Carey. Loewe, who didn't poll a vote in his last 10 games, cemented his lead with three best on grounds in Rounds 10, 11 and 14 averaging 18 disposals eight marks and two goals for the season.
In 1993, we were treated to a tight Brownlow count with 17 players separated by one vote. In fact, six players tied on four votes each. Beating Garry Hocking and Gavin Wanganeen by one game was 22-year-old St Kilda midfielder Robert Harvey who remarkably didn't poll a best on ground until Round 13.
Veteran midfielder Greg Williams, who had been unlucky in a few counts, was awarded the 1994 medal at 30 years of age with nine best on grounds, equalling the record set by Colin Watson in 1925 and Ivor Warne-Smith in 1926. West Coast wingman Peter Matera also polled the record most votes to finish second with eight best on grounds.
Michael Long became the second Indigenous footballer since Polly Farmer in 1963 to win the Brownlow, cementing his position as a great of the game with his Norm Smith in 1993. Long's win in 1995 was all the sweeter after he came back from a knee injury that ruled out his entire 1994 season.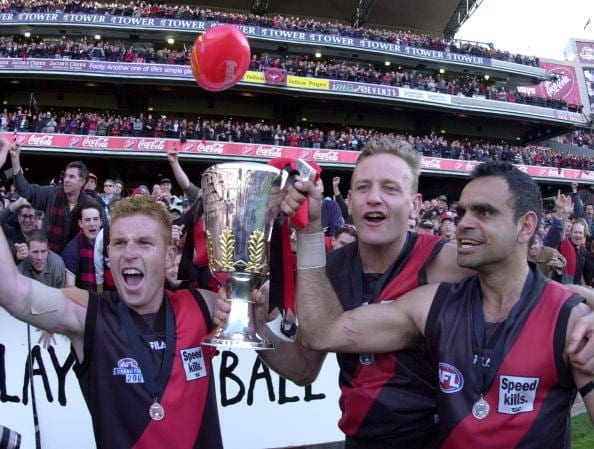 The 1996 count was marred by controversy as Corey McKernan became the first ineligible player to win the medal outright with five best on grounds in his first nine games. McKernan was suspended for one week in Round 5. He also became the first player in history to win the Brownlow and Rising Star, but miss due to suspension. His pain was eased with the 1996 Premiership, AFL MVP and All-Australian Honours. Due to McKernan's suspension, we had our third three-way tie with Brisbane Bears youngster Michael Voss, Geelong veteran Garry Hocking and the dark horse, Richmond ruckman Justin Charles tying for the medal. Charles, who did not poll one vote in his first six seasons and did not poll another after his win due to a 16-game suspension for testing positive for steroids, would tie the count in Richmond's last round loss to North Melbourne, his opponent was in fact Corey McKernan.
Collingwood captain Nathan Buckley won the 1998 Brownlow with seven best on grounds in only 18 games with three consecutives 'BOGs' between round 12 to 14.
Similar to Justin Charles in 1996, Carlton Ruckman Matthew Allan produced nine best on grounds in 161 career games, six of those came in 1999 when he pipped Hawks rover Shane Crawford to win the 1999 Brownlow. Allan polled three consecutive best on grounds between round 18 to 20, to win the medal.
A surprising winner in 2000 was Sydney half-forward Michael O'Loughlin who became the second Swan in 13 years to win the medal, polling five best on grounds. O'Loughlin, who had polled one career vote in his first 101 games, started the 2000 season off with a bang in Round 1, accumulating 31 disposals and five goals against St. Kilda. Six goals against Collingwood in Round 19 saw O'Loughlin push one vote ahead of fellow Indigenous footballer Andrew McLeod to produce one of the more surprising victories.
McLeod went one better in 2001 winning the Brownlow with six best on grounds. McLeod was also named the AFL MVP, gained All-Australian honours and won the Crows best and fairest. McLeod was also a surprising winner in 2003 polling five best on grounds in the first nine rounds to hold off his fast-finishing teammate Mark Ricciuto who polled three best on grounds between Rounds 14 to 17.
Brownlow night in 2005 saw the tightest finish in history. Seven players tied on four votes each, yet the medal was awarded to Eagles midfielder Daniel Kerr because he played only 19 games. The 'magnificent seven' were teammate Ben Cousins, Saints mid Nick Dal Santo, Bulldogs veteran Scott West, Fremantle superstar Matthew Pavlich,  Brisbane Lions live-wire Luke Power and the unheralded Cats tagger Cameron Ling.
Gary Ablett Jr went back-to-back in 2008 and 2009 polling 14 best on grounds in 37 games. Chris Judd won his second medal in 2010 by the biggest margin polling eight best on grounds, three more than the next best, Lenny Hayes and Ablett Jr again on five.
The next year saw a repeat of 1996 with the second ineligible player winning the award outright. Hawthorn midfielder Sam Mitchell finished the 2011 count with eight best on grounds, one ahead of Pies ball-magnet Dane Swan who finished with seven. Mitchell who was reported in round five, missed out on the award.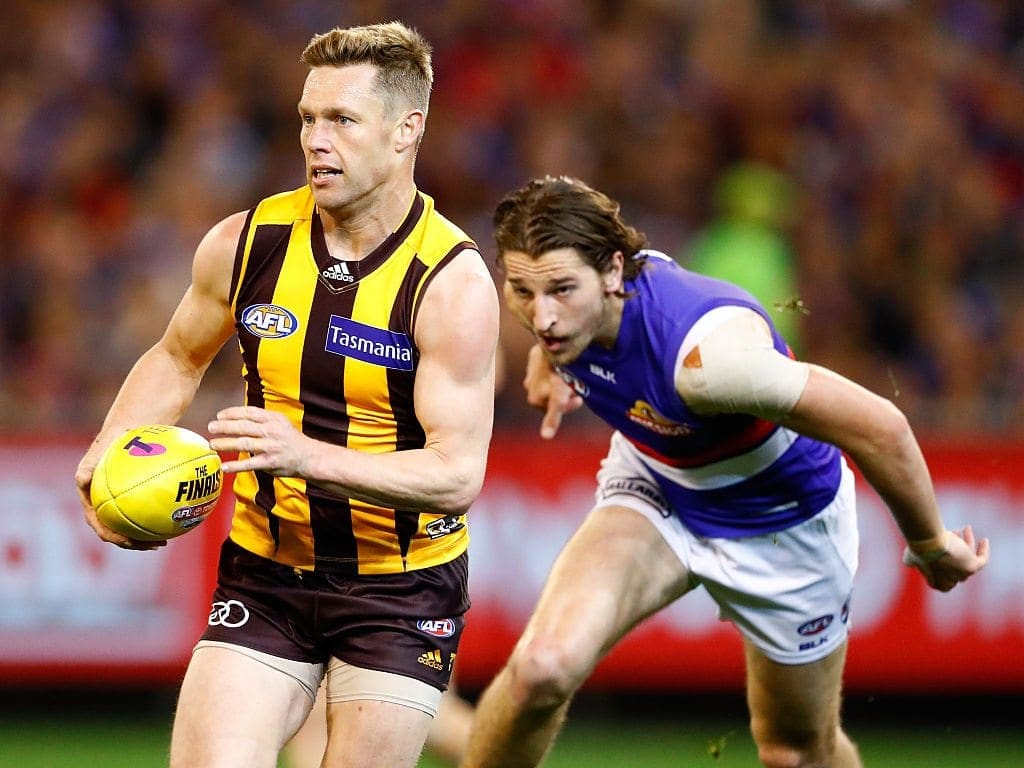 Swan made it back-to-back wins in 2012 polling six best on grounds in only 18 games, Trent Cotchin and Gary Ablett Jr both finished on six 'BOGs'. Ablett Jr won his third Brownlow in 2013, winning the first Brownlow Medal for the Gold Coast Football Club. Ablett's former teammate Joel Selwood led the count with seven best on grounds all the way till the last round of the season when Ablett tied with Selwood. Unluckily for Selwood, Ablett played less games and was awarded his third medal.
A close finish in 2014 saw Adelaide midfielder Patrick Dangerfield produced four best on grounds in a row between round five to Round 9 to set an early lead. Two more 'BOGs' in rounds 17 and 18 saw him push one ahead of Ablett, North Melbourne veteran Brent Harvey and Sydney's midfield bull Josh Kennedy to win his first medal.
Despite missing four games and not polling a vote after Round 14, Fremantle superstar Nat Fyfe became Docker's first Brownlow medallist polling nine best on grounds in only 18 games. Fyfe's lead was paved with six best on grounds in the first nine games and he finished three votes ahead of Sam Mitchell and Josh Kennedy.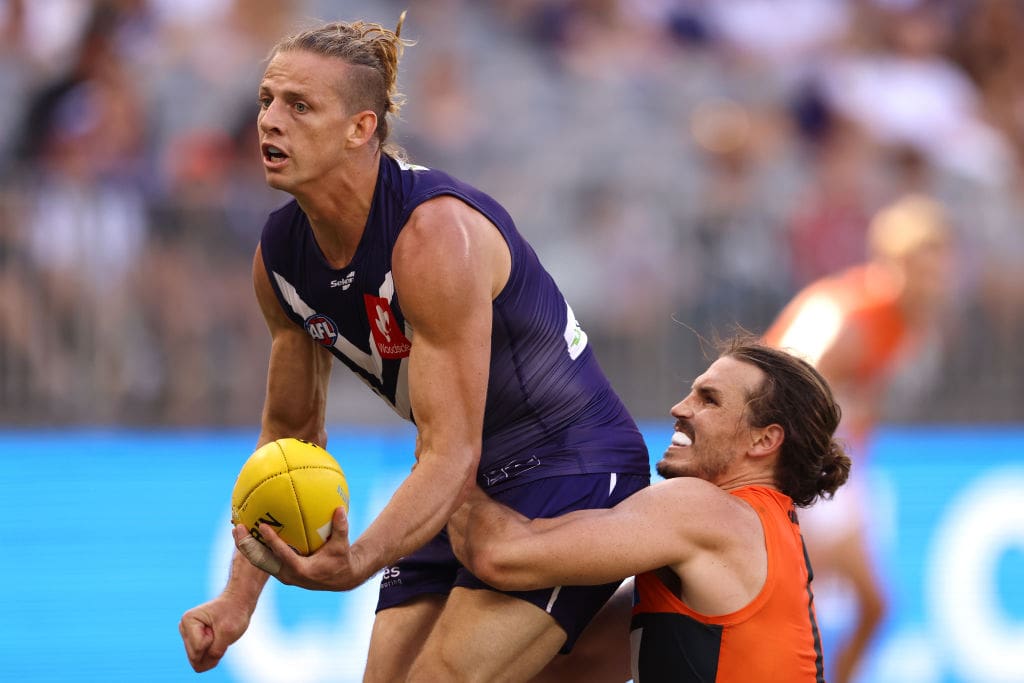 Records were broken in 2017 when Richmond midfielder Dustin Martin smashed everyone in sight to run away with the Brownlow, Norm Smith Medal, AFL MVP and Richmond's best and fairest. Martin's form on Brownlow night was monumental as he finished the season with 11 best on grounds including five in his last seven games. Dusty's lead of four was the equal biggest win since Ivor Warne-Smith won by four in 1925 and Martin's 11 'BOGs' smashed the previous season record of nine.
With nine best on grounds in his first 185 games, Pies winger Steele Sidebottom upset a likely Tom Mitchell victory winning the 2018 Brownlow with seven best on grounds. Sidebottom and Mitchell were neck and neck until Sidebottom won the award with best on ground honours in his last round performance against Fremantle.
2019 Brownlow Medallist Nat Fyfe started white-hot with six best on grounds before the bye, to finished with nine, two ahead of Martin, Brodie Grundy and Tim Kelly.
The shortened season in 2020 did not stop a rampaging Lachie Neale who finished with 10 best on grounds from only 17 games. Neale equalled Martin and Warne-Smith with the biggest win, finishing four ahead of Melbourne star Christian Petracca.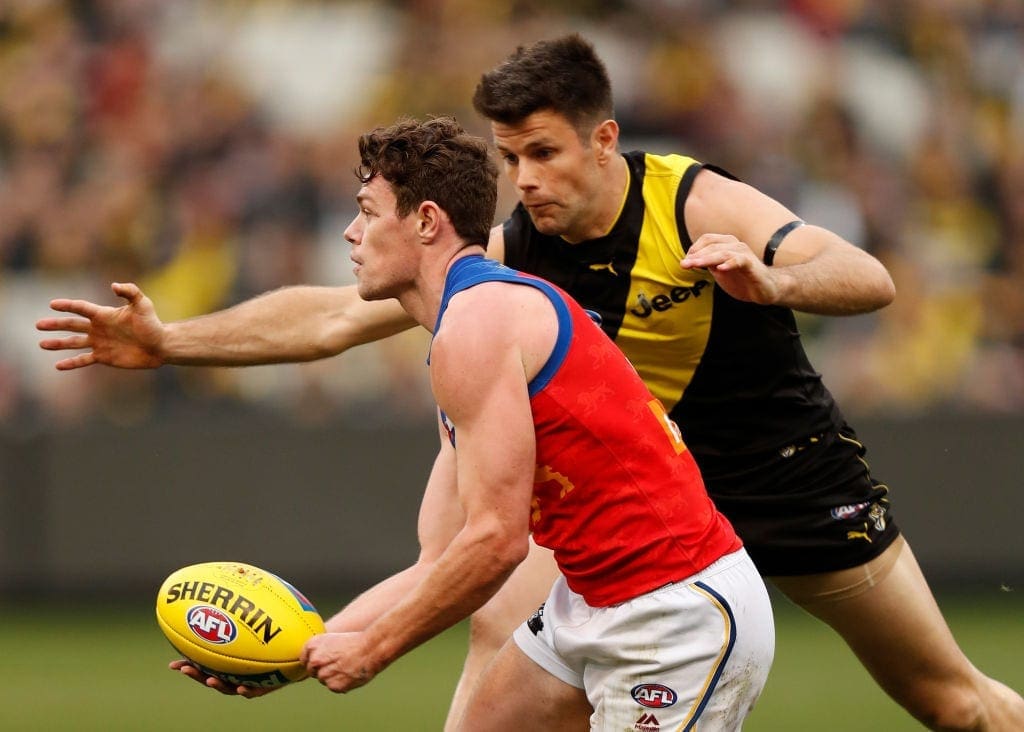 So you see, but for the voting criteria change the invitations of past winners to the Brownlow dinner would be vastly different. Football greats like Tony Liberatore, Jason Akermanis, James Hird, and Ben Cousins would be staying home. Tom Mitchell, Tony Lockett, Paul Kelly and even the big Dipper would never receive the invite in the mail. Scott Wynd, Ross Glendenning and Mark Ricciuto would never have taken Charlie' home and Matt Priddis, Shane Woewodin and Brad Hardie would have nothing but socks in their sock drawer.
The Brownlow would indeed look very different if they'd left well enough alone!
(*New Brownlow medallists for that year)
| | | | | | | | | | |
| --- | --- | --- | --- | --- | --- | --- | --- | --- | --- |
| Year | PL | TM | BV | PL | TM | BV | PL | TM | BV |
| 1924 | Edward Greeves Jr | GE | 7 | | | | | | |
| 1925 | Colin Watson | SK | 9 | | | | | | |
| 1926 | Ivor Warne-Smith | ME | 9 | | | | | | |
| 1927 | Syd Coventry | CW | 7 | | | | | | |
| 1928 | Ivor Warne-Smith | ME | 8 | | | | | | |
| 1929 | Albert Collier | CW | 6 | | | | | | |
| 1930 | Harry Collier | CW | 4 | Stan Judkins | RI | 4 | Allan Hopkins | WB | 4 |
| 1931 | Haydn Bunton Sr | FI | 6 | Allan Hopkins * | WB | 6 | | | |
| 1932 | Haydn Bunton Sr | FI | 5 | | | | | | |
| 1933 | Bill Lowenthal* | ES | 4 | | | | | | |
| 1934 | Haydn Bunton Sr * | FI | 5 | Keith Shea* | CA | 5 | | | |
| 1935 | Haydn Bunton Sr | FI | | | | | | | |
| 1936 | Denis Ryan | FI | | | | | | | |
| 1937 | Dick Reynolds | ES | | | | | | | |
| 1938 | Dick Reynolds | ES | | | | | | | |
| 1939 | Marcus Whelan | CW | | | | | | | |
| 1940 | Des Fothergill | CW | 7 | Herbie Matthews | SM | 7 | | | |
| 1941 | Norman Ware | WB | | | | | | | |
| 1946 | Don Cordner | ME | | | | | | | |
| 1947 | Bert Deacon | CA | 6 | | | | | | |
| 1948 | Bill Morris | RI | | | | | | | |
| 1949 | Col Austen | HW | | | | | | | |
| 1950 | Allan Ruthven | FI | | | | | | | |
| 1951 | Ron Clegg* | SM | 6 | | | | | | |
| 1952 | Bill Hutchinson | ES | 5 | Roy Wright | RI | 5 | | | |
| 1953 | Bill Hutchinson | ES | 8 | | | | | | |
| 1954 | Roy Wright | RI | 7 | | | | | | |
| 1955 | Fred Goldsmith | SM | 5 | | | | | | |
| 1956 | Peter Box | WB | 5 | | | | | | |
| 1957 | Brian Gleeson | SK | 6 | | | | | | |
| 1958 | Neil Roberts | SK | 5 | | | | | | |
| 1959 | Bob Skilton | SM | 5 | | | | | | |
| 1960 | Kevin Murray* | FI | 5 | | | | | | |
| 1961 | John James | CA | 5 | | | | | | |
| 1962 | Ken Fraser* | ES | 5 | Kevin Murray* | FI | 5 | | | |
| 1963 | Graham Farmer* | GE | 5 | | | | | | |
| 1964 | Gordon Collis | CA | 7 | | | | | | |
| 1965 | Ian Stewart | SK | 6 | | | | | | |
| 1966 | Ian Stewart | SK | 5 | | | | | | |
| 1967 | Ross Smith | SK | 5 | | | | | | |
| 1968 | Bob Skilton | SM | 5 | | | | | | |
| 1969 | Bob Murray* | SK | 5 | | | | | | |
| 1970 | Peter Bedford | SM | 5 | | | | | | |
| 1971 | Ian Stewart | RI | 6 | | | | | | |
| 1972 | Len Thompson | CW | 6 | | | | | | |
| 1973 | Leigh Matthews* | HW | 7 | | | | | | |
| 1974 | Keith Greig | NM | 6 | | | | | | |
| 1975 | Phil Carman* | CW | 5 | | | | | | |
| 1976 | Graham Moss | ES | 6 | | | | | | |
| 1977 | Graham Teasdale | SM | 8 | | | | | | |
| 1978 | Malcolm Blight | NM | 5 | | | | | | |
| 1979 | Peter Moore | CW | 5 | Robert Flower* | ME | 5 | | | |
| 1980 | Mark Lee* | RI | 5 | | | | | | |
| 1981 | Bernie Quinlan | FI | 6 | Barry Round | SM | 6 | | | |
| 1982 | Brian Wilson | ME | 7 | | | | | | |
| 1983 | Simon Madden* | ES | 5 | | | | | | |
| 1984 | David Cloke* | CW | 5 | | | | | | |
| 1985 | Justin Madden* | CA | 6 | | | | | | |
| 1986 | Bruce Abernethy* | CW | 4 | | | | | | |
| 1987 | Paul Meldrum* | CA | 5 | | | | | | |
| 1988 | Gerard Healy | SY | 5 | | | | | | |
| 1989 | John Platten* | HW | 5 | | | | | | |
| 1990 | Stephen Silvagni* | CA | 4 | Graham Wright* | CW | 4 | Tony Shaw* | CW | 4 |
| 1991 | Jim Stynes | ME | 5 | Matthew Knights* | RI | 5 | | | |
| 1992 | Stewart Loewe* | SK | 5 | | | | | | |
| 1993 | Robert Harvey* | SK | 4 | | | | | | |
| 1994 | Greg Williams | CA | 9 | | | | | | |
| 1995 | Michael Long* | ES | 5 | | | | | | |
| 1996 | Michael Voss | BB | 5 | Garry Hocking* | GE | 5 | Justin Charles* | RI | 5 |
| 1997 | Robert Harvey | SK | 7 | | | | | | |
| 1998 | Nathan Buckley* | CW | 7 | | | | | | |
| 1999 | Matthew Allan* | CA | 6 | | | | | | |
| 2000 | Michael O'Loughlin* | SY | 5 | | | | | | |
| 2001 | Andrew McLeod* | AD | 6 | | | | | | |
| 2002 | Simon Black | BL | 5 | | | | | | |
| 2003 | Andrew McLeod* | AD | 6 | | | | | | |
| 2004 | Chris Judd | WC | 7 | | | | | | |
| 2005 | Daniel Kerr* | WC | 4 | | | | | | |
| 2006 | Adam Goodes | SY | 7 | | | | | | |
| 2007 | Jimmy Bartel | GE | 8 | | | | | | |
| 2008 | Gary Ablett Jr* | GE | 6 | | | | | | |
| 2009 | Gary Ablett Jr | GE | 8 | | | | | | |
| 2010 | Chris Judd | CA | 8 | | | | | | |
| 2011 | Dane Swan | CW | 7 | | | | | | |
| 2012 | Dane Swan* | CW | 6 | | | | | | |
| 2013 | Gary Ablett Jr | GC | 7 | | | | | | |
| 2014 | Patrick Dangerfield* | AD | 6 | | | | | | |
| 2015 | Nat Fyfe | FR | 9 | | | | | | |
| 2016 | Patrick Dangerfield | GE | 9 | | | | | | |
| 2017 | Dustin Martin | RI | 11 | | | | | | |
| 2018 | Steele Sidebottom* | CW | 7 | | | | | | |
| 2019 | Nat Fyfe | FR | 9 | | | | | | |
| 2020 | Lachie Neale | BL | 10 | | | | | | |