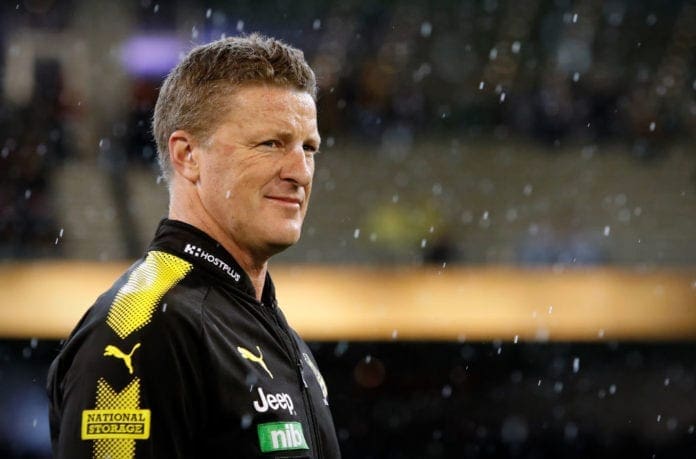 Off the back of the Tigers' five goal win over the Saints to progress to a fourth prelim final in a row, the Punt Road outfit is once again in the firing line.
Forward Tom Lynch and skipper Trent Cotchin are this week the subject of intense scrutiny from pundits after they both featured in ugly incidents during Friday night's match.
Cotchin landed himself in hot water after he slung St. Kilda midfielder Zak Jones around the neck after the umpire blew for a free kick.
Lynch on the other hand, who was already badmouthed by rival fans for previous incidents, did not help circumstances when he appeared to knee Dougal Howard as he was getting up from a contest.
However, the Tigers forward was only slapped with a $750 fine, much to the disappointment of rival fans.
Cotchin did not receive any punishment for his incident, adding even more fuel to the fire.
But the question is, is this Richmond team crossing the line, or is this an overreaction to tough football?
It's no secret that for the past four seasons, the Tigers have been the team to beat.
Their game-style is tough, surge-based football that is a marvel to watch at the best of times.
A critical part of their plan is pressure acts, whether that be bumps, tackles, smothering or at the very least guarding space to force errors from the opposition.
When it comes to doing the dirty work, there are no shortage of volunteers – that is the culture that Damien Hardwick has built around the club.
But do incidents like those on Friday cross the line?
If we look back at dominant sides of the modern era – Hawthorn, Geelong, Brisbane – they have all had nasty players who have crossed the line at certain points.
Luke Hodge, Joel Selwood, Jonathan Brown – all names who are associated with tough, no-nonsense football.
They are also players who have had several incidents referred to the tribunal which they would like to forget about.
Essendon legend Matthew Lloyd has defended the Tigers philosophy, saying that teams need to have an ugly side to win a flag.
"I couldn't name one nice premiership side" Lloyd said on Sunday Footy Show.
"You have to play on the edge."
"And even Trent Cotchin…I think he tackles to hurt sometimes, and sometimes he's happy to give away a free kick."
Meanwhile, 2008 Brownlow Medallist Adam Cooney defended Tom Lynch's knee incident, exclaiming on Twitter "[the action] wouldn't have bruised a grape."
But most of the footy world has now labelled the Tigers public enemy number one, with many saying that they've made a rod for their own back with their unsociable method of gameplay.
Kane Cornes echoed this sentiment on SEN's Crunch Time.
"They're becoming very unlikeable, I'll say that about Richmond."
"They wouldn't care about that because all they care about is winning and they have the respect clearly but this year they've become a really unlikeable team.
"I thought what Trent Cotchin did to Zak Jones, that really dangerous, high sling tackle had more of a chance to cause injury than Tom Lynch's knee on Dougal (Howard).
"They've been a really unlikeable team this year, they've been hard to watch at times."
But Damien Hardwick has exclaimed that he wouldn't change a thing about the Tigers approach, noting that they wouldn't be where they are today without their hardness.
"Listen, great teams always play on the edge."
"The fact of the matter is it's a big boys game. Things happen. You play hard and tough and there is a reason we are into our third or fourth prelim in a row. We play a hard and tough brand of footy."
"There is no way I'd discourage it from our players. That's for sure. If you take that away from them they aren't the competitive beasts we know they are."
So did the two offending Tigers deserve punishment for their actions on Friday night?
The Cotchin incident was a punishable offence and was surprising to go unpunished considering it was after the umpire had blown the whistle and the area of contact.
Tom Lynch however got what he deserved. The intent was there, but the impact was essentially harmless and more of a stupid decision.
Are the Tigers now a club that rival fans have genuine reason to despise? Yes, when they go out to antagonise and hurt the opposition, of course they will be.
But are they doing anything worse than the previous dynasties did?
No. If, and only if, the Tigers go on to become a true dynasty, can we look back on this period in ten, twenty years time and acknowledge that they were a pest to play against.