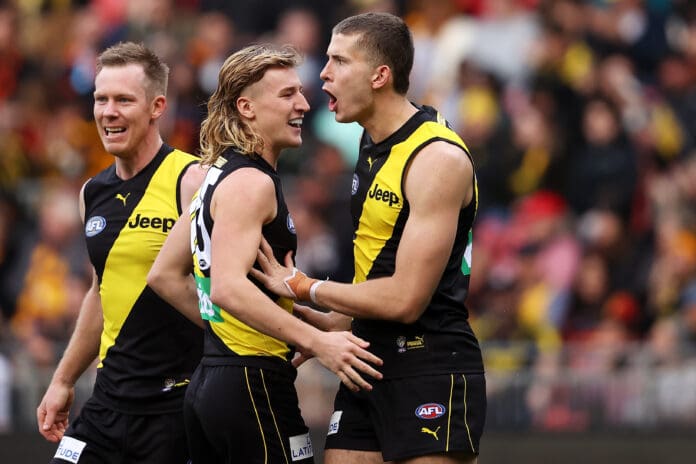 Richmond and North Melbourne still sit a fair way apart on a deal that would see Callum Coleman-Jones walk through the doors at Arden Street.
The two clubs kicked off official negotiations as the trade period got underway, with the Tigers knocking back the first offer from the Kangaroos.
The Herald Sun is reporting that the Tigers weren't thrilled with the original offer of North Melbourne. The Kangaroos are set on keeping their pick 20, with their next selection coming at pick 38.
However, Richmond is keen on that pick 20 given that is the selection they used to recruit Coleman-Jones four years ago.
The Kangaroos hold the whip-hand in these discussions with the looming threat of walking Coleman-Jones to the pre-season draft hanging over negotiations.
Richmond are set to welcome in North Melbourne defender Robbie Tarrant and are keen to do so via a trade, as opposed to free agency, as to not impact their compensation for losing Mabior Chol to the Gold Coast Suns.
North Melbourne list boss Glenn Luff told AFL Trade Radio recently that Tarrant would likely be exiting the club through a trade agreement.
"We're not entirely sure (if the Tigers will trade for Tarrant). That's probably the gut feel at the moment," hinting an outcome could be revealed "in the next couple of days."
Tarrant and Coleman-Jones look set to be part of two different deals with the two clubs still having a way to go before finding a middle ground.