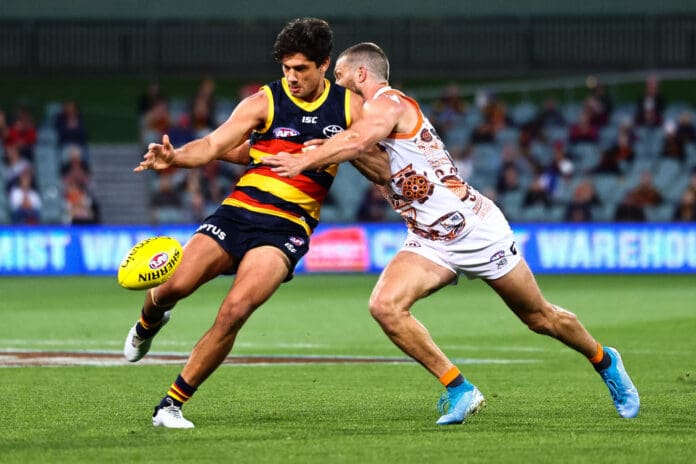 The AFL has confirmed the Marvel Stadium roof will be closed for Saturday's North Melbourne and West Coast clash as a heat wave is expected to hit the east coast this weekend, with breaks will be extended for Sunday's matchup between GWS and Adelaide on Sunday.
Temperatures as high as 41°C are forecasted for Western Sydney on Sunday, with the Giants and Crows set to battle it out under the tiring conditions this weekend.
The AFL has confirmed that quarter-time and three-quarter-time breaks will be extended by two minutes for the Giants vs Crows clash, as the league plans to mitigate the heat.
Both clubs will also be permitted to have additional water carriers, who will also have greater access to entering the ground throughout the match alongside trainers.
Similar measures will be taken for Saturday's game at Marvel Stadium between the Kangaroos and Eagles, which could be played under temperatures as high as 36°C.
The league has confirmed the stadium's roof will be closed for the match despite the potential spike in temperature due to the conditions.
That match is scheduled for 1:45pm (AEDT), while Sunday's hitout between GWS and Adelaide will take place at 1:10pm.
The Western Bulldogs and Melbourne will go head-to-head across town on Saturday night, with temperatures expected to drop to the mid-20s by the time of the opening bounce, scheduled for 7:25pm local time.
The AFL has stated it will continue to monitor the weekend's forecast and will take any required measures into consideration.