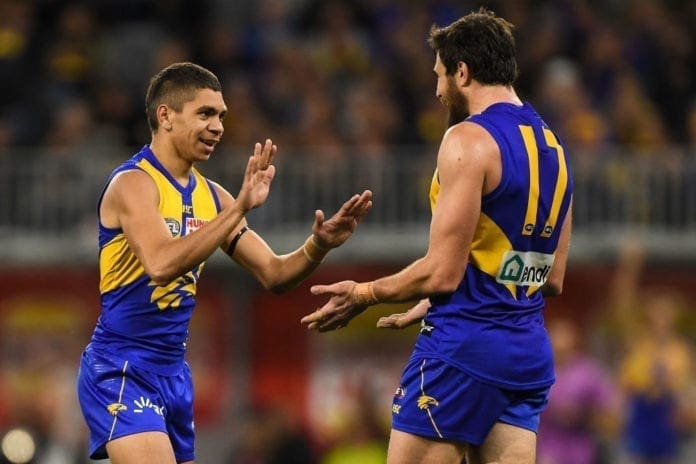 5 Votes: Jarrod Cameron
Cameron has had a remarkable start to his career since making his debut against Essendon four weeks ago.
The lively forward has already attained a reputation of being a goal sneak and on Friday night he once again showed his creativity in front of goal.
Cameron kicked four goals with his first four kicks in the game, which extended his tally to six goals from six kicks in his last two games.
The 19-year-old also had seven tackles along with his 15 disposals in the game.
4 Votes: Sam Walsh
We have come to expect Sam Walsh to have over 25 disposals a game, which it is why there is little hype over his performance on the weekend.
In the Blues win against Sydney, Walsh did what he does best and that is get his hands on the ball.
The midfield bull collected 28 disposals and kicked a goal, while also making three tackles and taking three marks.
Walsh now averages 25 disposals per game, which is the second Patrick Cripps for disposals at the Blues.
3 Votes: Bobby Hill 
King of the hill Bobby Hill had a giant game on debut for GWS against the Tigers on the weekend.
Hill was hot to handle in the forward line and collected 15 disposals and three goals.
With the Giants suffering an injury crisis, Hill could be set for an extended stay in the lineup.
2 Votes: Gryan Miers
Miers has been electrifying for the Cats in his debut season and once again produced a stellar performance on the weekend.
Miers found plenty of the football and finished the game with 23 disposals and a goal. He also made four tackles and collected seven inside 50's
1 Vote: Michael Gibbons 
Carlton's Michael Gibbons collects the final vote of the round with a solid display against Sydney.
The 23-year-old had 18 disposals and kicked a goal to extend his tally to 10 goals in 16 games this season. He also made two tackles and produced six inside 50's in a fine day for the Blues.
Season Leaderboard:
46 – Sam Walsh (CARL)
29 – Sydney Stack (RICH)
22 – Gryan Miers (GEEL)
17 – Connor Rozee (PORT)
14 – Bailey Smith (WBD)
12 – Xavier Duursma (PORT)
11 – Jay Lockhart (MELB)
10 – Charlie Constable (GEEL)
9 – Tarryn Thomas (NM)
8 – Jack Ross (RICH)
8 – Jarrod Cameron (WCE)
8 – Michael Gibbons (CARL)
7 – Marty Hore (MELB)
5 – Callum Wilkie (StK)
5 – Jordan Clark (GEEL)
4 – Bailey Scott (NM)
4 – Jackson Hately (GWS)
4 – Zak Butters (PORT)
4 – James Rowbottom (SYD)
3 - Bobby Hill (GWS)
3 – Tom Atkins (GEEL)
3 – Oliver Hanrahan (HAW)
3 – Nick Hind (StK)
2 – Oskar Baker (MELB)
2 – Darcy Fort (GEEL)
2 – Nick Blakey (SYD)
2 – Lachlan Schultz (FREM)
2 – William Drew (PORT)
2 – Matthew Parker (StK)
1 – Josh Rotham (WC)
1 – Will Hayes (WBD)
1 – Derek Eggmolesse-Smith (RICH)
1 – Patrick Naish (RICH)