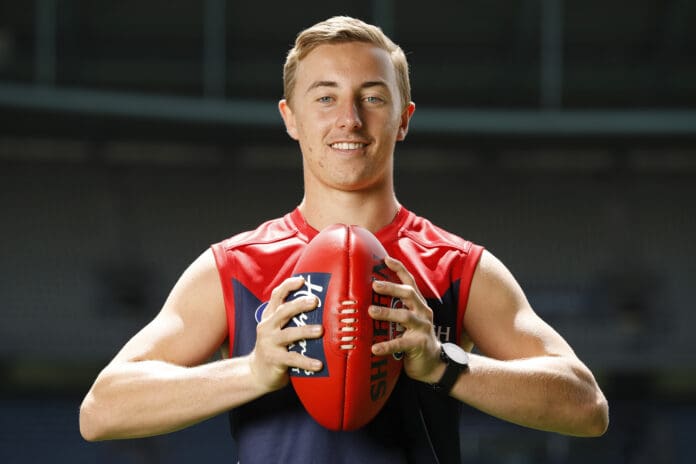 Melbourne has re-signed Bailey Laurie on a two-year contract extension, seeing him remain a Demon until the end of 2024.
The 20-year-old has yet to feature at AFL level, having suffered a serious injury during training last year in an accidental collision with teammate Michael Hibberd.
It left him with a fractured eye socket, which needed surgery.
Given VFL contests were called off due to COVID across the backend of 2021, Laurie was restricted to only two genuine games for the season.
Fresh off agreeing to terms, the Oakleigh Chargers product spoke with AFL.com.au, saying he's always wanted to remain at the Dees.
"I'm very happy. I've always known I wanted to sign on and thankfully I've been able to play games this year so I've been able to earn another two years at the club which I'm super excited for," Laurie said.
"I had a conversation with my manager Robbie D'Orazio and (Melbourne list manager) Tim Lamb and the main thing at the start of the year was to play some footy and focus on that...
"Thankfully I've been able to play some games this year after being injured last year and take some good strides in my development."
The midfielder-forward has been impressive for Casey in the VFL this year, averaging 16 disposals and kicking 11 goals in eight matches.
Finally playing some footy, Laurie says his second season feels like his proper first.
"It does feel like my first year in a sense where I've been able to come in and earn the trust and respect of my teammates," he said.
"It's a bit hard to do that when you're not playing and I feel like the connection has also grown stronger with my teammates."
The dynamic speedster has been an emergency for the reigning premiers three times this season, and is on the verge of breaking into the team.
However, he isn't allowing the impending debut alter his mindset.
"I try not to focus on how I'm going to fit into the team or whose spot I'm going to take because I feel like if I do, it will negatively impact my performance and I'll start worrying about the wrong things," Laurie said.
"The conversations I've had with 'Goody' have been around becoming the best player I can be and when I do get my chance, I can come into the team I'll stay there and won't just be there for two weeks and get dropped.
"I'm just focusing on the process of what makes me a good player and becoming a really good player and if that takes a bit longer than other people I'm more than happy with that, I'll just keep working as hard as I can."
Melbourne host the Swans this Saturday at 7.25pm (AEST).