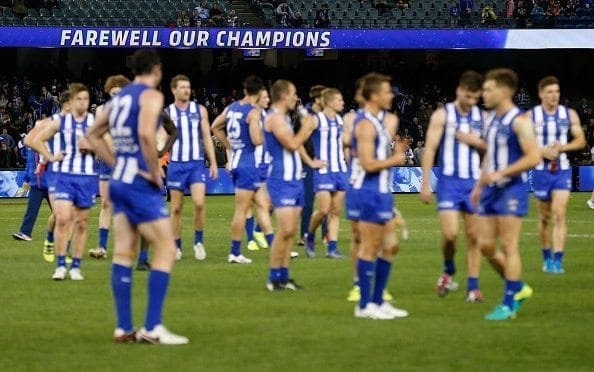 Last week North Melbourne confirmed that four of their loved veterans won't be offered new contracts next season.
Former Saint Nick Dal Santo, backman Michael Firrito, forward Drew Petrie and the AFL's games record holder Brent Harvey will either have to retire or continue the twilight of their careers somewhere else. It has angered fans and left a gaping hole at the club in terms of experience. But it had to be done.
The big reason as to why the North Melbourne hierarchy went down this road is due to their failure to launch one last premiership tilt before a potential rebuild of sorts. They have played in two preliminary finals in the last two years, both unsuccessful with one being a 71-point thumping at the hands of Sydney. It has been a build-up of three years towards what would hopefully be a first Grand Final appearance since 1999.
This year though, we expected North to make a push for top four and they were definitely on the right track at 9-0 earlier in the season. Since then though, they have declined significantly and until recently, were in danger of missing out on finals. The poor form can be attributed to Injuries, ageing players and possibly the game plan that Brad Scott implements.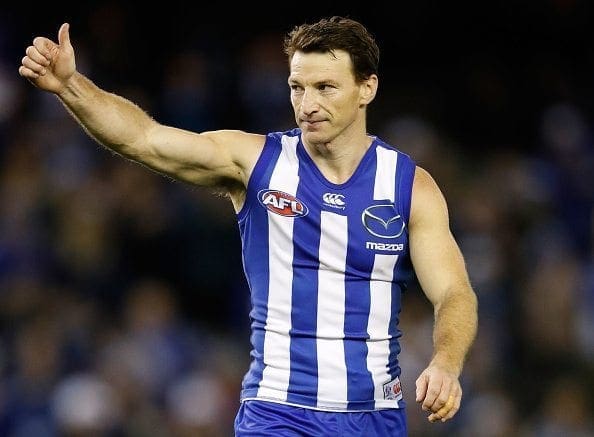 North have tried it with these older players and it has not worked. Every club wants to reach the ultimate goal of winning a premiership and everyone involved at North, including the fans will not be content with numerous finals appearances without any success. Fans want to see progress and although the club could prove me wrong and produce their best footy again in finals, realistically, I can't see it happening.
To the form of the players. Drew Petire has been hit and miss this season. As a key forward, 27 goals isn't good enough and the fact that he is sitting fifth in the club's goal kicking table says a lot. At 33 years old, It's probably best served to promote Majak Daw as a key forward and with Shaun Higgins returning, I doubt Petrie would of kept his place.
Nick Dal Santo has shown some decent form this season from midfield. An average of 24 disposals from 20 games is enough to keep a place in the team. However, it's his body that is letting him down. He looks like he's been struggling with niggling injuries throughout the year and before this decision came down said he was 'mentally' right to go for one more year but stopped short of saying whether he's body could handle another AFL season.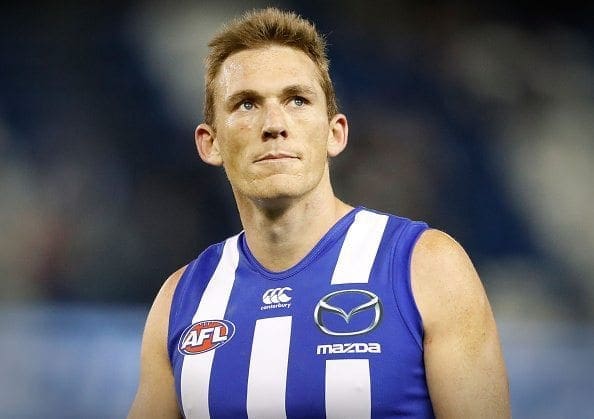 Michael Firrito is an understandable one. He's stats have declined this season and doesn't offer that drive from half-back anymore, something North thrived on. He's had a glittering career of 273 games and if he desperately wants to hit that 300 it might be better served doing it at another club as North aren't guaranteed of finals footy in 2017.
Brent Harvey is the questionable one. He's just about in the form of his career. He's return of 34 goals so far this season is his best since 2012. He is still averaging 21 disposals and has only missed the one game in 2016. It's remarkable at the age of 38, he is still able to produce this sort of form. However, there are two sides to the story. There are still question marks over his body and whether he can run out full games anymore.
He is an injury away from ending his career and I find that a big risk for a club to take. I honestly believe that he has another year in him but it might be better to play that year at a club where he can play a role instead of being a key player at North. Similar situation at Geelong where the club don't rely on Jimmy Bartel to win them the game whereas at North, they still need a big performance from Harvey. So for me, Petrie and Firrito are done. Boomer and Dal Santo could possibly play another year at another club.
The timing of the decision could have been handled better. In an ideal world, we would prefer these players to retire on their own terms and someone with the stature like Harvey deserves that, but at some point a player needs to put the club's future in perspective. With that being said, it doesn't make a lot of sense making this decision two weeks out from finals. To me it says, the club has given up on having a real crack during the final series.
A much more appropriate scenario would have been to announce it earlier in the season or at the end of the year.
With the decision set in stone, North Melbourne need to make room for younger players and potential trade deals and they are definitely not going to win another flag with those four at the club. No individual is bigger than the club and fans need to understand that. The club does not want to bottom out and take another five years to play finals again. Look for North to do a lot of business in the off-season, much like what Geelong did last year.