Over 70 recently delisted AFL players have already confirmed where they'll be playing in 2023, signings deals across state leagues, at the local level or even internationally.
Nine players managed to land lifelines in the AFL, with Gold Coast swooping on Jed Anderson, Jake Stein and Connor Blakely with open rookie list spots.
Former Saint Liam Stocker, ex-Cat Francis Evans (Port Adelaide), axed Pie Tyler Brown (Adelaide), delisted Saint Darragh Joyce (Brisbane) ex-Demon Oskar Baker (Western Bulldogs) and cut Hawk Daniel Howe (North Melbourne) all joined second clubs after being cut in the wake of the 2022 season.
Several AFL clubs are set to trial players through their pre-season programs in the weeks ahead, with St Kilda offering an opportunity to delisted Bombers defender Josh Eyre, while ex-Geelong midfielder Quinton Narkle is training with Richmond in hope of an AFL reprieve.
A majority of the AFL's entire delisted list for 2022 have ventured to state leagues, linking up with VFL, WAFL or SANFL clubs for the year ahead.
The VFL has acquired the most ex-AFL talent for 2023, with as many as 21 players signed, three more than the SANFL.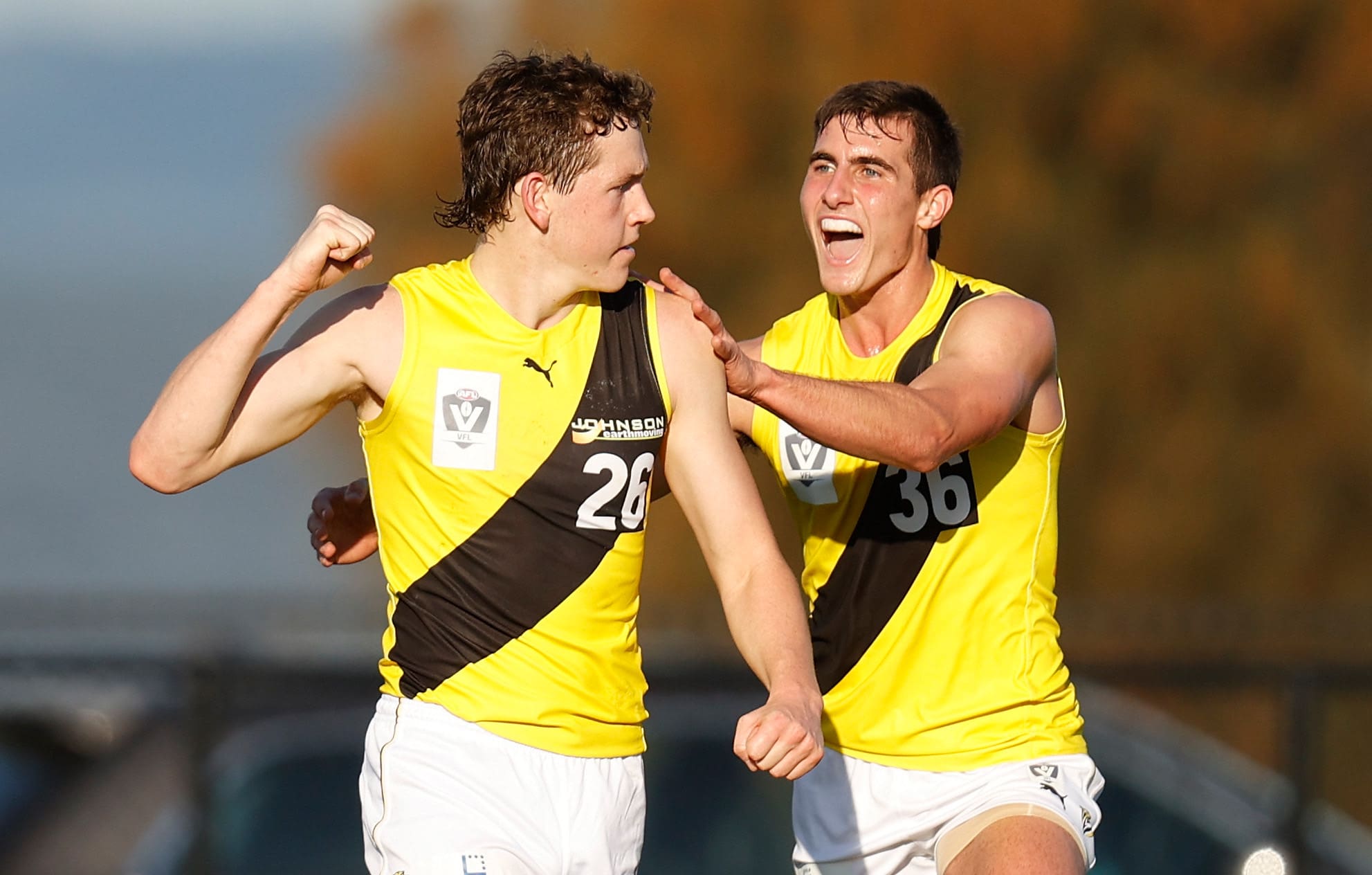 Richmond's four delisted players have all gone their separate ways since leaving Punt Road, with Riley Collier-Dawkins (SANFL - Woodville-West Torrens), Will Martyn (VFL - Port Melbourne) and Jake Aarts (Local - Dromana) finding new homes, while Sydney Stack is understood to be training with WAFL club Perth.
10 players have opted to play in the local league one year on from departing the AFL, while delisted Irish Lion Deividas Uosis has returned to his home nation to play for Gaelic outfit Dingle.
SEE ALSO: THE EX-AFL STARS JOINING LOCAL LEAGUE CLUBS IN 2023
He isn't the only player to quit football altogether, with former Sun Patrick Murtagh looking to break into the NFL scene after signing a deal with the league's International Player Pathway.
Below is a list of where 71 of the AFL's recently delisted player list will be plying their trade in 2023.
AFL
Liam Stocker - St Kilda
Josh Eyre - St Kilda (Training)
Connor Blakely - Gold Coast
Francis Evans - Port Adelaide
Quinton Narkle - Richmond (Training)
Jake Stein - Gold Coast Suns
Daniel Howe - North Melbourne
Oskar Baker - Western Bulldogs
Jed Anderson - Gold Coast Suns
Darragh Joyce - Brisbane
Tyler Brown - Adelaide
Oleg Markov - Collingwood (Training)
SANFL
Brett Turner - Glenelg
James Rowe - Woodville-West Torrens
Connor McFadyen - Sturt
Ely Smith - South Adelaide
Jack Madgen - Adelaide
Zane Williams - Woodville-West Torrens
Jez McLennan - Central Districts
Rhys Nicholls - West Adelaide
Zach Sproule - South Adelaide
Jackson Callow - Norwood
Jack Saunders - Norwood
Patrick Walker - Norwood
Martin Frederick - Sturt
Sam Mayes - North Adelaide
Sam Skinner - South Adelaide
Riley Collier-Dawkins - Woodville-West Torrens
James Bell - Glenelg
Charlie Parker - Sturt
VFL
Mitch Cox - Williamstown
Oscar McDonald - Williamstown
Luke Parks - Carlton
Callum Brown - Box Hill
Liam McMahon - Carlton/Montmorency
Caleb Poulter - Footscray*
Brayden Ham - Geelong*
Tom Hird - Port Melbourne
Garrett McDonagh - Richmond
Matt Conroy - Southport
Tom Phillips - Essendon
Fraser Rosman - Port Melbourne
Matthew McGuinness - Southport
Will Martyn - Port Melbourne
Jarrod Lienert - North Melbourne
Sam Naismith - Port Melbourne
Patrick Naish - Box Hill
Nick Stevens - North Melbourne
Connor Downie - North Melbourne
Ben Davis - North Melbourne
Louis Butler - North Melbourne
WAFL
Alec Waterman - West Coast
Mitch Crowden - East Perth
Joel Western - Claremont
Kyron Hayden - Subiaco
Taj Schofield - Subiaco
Sydney Stack - Perth Demons (Training)*
Zac Langdon - West Perth
Hugh Dixon - East Fremantle
Tom Joyce - East Fremantle
Jackson Nelson - West Coast
Local Football
Will Hayes - Euroa
Cody Brand - Sunbury
Paul Tsapatolis - Point Cook
Jarrod Brander - Wentworth
Josh Walker - Balwyn
Jared Polec - Yarraville-Seddon
Jake Aarts - Dromana
Josiah Kyle - Doveton
Tom Williamson - Ararat
Lewis Taylor - Terang-Mortlake
Other
Deividas Uosis - Dingle
Patrick Murtagh - NFL International Player Pathway
*Unconfirmed by club