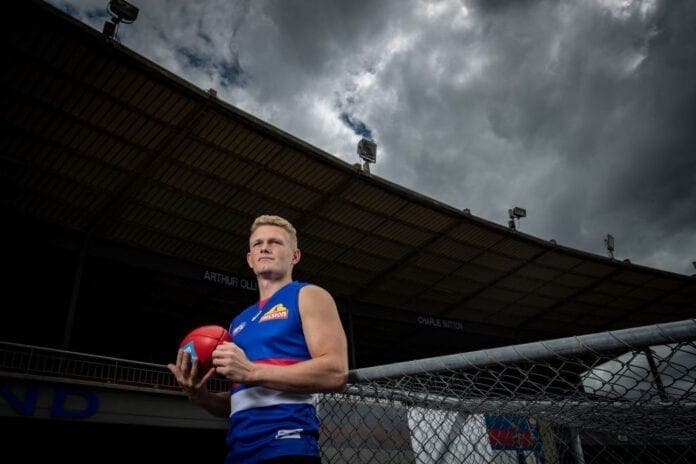 The Western Bulldogs are confident new recruit Adam Treloar will be able to separate any family matters from his ability to play the best football he can at the Kennel.
Treloar was traded by Collingwood in the dying seconds of the trade period, with the club stating they were concerned the 27-year-old would be affected by his family moving interstate.
Australian netball star and partner to Treloar, Kim Ravaillion, moved with their daughter to Queensland following a move to Super Netball outfit the Queensland Firebirds.
Magpies coach Nathan Buckley spoke on Ravaillion's move away from Melbourne, stating "there's no doubt that was a catalyst in some shape or form" in moving on Treloar.
Western Bulldogs CEO Ameet Bains said that that the club were confident Treloar wouldn't be affected by the matter and that the Bulldogs would throw their support behind Treloar's family.
"We obviously had to undertake a series of background checks with a number of factors with Adam in those last few days," Bains told SEN's Whateley.
"Clearly that was one element of it. Clearly Adam has had some hamstring issues in the last 18 months as well.
"We did that due diligence in a quick and considered way, but we're ultimately satisfied that none of those issues would prevent him from playing or returning to his best football again.
"Clearly there are some elements of that that will need to be managed. We'll need to support Adam and Kim, but from our perspective it was something that was a consideration, but by no means a barrier or a major concern to bringing Adam, Kim and Georgie to our club."
Bains also opened up on the Bulldogs' trade dealings, with Treloar and Josh Dunkley at the centre of discussions on Thursday's trade deadline day.
"With respect to Adam it did emerge quite late and I suppose you're then confronted with the question of clearly a player like Adam would make our team better, but what's the mix like, what would a trade look like, what does the contract situation look like," he said.
"In those last three to four days, we probably had four scenarios going that were really live until the last 20 minutes of the trade period and that was 'does a deal get struck for Josh (Dunkley), do we get a deal for Adam and then a combination of others where one comes, one goes, or a scenario where nothing happened at all.
"In the end, we made the decision to accommodate Adam in our mix in terms of salary cap and players and from a football perspective led by Luke Beveridge that we were able to accommodate both players (Treloar and Dunkley) as it ultimately did with less than 60 seconds on the clock."