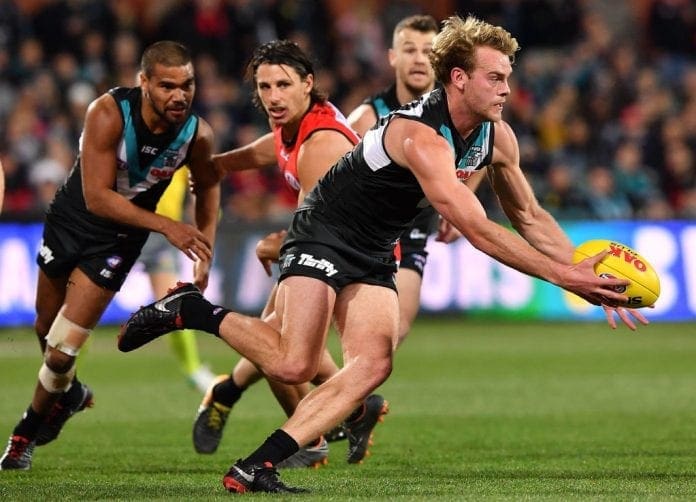 AFL Nation's Andy Maher believes Jack Watts has been harshly treated by AFL fans throughout his career.
Watts had 26 disposals and nine marks as a defender in Port Adelaide's 26-point win over Melbourne on Saturday.
Since being selected with pick one in the 2008 draft, Watts has been castigated by fans for not fulfilling his potential.
However, Maher believes Watts has achieved a solid career and would not be criticised as heavily if he was selected in the later rounds of the draft.
"Everybody's pouring their own expectations on Jack Watts and because he doesn't measure up to what other people are thinking Jack Watts has to achieve throughout his career, everyone gets filthy and lays the boots into him," Maher told AFL Nation. 
"If Jack Watts had've been the second pick in the draft, you'd look at his career and say he's been a fantastic pick-up.
"He didn't want to be a number one draft pick, he got taken at number one."
Watts had a tumultuous off-season after being filmed snorting white powder at Oktoberfest.
In an emotional post-game interview after the Powers win over the Demons, Watts said their were times he didn't want to get out of bed in the off-season.
"I had weeks where I didn't want to get out of bed and I've never experienced anything like that," Watts told Fox Footy after the game.
"I'll cop more sh** from people saying I'm no good at footy for a thousand years compared to what I've been through the last few months."