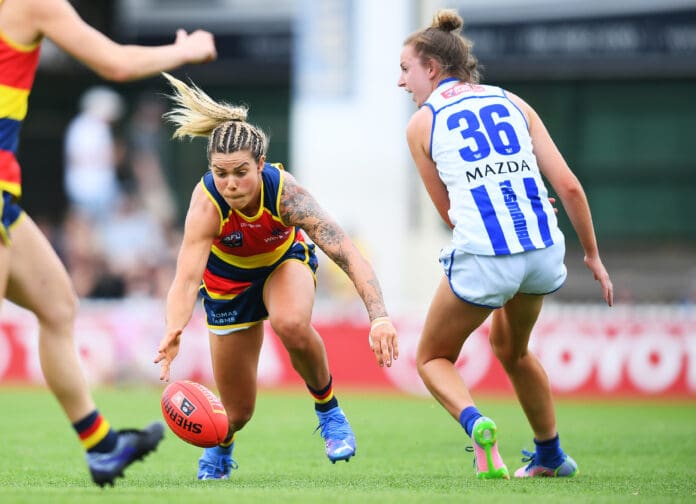 The Coaches' votes for the second round of the 2022 AFLW season have been released, with five players managing to poll a perfect 10 votes from the weekend.
Each round, coaches from both sides will award votes the those best afield to culminate the AFL Coaches Association AFLW Championship Player of the Year, with votes awarded on a 5, 4, 3, 2, 1 structure.
The Dockers, Crows, Magpies and Demons continue their unbeaten runs to the season, while the Suns were able to break a 672-day dry spell.
Richmond v Melbourne
Monique Conti continued her dominant start to the season with another eight votes, while Demons forward kate Hore was also among the best afield in her side's 16-point win on Friday night.
8 Monique Conti (RICH)
8 Kate Hore (MELB)
5 Tyla Hanks (MELB)
5 Karen Paxman (MELB)
2 Gabby Seymour (RICH)
2 Eliza McNamara (MELB)
Collingwood v St Kilda
Magpies star Brittany Bonnici recorded perfect votes for her 26-disposal outing against St Kilda, stepping up to the occasion in the absence of several star teammates. The 24-year-old also amassed 10 tackles in the victory, while teammate Jaimee Lambert continued her hot start to 2022.
10 Brittany Bonnici (COLL)
8 Jaimee Lambert (COLL)
3 Catherine Phillips (STK)
3 Jordyn Allen (COLL)
2 Lauren Butler (COLL)
2 Bianca Jakobsson (STK)
1 Mikala Cann (COLL)
1 Sarah Rowe (COLL)
Geelong v Carlton
Blues skipper Kerryn Harrington was awarded 10 votes for her dominant display against Geelong on Saturday night, with the veteran defender recording nine marks to conjure a grand total of 23 touches. Madison Prespakis was seen as the next best in the match, with the Star midfielder collecting 29 possessions.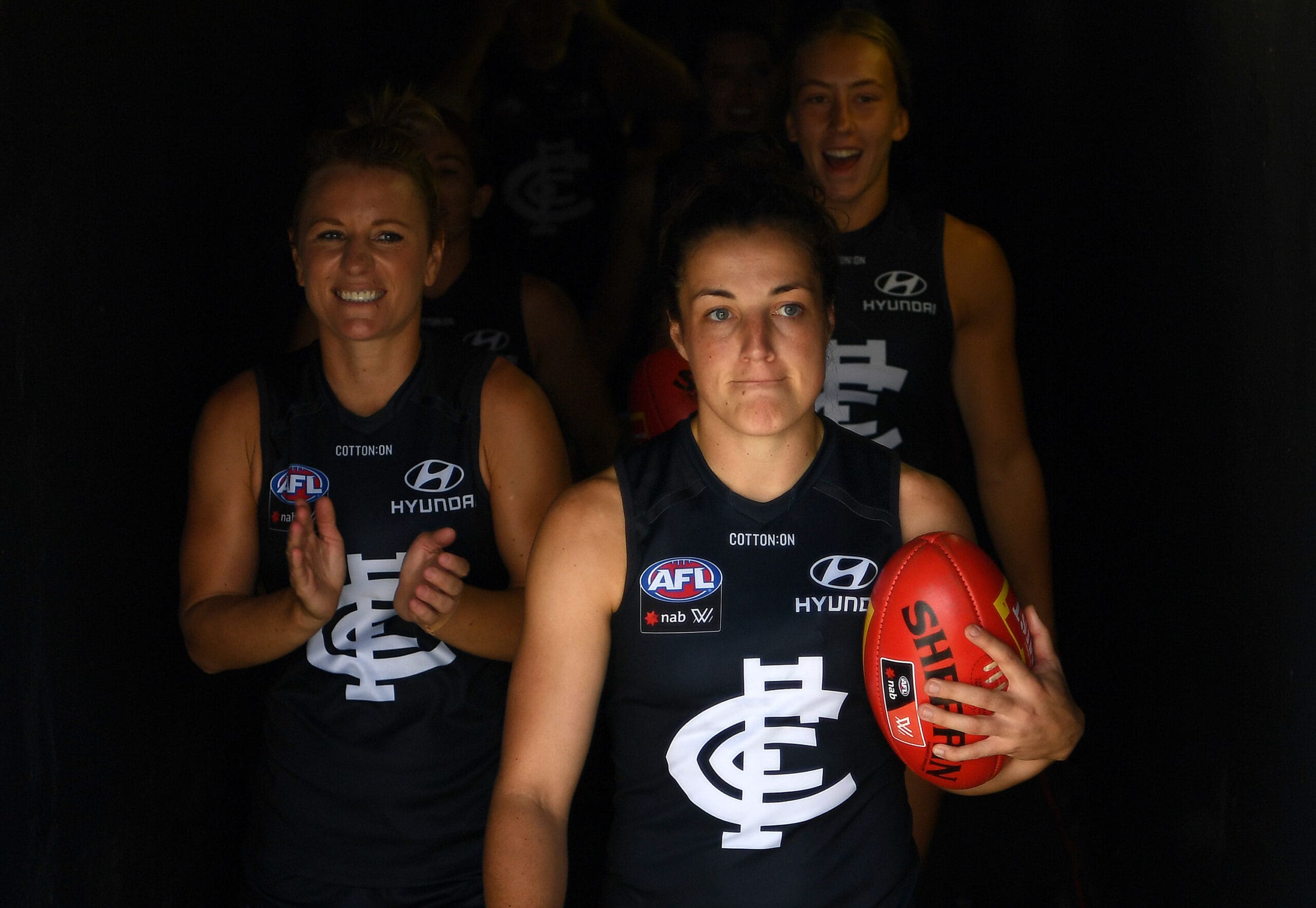 10 Kerryn Harrington (CARL)
6 Madison Prespakis (CARL)
5 Lucy McEvoy (CARL)
4 Maddy McMahon (GEEL)
3 Breann Moody (CARL)
1 Amy McDonald (GEEL)
1 Georgia Gee (CARL)
West Coast v Gold Coast
Suns young gun Charlie Rowbottom showed why she was taken with the first overall selection in the 2021 National Draft, recording 17 touches, 12 tackles and a perfect tally of 10 votes to lead Gold Coast in their drought-breaking win over the Eagles. A three-goal effort saw a mercurial Tara Bohanna also among the best on ground.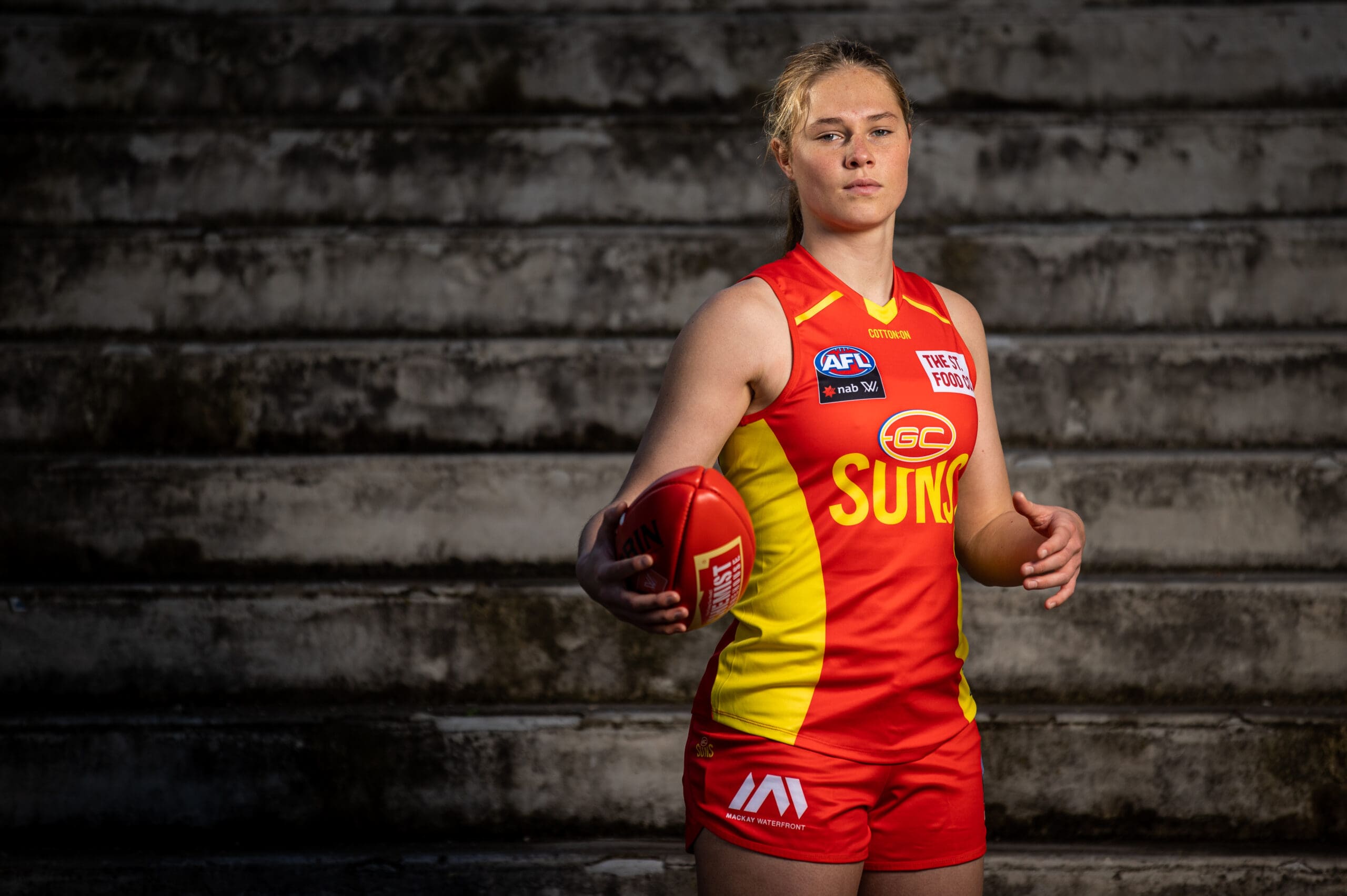 10 Charlie Rowbottom (GCFC)
7 Tara Bohanna (GCFC)
5 Emma Swanson (WCE)
3 Ellie Hampson (GCFC)
3 Dana Hooker (WCE)
2 Kate Surman (GCFC)
Adelaide v North Melbourne
Anne Hatchard recorded her second successive 10-vote performance to continue her perfect start to the 2022 season, with forward Ashleigh Woodland also among the best in consecutive weeks following her second bag of four goals for the year.
10 Anne Hatchard (ADEL)
7 Ashleigh Woodland (ADEL)
5 Ashleigh Riddell (NMFC)
4 Erin Phillips (ADEL)
4 Emma Kearney (NMFC)
Fremantle v Greater Western Sydney
Dockers captain Hayley Miller was another household name to be among the best in consecutive weeks, recording a perfect 10 votes for her 19-disposal effort in the win over GWS. Giants veteran Alicia Eva was also voted among the best afield to be placed among the top bracket of the competition's leaderboard.
10 Hayley Miller (FRE)
8 Alicia Eva (GWS)
5 Dana East (FRE)
3 Kiara Bowers (FRE)
2 Sarah Verrier (FRE)
1 Laura Pugh (FRE)
1 Alyce Parker (GWS)
Leaderboard
20    Anne Hatchard    ADEL
18    Monique Conti    RICH
18    Alicia Eva    GWS
16    Jaimee Lambert    COLL
15    Ashleigh Riddell    NMFC
15    Ashleigh Woodland    ADEL
14    Hayley Miller    FRE
13    Tyla Hanks    MELB
11    Kate Hore    MELB
11    Emma Swanson    WCE
10    Ebony Antonio    FRE
10    Brittany Bonnici    COLL
10    Kerryn Harrington    CARL
10    Charlie Rowbottom    GCFC
9    Kiara Bowers    FRE
9    Alyce Parker    GWS
9    Eden Zanker    MELB
8    Tessa Lavey    RICH
8    Breann Moody    CARL
8    Sarah Rowe    COLL