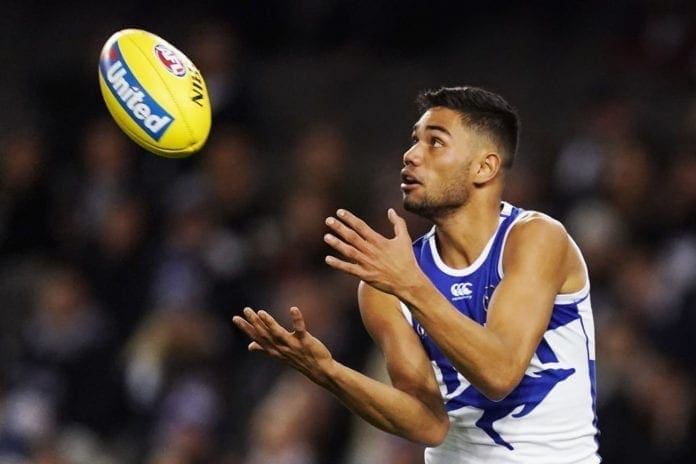 Talented Tasmanian Roo Tarryn Thomas is expected to miss a block of early-season games due to a mystery internal injury.
The 22-year-old has been under the watch of medical professionals since Sunday afternoon after being transferred from North Melbourne's rooms at Marvel Stadium following a first-half kick to the ribs during his side's victory over West Coast.
As reported by SEN's Sam Edmund, while Thomas is still bound to a bed, the burgeoning star managed to escape a set of broken ribs or direct damage to his kidneys.
However, with the youngster set to see a specialist as early as Tuesday, Thomas and the Roos are still awaiting a direct diagnosis for his internal ailments.
While the root cause of injury has been listed only as "internal bruising", the hybrid threat's return to action remains ambiguous.
Within a statement prepared by the Shinboners, club General Manager of Football Performance Dan McPherson suggested that a cautious approach would be undertaken.
"He's got some internal bruising, but fortunately his ribs are fine, there's no fracture. The ongoing advice and assessment from specialists will be the guiding factor as Tarryn recovers," McPherson told nmfc.com.au.
"Tarryn's health is our priority, so with that in mind we will take a conservative approach with his recovery and continue to monitor him closely."
However, Riley Beveridge of AFL Media has claimed that Thomas can expect to make his 50th appearance in blue and white bars within the next four to eight weeks.
In happier news on Arden Street, inspirational ex-skipper Ben Cunnington has made another stride towards resuming his senior career, with the hard-nosed 30-year-old becoming active in light drills and cycling work according to Edmund.
Although only four months on from the commencement and completion of Cunnington's nine-week chemotherapy program, the fact that the 227-gamer is inching towards a comeback akin to Carlton's Sam Docherty is sure to have blue and white eyes smiling.
North Melbourne will be afforded a chance to add to their 1-1 record in Round 3 when they face Brisbane at the Gabba at 8:00 pm AEDT on Saturday night.