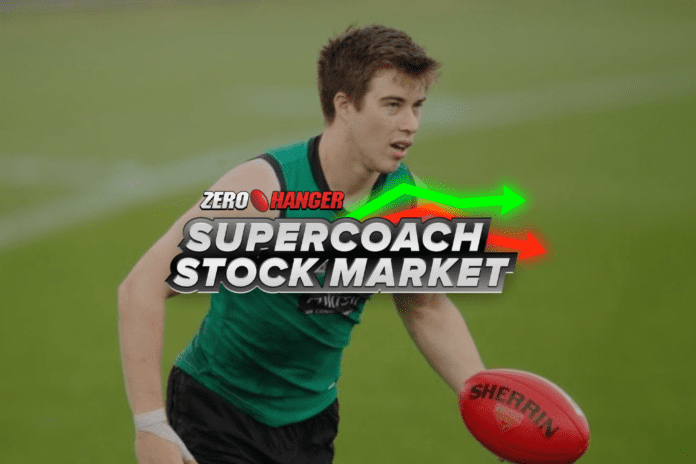 The first bye round is over and hopefully SuperCoach owners have gotten through unscathed with injuries, suspensions or just with a lack of players available in round 12.
Round 13 awaits and the second of the bye rounds will prove to be an interesting one for owners.
Owners who will look to trade this week, will be looking to trade out those who are scheduled for the bye this week, in order to bring in players who have already had the bye last round and won't miss again for the rest of the season.
Plenty of options available this week, so let's look ahead to Round 13 and see who to buy, hold and sell, as well as low breakevens and projected price rises.
SEE ALSO: BREAKEVENS - EVERY PLAYER, EVERY BREAKEVEN
BUY
Mitch Owens ($117,300) (MID)
The young Saints rookie will find himself in a lot of sides this week, given the Saints have had their bye and he scored 89 points the week before against the Kangaroos.
Owens previously had a two point-scoring game but that was when he was the medical sub, so that has brought his average down, and gives him still a low breakeven of -22 and a projected price rise of $30.2k this week.
MITCHITO OWENS
Forward

St Kilda

SUPERCOACH STATS

50.4
Average Score

$226,400
Price

0
Breakeven
Considering he amassed 14 disposals, two goals and 10 tackles against the Kangaroos, it's fair to say that he will keep his spot in the side and the Saints rate him, so look for him to continue to get plenty of opportunities in the back end of the season.
Jacob Wehr ($123,900) (DEF)
The young Giants defender has had a solid couple of games to start his career, averaging 55.5 points, which gives him a breakeven of -38 and a projected price rise of $41.9k, so he will be a popular downgrade this week from players such as Sam De Koning.
JACOB WEHR
Midfield GWS

SUPERCOACH STATS

62.5
Average Score

$311,400
Price

0
Breakeven
Given that the Giants have just had their bye and defender Lachie Whitfield's injury status is up in the air, Wehr looks to be a nice option in defence and an extra player playing throughout the rest of the bye rounds.
Over 10,000 owners have already traded him in, and other owners should follow suit.
Zach Merrett ($520,700) (MID)
The gun Bombers midfielder has been a consistent SuperCoach scorer across his career, but this season he has been overlooked, understandably due to Essendon's poor play in 2022.
Merrett is currently only in 1.1% of teams despite averaging 106.1 points on the season and historically he is a good scorer in the second half of seasons and at $520k, he is a steal and likely won't get cheaper than this season.
SUPERCOACH STATS

0.0
Average Score

$0
Price

0
Breakeven
After scoring 102 and 130 in the past two games, Merrett has a breakeven of 75 which he should get, and a projected price rise of $5.7k.
The 26-year old's price shouldn't fluctuate too much, but his cheap price and the fact they have a big prime time game against Carlton this Friday night, means that Merrett will be primed for a big one and would be a nice point of difference in owners' midfields.