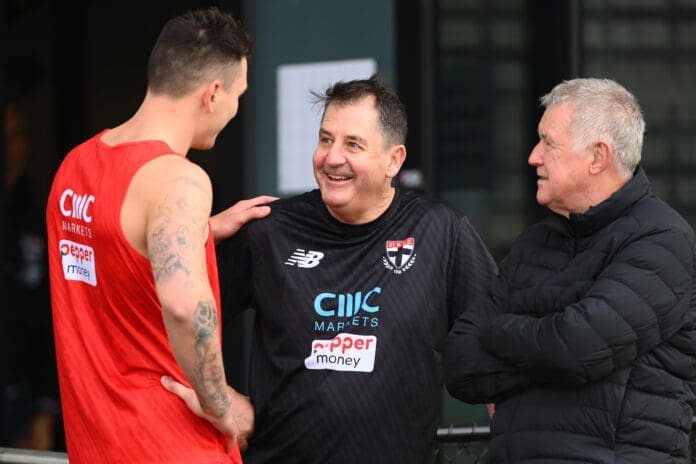 With the AFL just over six weeks away, St Kilda's Head of Football Geoff Walsh has departed from Moorabbin due to family reasons.
Having just been appointed in October of last year, Walsh was only in office for a little over three months.
With 35 years of football administration behind him due to his extensive stays with the Pies and Roos, the highly experienced football mind was meant to help propel the Saints back into the top eight this year.
It was a busy but important off-season for St Kilda who also brought back senior coach Ross Lyon for the first time since 2011.
Together with Walsh, St Kilda CEO Simon Lethlean and Saints fans across the country were hoping that the Saints could improve and develop more talent at the club as they try to get back into the Premiership hunt.
In a press release on Walsh's departure, Lethlean said: "The club respects Geoff's decision to do what is best for he and his family. We have been incredibly fortunate to acquire his expertise and skills, even if only for a short time."
"Geoff's knowledge and experience has allowed the club to make a strong start at implementing the recommendations of the Review and embracing a new coach as well as many new staff within the program.
"Thanks to Geoff's stewardship and his rigour in driving standards and processes, we are confident in the early signs and feedback coming through from the football program and look forward to seeing what the team can produce in 2023.
"Geoff and his family are now part of the St Kilda family. We wish them all the very best and look forward to remaining in contact."
Meanwhile, Walsh has since thanked the Saints for their support and understanding on the matter saying.
"I have really enjoyed my time with the club but with my personal situation very recently changing, I now need to focus on addressing that, which unfortunately will preclude me from devoting the necessary time to a full-time role in football," he said.
"There are many wonderful and dedicated people here at St Kilda and it has been a pleasure getting to know them and sharing in their passion to help the club improve.
"In a short space of time, some significant change in systems, staff and structure have been undertaken in the football program and I have enjoyed playing my part in that. I expect 2023 will see the benefits of those changes.
"It has been a great experience building a working relationship with many talented people within the program, in particular Ross Lyon, who I know will be relentless in driving the program towards a strong future.
"While I will be stepping away, I will still be keeping a close eye on the Saints and staying in touch to support the club where possible."
In his absence, David Misson, who has 25 years of experience in administrative sport has stepped up to fill the void.
Misson has recently worked with the Australian men's cricket team, the Sydney Roosters in the NRL and in the AFL with Sydney, St Kilda and Melbourne.
Like Walsh, Misson has been at Moorabbin for a very short time having joined the club in November.
In other administration news at the Saints, Tessie McManus will continue to work in the Saints' AFLW program but this time as Head of AFLW whilst also taking on the responsibility of Head of AFL Operations.
It has been an eventful few months at St Kilda with a series of changes at the club, but Lethlean appears optimistic of the club's trajectory.
Nonetheless, 2023 looms as a make-or-break year for the Saints.
St Kilda will kick off their season with a clash against the Dockers at Marvel Stadium on March 18.