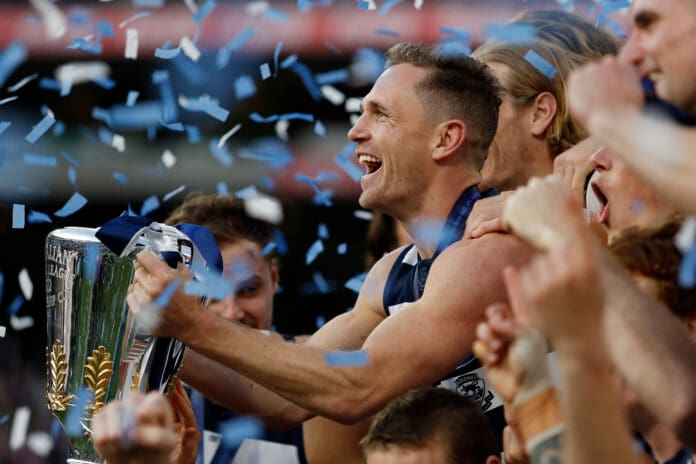 Having only just left the game he has dedicated most of his life to, you could be forgiven for thinking that Joel Selwood might be in the mood for some R&R.
That wouldn't be very on brand for the AFL legend however, with Selwood, almost immediately, taking up a role with the Melbourne Storm.
Following the fairy-tale finish to his career in 2022, where he hoisted the premiership cup as captain in his last-ever game, Selwood agreed to join the Storm as a leadership coach for 2023.
While it's perhaps a left-field choice for one of the greats of the modern game, it's not as uncommon as it appears. Collingwood premiership skipper Nick Maxwell similarly joined the Storm upon retirement, keen to apply his leadership skills and knowledge in a different environment.
As a revered leader, it's unsurprising that Selwood would also be keen to test his skills and share his experience outside of the AFL bubble. Speaking to SEN 1170 Mornings, Selwood opened up on the role and what appealed to him about it.
"It's an organisation I've looked upon and watched on in envy with the work they've done in the 25-year history they've had." he said.
"I'm going to work with their leaders that are coming through, they've obviously lost a handful of players to the Dolphins and now it's time for this next group of leaders to come through.
"It was pretty appealing to me with the ages of these guys and the position that they were in as a club to join them and see how we go."
See Also: Every AFL team's pass mark for the 2023 season
Given the on and off-field similarities between the Storm and the Cats in terms of stability, leadership and success, it's perhaps no surprise that Selwood found the opportunity so appealing.
The home of great leaders such as Cameron Smith, coach Craig Bellamy and football boss Frank Ponissi, the Storm is looking to utilise Selwood's experience to help shape its next generation of leaders on the field.
"It's a very stable club and they've been fortunate with those people (Bellamy, Smith and Ponissi)," Selwood said.
"But now it's over to the boys come game day to take their game to the next level.
"They didn't finish where they wanted to last year with the exit in finals so they just want to be a stronger club and take those steps forward."
Selwood is particularly excited about working with star Cameron Munster, one of the biggest names in the game who is well known in AFL circles not just for his ability, but his personality as well.
"He is, he's very enjoyable to be around," Selwood said.
"I've watched Munny for a long time, he's got this killer instinct that you'd love to play with.
"I'm still getting to know the boys and obviously culturally they're a really strong club and I'm looking forward to jumping in on that."
Apart from working with some of the game's biggest names, Selwood is aiming to instill simple values and convey the message that it's largely about getting the basics right.
"At the end of the day, you've got to do the simple things really well and make them good habits too," Selwood said.
"If you can do that, more than likely there's going to be more mistakes made in those hectic environments. It's about making less mistakes than the other side."
With the NRL season just over a month away, the Storm will be glad to have some extra leadership to draw on as they look to bounce back from a disappointing finish to 2022.