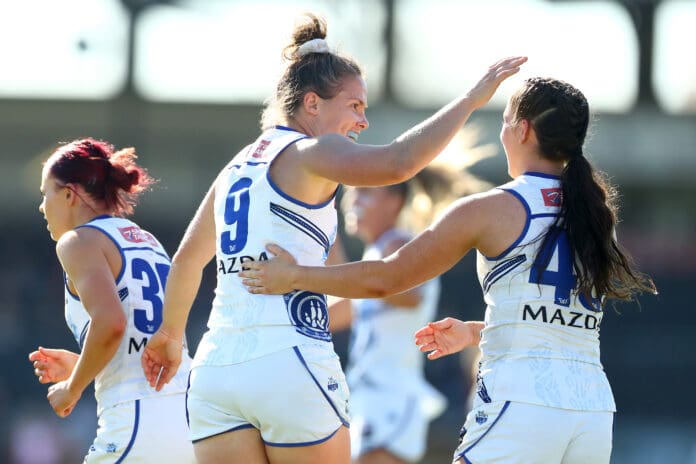 Kangaroos captain Emma Kearney has revealed she is continuing to battle lingering health issues after recently contracting COVID-19.
The veteran midfielder has had a hampered 2022 campaign in just the opening three weeks of the AFLW season, having missed her side's Round 1 clash against Geelong after being placed under the league's health and safety protocols.
Despite having mild symptoms throughout the process, Kearney has continued to feel fatigued in the weeks following her positive test result, with her hindered fitness levels compounded by a bout of food poisoning shortly after her side's Round 2 loss to Adelaide.
Speaking to The Herald Sun, the 32-year-old revealed she has continued to face ongoing complications after contracting the virus.
"I suppose with the Covid stuff sometimes you feel back to normal, but then sometimes you do a bit of exercise or don't sleep as well and get quite fatigued," Kearney said.
"I think I got struck down with a bit of food poisoning post the game against Adelaide, so the flight home was pretty rough.
"I am feeling a little bit drained, from what the doctors say it's not COVID related but it is a bit of a double whammy.
"For most of us who have had [COVID-19] we have lost our appetite, having to force yourself to eat, to fuel yourself so you're right to go performance wise can be a challenge.
"There were certainly times on the weekend where I was feeling the effects of COVID ...  there were times where you'd start doing a little bit of activity, gym at home and things like that and you'd get really fatigued and then headaches come."
Now preparing to bounce back from her side's 13-point loss in South Australia, Kearney and the Kangaroos have turned their attention to Pride Round, where the Shinboners will host the Giants at Arden Street on Sunday.
The turnaround and lasting battle with fatigue has placed some concern on Kearney's preparations for the weekend ahead, however she has been able to build momentum in recent days.
"Certainly not feeling at my best, so the week leading into this round's game, the first training session back on Tuesday I felt pretty ordinary, especially in the first half," she added.
"I'd do a sprint effort and you feel fatigued and have to sort of stop, as I got my second wind though I felt a bit better.
"During Thursday night's session I felt back to normal with far less fatigue.
"It was certainly tough during my isolation period, moments where I felt good and then all of a sudden you'd go downhill pretty quickly."
The Kangaroos will be looking to return to winning ways on Sunday and will likely enter Round 3 as favourites over Greater Western Sydney.
Kearney last featured against the Giants in Round 2 of the 2020 season, where she collected 21 possessions, 398 metres gained and six marks.