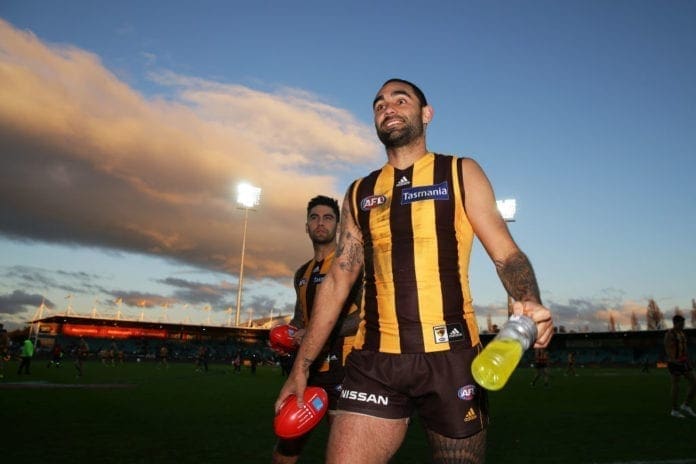 As the Lions did a few years ago by acquiring Luke Hodge from Hawthorn as an on-field coach, the Herald Sun's Mark Robinson believes that the Gold Coast Suns are planning to do the same thing with Shaun Burgoyne.
The Hawthorn champion comes out of contract at the end of the year, but the plan is to extend his playing career until 2020, and even 2021 if his body permits.
As part of the package to lure the four-time premiership player up north, they would offer him an off-field role after he finishes playing, according to the Herald Sun.
Burgoyne is aware of the Suns' interest in him, but no direct talks have occurred between either party.
Gold Coast's list manager Craig Cameron confirmed yesterday of their interest in acquiring the smooth moving, silky player that is Burgoyne.
"We're looking at range of options to improve our playing list and we need experienced players with good character,'' Cameron said.
"We respect Hawthorn and we respect that Shaun is a Hawthorn player, a Hawthorn champion, but we have to improve our list and we think Shaun could be great value to our young players.
"He's absolutely a professional and could supply great mentorship.''
Other experienced players the Suns have on their radar include Geelong's Harry Taylor, Melbourne's Jordan Lewis and Hawthorn's Jarryd Roughead, who was already declined a move to the Gold Coast last year.
The success of Hawthorn great Luke Hodge's move to the Lions has opened the door for creative recruiting, with the guidance of more experienced players proving very beneficial.
Hodge's role has been labelled critical to the Lions' rebuild as they vie for finals for the first time since 2009.
Burgoyne would be put in the same boat, as the Suns are in desperate need of direction and experience.
A potential four-year deal - two playing, two non-playing - could be enough to lure Burgoyne and his family to a third AFL club.
History has shown that coach Alastair Clarkson is more than willing to allow his veterans to move to other clubs in hope of greater opportunities.
Alongside Hodge, there was Sam Mitchell who moved to the Eagles as well as Jordan Lewis who went to the Dees.
Burgoyne reportedly hopes to continue his career to reach the 400-game mark, which would mean at least another two seasons.