Port Adelaide chairman David Koch has returned serve to Eddie McGuire as the uproar surrounding the Prison Bar guernsey continues.
The former Collingwood president warned Port Adelaide about their use of the Prison Bar guernsey after players changed into the black and white kit to sing the club song in following Saturday night's Showdown win against the Crows.
"Do Collingwood know about this?"

"I'm sure they don't – and I think that's the way they (Port) would like it!"

👀#AFLPowerCrows report 📝: https://t.co/aasgTegPP3 pic.twitter.com/tNWPXjlk8U

— Fox Footy (@FOXFOOTY) May 8, 2021
Speaking on Footy Footy on Sunday, McGuire said the Power against 'playing with fire' by 'poking' AFL, before taking aim at Koch.
"All I'll say is the AFL may be saying nothing but that is a direct poke in the eye to Gillon McLachlan and the AFL Commission," McGuire told Fox Footy.
"They're playing with fire now Port Adelaide on this because they have signed an agreement that they would not manufacture any of those jumpers for merchandise. As we saw in the crowd, they're starting to overplay their hand a little bit here.
"David Koch is sticking his nose into the AFL territory now – it's a big size nose, I hope he doesn't get it broken."
"That is a direct poke in the eye to Gillon McLachlan & the AFL Commission"

Eddie's take on Port's controversial decision to wear the Prison Bar jumper during the club song last night… pic.twitter.com/TRVDXaMCZ9

— Fox Footy (@FOXFOOTY) May 9, 2021
AFL TRADE NEWS: Western Bulldogs star Josh Dunkley says 'his future is settled' at the Kennel
Koch on FIVEaa radio on Monday explained that the decision to wear the Prison Bar guernsey in the rooms was to pay tribute to the fans.
He said it was not a provocative message to the AFL, Collingwood or McGuire.
"Basically it was a player decision to wear the guernsey in the song, it wasn't about Eddie, it wasn't about the AFL," he said on FIVEaa.
"It was about our fans, it was about our members and it was about the history around the club."
Koch took exception to McGuire's comments about his 'big nose' and believes he has forged a "nasty streak" of making fun of people's appearance.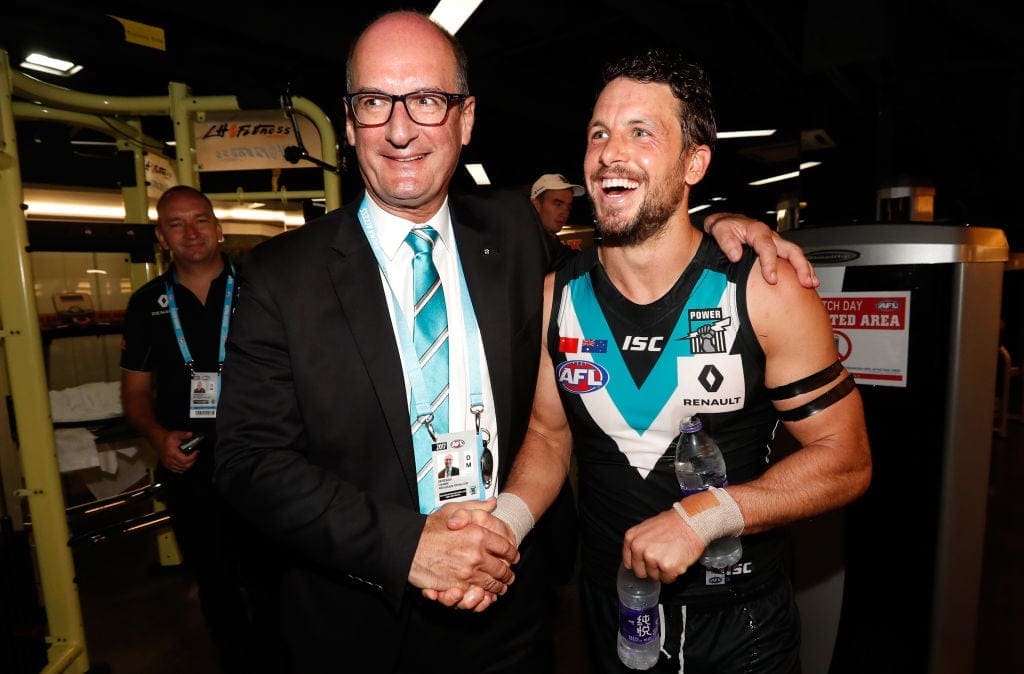 The Power chairman said that McGuire thinks of himself as a spokesperson for the AFL to follow.
"As is usual he just makes stuff up again and some of it, Einstein knows I'm no oil painting but Eddie has form," he said.
"As is usual he just makes stuff up again and some of it, Einstein knows I'm no oil painting but Eddie has form," he said.
"He has this nasty streak when he is under a bit of pressure he comments on people's physical appearance. I'm big enough and ugly enough and I know I have a decent size honker.
"It's fine but to make comments like that I think it is uncalled for, he has form in that area which I think is a nasty streak.
"He believes he can speak on behalf of the AFL and the AFL should be following exactly what he says.
"He has this enormous sense of self-importance that he runs the game and he can tell the AFL what to do."
AFL TRADE NEWS: Rival clubs coming at Blues star Harry McKay "in a big, big way"
Just when you thought a Showdown win couldn't get any better… 🖤🤍 #weareportadelaide pic.twitter.com/6D28GgIsKt

— Port Adelaide FC (@PAFC) May 8, 2021
Port planned to wear their traditional guernsey against the Crows but were told by the AFL that they would be stripped four points if they wore the guernsey.
A furious David Koch said last week that would pay the fine if it meant the Power could wear their traditional guernsey against the Crows but had to take a step back from the matter when the AFL threatened to deduct premiership points.
The Power joined the AFL in 1997 with an understanding that they would not be allowed to wear their traditional black and white prison bar guernseys.
The campaign to ban the prison bar guernsey was led by Collingwood, but the Power was told in no uncertain terms by the AFL that they would have to use colours that did not resemble any of the other 15 teams.
The same obligations were placed on West Coast went they entered the league in 1987 and attempted to wear the yellow and black Western Australian state guernsey, which would have resembled Richmond.
Port Adelaide legend Brian Cunningham was the club's CEO at the time and told Michelangelo Ricci in 2020 that the club had strict rules they had to abide by to join the league.
"We did not want to lose black and white, not when it had been our club colours for such a long time," Cunningham recalled.
"Black and white had to be part of the mix.
"The AFL (accepting Collingwood's protest there could be just one team in black-and-white stripes) wanted us to come up with another colour not being used by any other club."
"Teal fitted with our beaches, the water in our Port River, our maritime history … and it worked with black and white.
"(AFL telecaster) Channel Seven was happy to go with teal. The AFL liked what it saw on the tests we did with Channel Seven."
Port Adelaide veteran Travis Boak said the move to wear the guernsey after the Showdown was important for the fans and the history of the club.
"This guernsey means so much to our community, to our footy club, to everyone who represents it, everyone who's played in it and everyone who has been around the club and certainly the players as well. To sing the song in this guernsey is special and we were able to do that tonight and that was planned," Boak was reported to say by Fox Sports' Ben Waterworth.