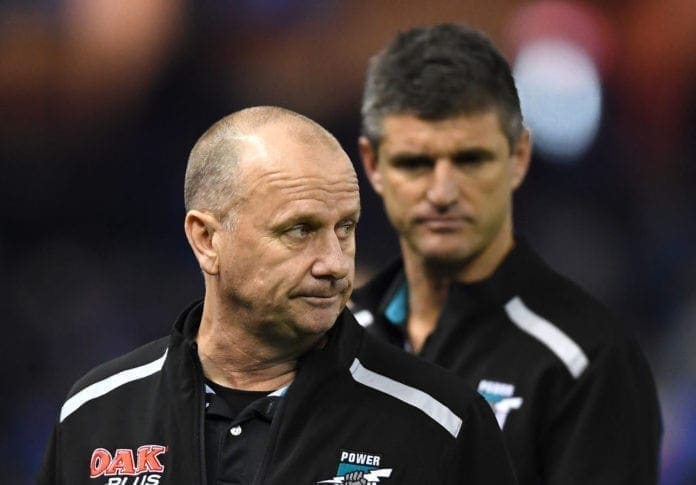 Port Adelaide senior coach Ken Hinkley has rejected claims that he will fill the vacant role at North Melbourne as the question over who will take the hot seat at Arden Street still remains.
2022 has not gone to plan for the Alberton outfit, starting the season off five and zip before failing to make ends meet over the course of the rest of the year to miss out on finals for the first time since 2019.
AFL NEWS: Port Adelaide veteran Robbie Gray announces retirement
There was conjecture earlier in the month surrounding the security of Hinkley's role at Port Adelaide, however club president David Koch last week threw support behind the embattled figure in a passionate statement last Thursday.
This morning on SEN SA Breakfast, Hinkley reinforced his commitment to his side beyond 2022, saying he is set on coaching out his contract.
"I can only answer it the same way I've answered always. I'm committed to Port Adelaide and expect to see out my contract at Port Adelaide as Port Adelaide are to me," Hinkley said.
"Sometimes you try to shortcut that question and people get critical of you trying to shortcut that question, but you've answered it so many times, for me, it's been pretty clear from the club and myself – what more can we say?"
As for the mediocre results over the course of the year, Hinkley said he wasn't going to hide behind excuses to cover for his side's performances in 2022.
"I don't go after (excuses) in any way shape or form because I just put it down to a footy season and at times that's what gets mixed up in the barrel and that's what you've got to deal with and there's been other clubs who have had equally as many challenges and they've been able to be successful, unfortunately for us, we haven't been successful in 2022," he said.
"I don't go into the excuses barrel, some of those things are real, but the reality is seasons do that to us all the time."
Despite the support thrown behind Hinkley, president Koch has still made it clear the club aren't afraid to make changes should they be needed, emphasising the situation could still develop if 2023 mirrors 2022.
AFL NEWS: Port boss slams "disrespectful" speculation over senior coach Ken Hinkley following blunt media response
There could be some big changes at Alberton too, with a number of players reportedly being circled by other sides to be poached over the course of trade period 2022.
Forward Mitch Georgiades and Victorian Miles Bergman are reportedly being courted by clubs across the land, with the latter at risk of being lured back to his home state despite not being off-contract until the end of 2023.
On the incomings side of things, there is reportedly interest in beleaguered Pies star Brodie Grundy from Hinkley's outfit, with Collingwood open to paying a chunk of the 28-year-old's wages should he depart the Holden Centre.
Port's last game of season 2022 comes in the form of a Showdown against cross-town rivals Adelaide, with the winner of the clash set for summer bragging rights to wave over the head of opposition fans.