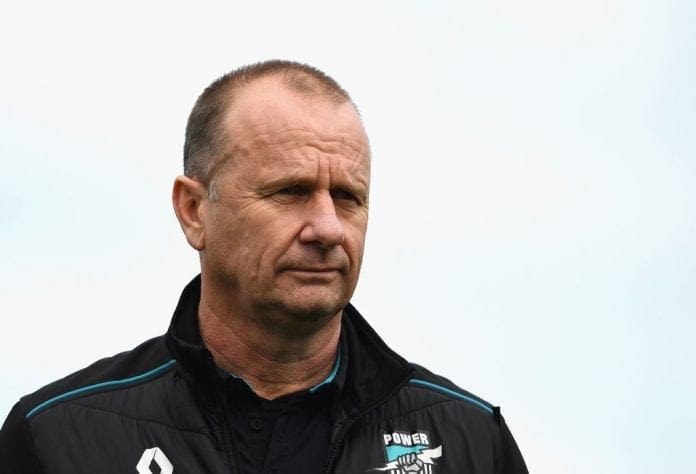 Port Adelaide chief executive Matthew Richardson has labelled ongoing speculation surrounding senior coach Ken Hinkley's future as "disrespectful" following the Power coach's blunt response to the latest question on his tenure at Alberton Oval.
Hinkley has faced constant conjecture around his position with Port Adelaide despite being contracted for next year, swatting away any suggestions 2022 will be his final year with the South Australian club.
Both Hinkley and Port Adelaide's top brass have continued to reaffirm their partnership will remain intact for next season, however their stance hasn't halted queries and reports suggesting otherwise.
When quizzed if he expects to be at Port Adelaide next year, Hinkley gave a quick response before concluding his weekly media conference on Friday.
"Yep. Thank you, have a good day." Hinkley replied before walking out.
Hinkley's response was raised to Richardson on ABC SA Grandstand, to which the Port Adelaide boss echoed the club's commitment to their senior coach.
The Power will dive into a review of their football programme, including their playing and coaching personnel, in the off-season following a poor 2022 campaign that has flown well below expectations.
"It gets to a point where it just becomes a bit disrespectful," Richardson said of the constant questioning over Hinkley's future.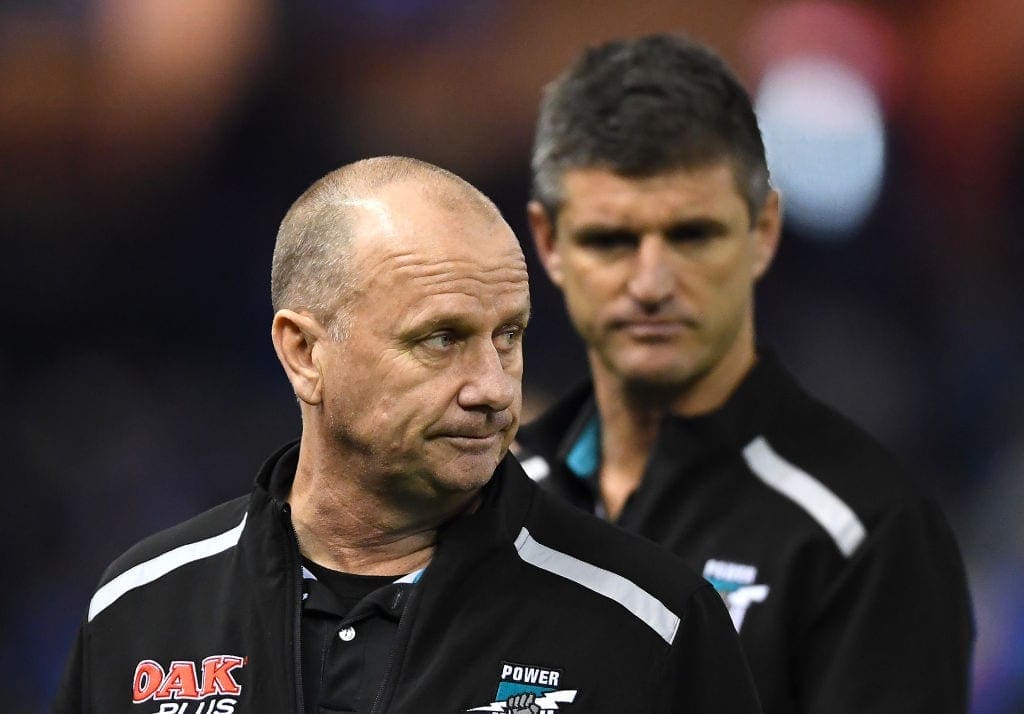 "I get the speculation. I get all that but at the end of the day, I think we've been really, really consistent from the outset that we'll get to the end of the year.
"We'll assess our performance and that'll be across the whole programme. So that's going to be the playing list, the coaching group. 'How are we going to get better for 2023?'
"This is not a reset moment. As we've said, Ken's contracted, he's our coach and I think sometimes it's just the fact that it keeps coming up is disrespectful.
"We have definitely underperformed this year. I think there are reasons for that and when we get to the end of the year, we'll get into that a little bit further.
"We do think that we should be performing a lot better than what we have this year and that'll be the focus for 2023.
"That work will start in a few weeks, but right now our focus is very much on finishing off the year really well and hopefully getting three wins."
Despite recording successive top two finishes on the ladder in the past two seasons, the Power won't feature in the post-season action this year.
A winless run in their opening five matches left Hinkley and co. with an uphill task of keeping their season afloat, with the club currently placed on the 12th rung of the ladder with three matches remaining in their campaign.
"It's been a really disappointing year," Richardson said.
"We haven't obviously performed to the level that we would have set ourselves at the start of the year.
"We got away to a really challenging start, and since that moment we've been on the edge most of the year and I think the group has done a pretty good job just to stay in the moment.
"We've got three really important games to make sure we finish off the year well and the focus right now is just on the game tonight against Richmond.
"It's really about winning and playing quite well. We haven't been able to do that for long enough in games, we've been pretty close all year.
"We just haven't been able to put four quarters together."
Port Adelaide will look to gain back some plaudits on Saturday night when they welcome Richmond to Adelaide Oval, hoping to spoil the Tigers' hopes of a finals finish.