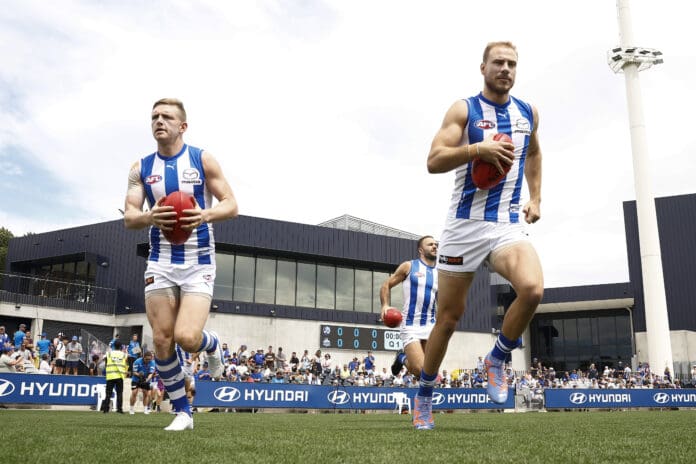 North Melbourne has released updates on the playing statuses of veteran Jack Ziebell, and midfielders Tom Powell and Liam Shiels for this weekend's bout with Geelong, while uncapped youngster Hamish Free has been sidelined for the remainder of the season.
The defending Ziebell suffered a knee injury late in North's loss to the Adelaide Crows last Saturday, while Powell is suffering stiffness in an ailing ankle and Shiels is recovering from a calf complaint.
Kangaroos performance boss Kevin White revealed Ziebell is available for selection this Sunday.
"Jack had his knee driven into the turf causing acute soreness so we went conservative with him late in the final term. He will fully train on Thursday and be available this week," White told NMFC Media.
As for Shiels, who also succumbed to injury late in North Melbourne's Round 16 fixture, the ex-Hawthorn midfielder will need to pass a fitness test in order to be able to face the Cats.
"Liam had an incident where he felt his calf/Achilles tighten up in the fourth quarter (against Adelaide) in what was an unusual presentation of symptoms," White continued.
"Scans on Sunday showed injury to his plantaris tendon, which is connected to his calf at the level of his ankle.
"He's made significant improvement over the past 48 hours but is still in some doubt for this week. He'll look to prove his fitness at the back end of the week to be available for Sunday's game."
White went on to detail the stiffness Powell has been experiencing in his ankle, noting he, too, will need to prove his fitness later this week.
"This (stiffness) has had a compensatory effect on his knee/iliotibial band where he has been loading more through this region due to a stiffened ankle with running mechanics," said White.
"Tom will need to show improved ankle function and have the ability to run and function without inhibition in proving his fitness this week."
Meantime, yet-to-debut ruckman Free is preparing to undergo season-ending surgery after scans revealed 'insufficient healing' of a previous shoulder ailment suffered during a VFL contest.
"His follow-up assessment with imaging and the specialist has shown insufficient healing of that shoulder injury that would enable high long-term function," White said.
"He will undergo shoulder surgery in the coming week officially ending his playing prospects for the remainder of the 2023 season."
Free, a South Fremantle product who was scooped up by the Roos at last year's Rookie Draft, is set to come out of contract at the end of this season.
The Roos' meeting with the Cats is scheduled for Sunday, July 9 at 1:10 PM AEST.