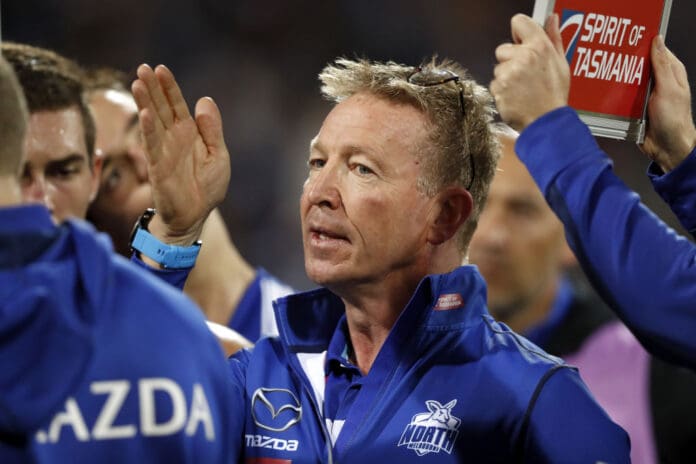 More than 100 players across the AFL have been hit by coronavirus, but the situation at the North Melbourne Kangaroos could be the worst of the lot.
They fronted up to pre-season training this week without coach David Noble, or captain Jack Ziebell. The duo were joined by up to nine players who missed training due to contracting COVID.
According to The Herald Sun, it forced the Kangaroos into making significant changes to their return to training.
It's understood however that the club expect the duo to return to training at the end of their quarantine period, which is currently set at seven days, provided they are asymptomatic or can return a negative test at the end of the period.
Most clubs have already dealt with losing players and staff during the pre-season, but it's unclear if any coaches have contract COVID before Noble did at the Kangaroos.
The AFL, like most other codes in Australia, are currently juggling with what their competition looks like in the open society with coronavirus cases spiralling out of control right around the nation.
While Western Australia's borders will open on February 5, allowing the competition to proceed in the most normal way possible, and the AFL have mandated that all players and staff be vaccinated, it won't stop players and staff being forced into seven-day isolation periods when COVID inevitably makes its way through the competition during the season.