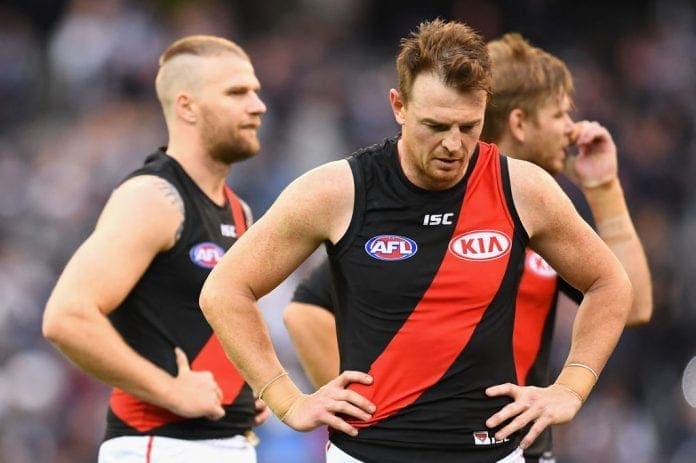 Fox Footy analyst and North Melbourne champion David King has questioned the fitness of the Bombers' list, lamenting their physical conditioning in their shock defeat to Carlton on Saturday.
While they were inaccurate in front of goal, King has questioned whether or not their physical conditioning is at the optimal level it needs to be for the rigors of the AFL.
"I look at that group then you watch every other team, I don't see Essendon players rock hard fit," he told SEN's Whateley on Monday morning.
"I don't know what's happened. I look at Anthony McDonald-Tipungwuti – he isn't in the shape he was last year. I look at Jake Stringer – is he rock hard fit?
"These jumpers that they're wearing, they hide nothing. If you're three grams over you can see it."
The Bombers were widely tipped to be contending in season 2018, with the three major recruits over the off-season and the continual rise of their young guns.
However, with only a few players playing reasonable football, the season is quickly slipping away from the Bombers.
"I don't mean overweight in a negative sense and I'm not being nasty.But I looked at the Kangaroos play yesterday and they gave everything – they're rock hard fit," King added.
"Richmond weren't jumping out their skin 100 percent fit but they were probably 90 percent and they've had volume on the track, get through the preseason and we'll build through the course of the year.
Criticism has come of the Bombers in the last few weeks, with no identity with the way they play, and form issues regarding some of their stars.
Worsfold re-signed earlier this season, and has since been disappointing in his game plan each week. However, King has questioned what the other coaches are doing in the week-to-week processes, and on game day.
"We need to see some sort of experimentation from this group of coaches, it's not just John," King said.
Essendon's Game Performance Manager Mark Neeld was sacked on Monday night, as the Bombers try to re-structure their coaching staff.