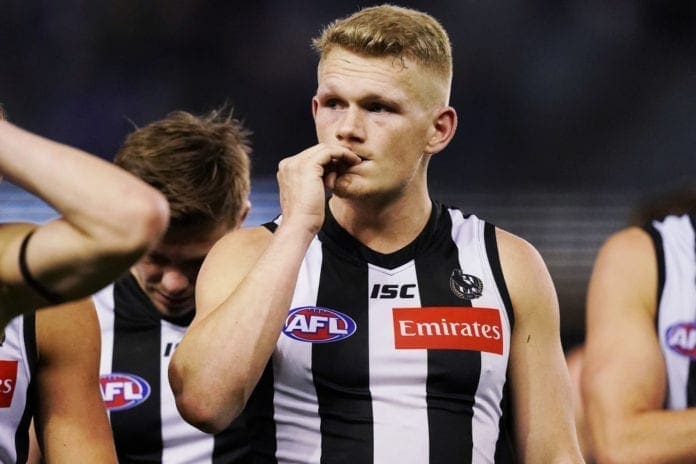 Adam Treloar is now a Western Bulldogs player after being forced to find a new home as Collingwood face salary cap pressure.
The Pies were forced to trade out Treloar, Jaidyn Stephenson and Tom Phillips in order to free up much needed cap space.
However, Collingwood have disputed at times that salary cap space was the reason behind the trades, with the club having varied their reasons for their decisions in this trade period.
At one stage it was said Treloar was hard to coach, it was then reported that Nathan Buckley had told Treloar he was unwanted by senior players at the club.
List manager Ned Guy did reveal last week that the fact Treloar's partner Kim Ravaillion had signed on to play netball in Queensland was a driving factor in the club's decision to ask Treloar to seek a new home.
Ravaillion spoke of the couple's relief to have finally secured Treloar's future after a "super tough" month.
"I think it could have been handled a lot better," Ravaillion told The Herald Sun.
"Ads absolutely loved playing for Collingwood and he loves all his teammates and he had nothing bad to say about them.
"I wish he was a bit more well respected in what he gave to the club and him as a person, I think he was treated pretty poorly.
"But in saying that, he's now at a club that will now treat him with that respect.
"He didn't want to leave. He loved Collingwood, he loved the fans, he loved everything about the boys. They have all reached out to him and they are all shocked.
"It wasn't his choice, but in the end it got to a point where he just didn't want to go back to a club that treated him like that.
"We got to this point where we are now and we couldn't be more relieved."
Ravaillion has represented her country on 57 occasions, with her and the couple's eight-month-old daughter, Georgie, now moving to Queensland as Ravaillion fulfils her 10-month contract.
Treloar believed he could get through the season unaffected while his family were interstate, but the club didn't agree.
Ravaillion felt the Magpies had signalled her career resumption as the key behind Collingwood's treatment of Treloar.
"The fact they've used me as a scapegoat because I am going to Queensland is pretty sad," Ravaillion said.
"That was my choice and he was fully supportive of me going to Queensland. That chat was had a long time ago.
"I just think it's funny they're trying to veer it off onto me.
"We know the truth and we know that I wasn't the reason. We just find it amusing that people just like to make up stories.
"We're just thinking about what's ahead and we're so excited.
"It feels like a breath of fresh air and I'm glad he's happy and feeling really pumped about this new opportunity, as am I."
Ravaillion believed that the couple has what it takes to make their relationship work while apart.
"If anything, distance makes the heart grow fonder," she said.
"We are young individuals and we have only got a career for so long, so we want to make the most of it while we can.
"The fact that everyone has an opinion about our life is just ridiculous, worry about your own life.
"This is our life and our choice and we are going with it and we are excited about it.
"It's not like we are not going to be able to see each other and, in reality, my (netball) season goes for three months.
"So I feel like everyone is kicking up a big stink about something that is our choice."