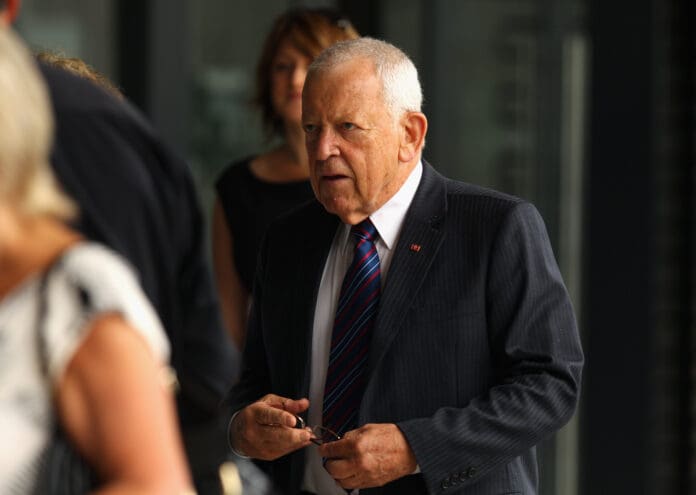 The North Melbourne Football Club and the remainder of the footballing world have been left to mourn the passing of visionary administrator Dr. Allen Aylett.
Aylett, a former president of the Kangaroos and the league's chairman, passed away on Friday, aged 88.
Despite representing his beloved Roos on 220 occasions between 1952 and 1964, Aylett rose to prominence following the cessation of his playing days, acting as a driving force for successes on Arden Street, as well as further afield.
A dentist by trade, Aylett was elected North Melbourne's president in 1971, a period in which the Shinboners were still in search of their first VFL/AFL flag.
However, heading a team including the likes of Ron Joseph, Albert Mantello and, eventually, Ron Barassi, Aylett presided over North's first golden age, celebrating the club's inaugural premiership in 1975.
Bigger fish requires frying, and in 1977 - a year marked by the Kangaroos' second flag - Aylett was hailed as the competition's chief, a role he would fulfill with aplomb.
Though North's on-field glories dried up upon Aylett's departure, the Roos' loss was the league's gain, as the former All-Australian set about taking Australia's code into uncharted territory.
Under Aylett's watch, the VFL expanded into Sydney, held popular mid-week night matches and launched the idea for Sunday fixtures to take place following heavy lobbying with the Victorian State Government.
Aylett's tenure at VFL House would end in 1984, with the devoted Shinboner returning for one final term as North Melbourne President between 2001 and 2005.
Contemporary President Dr. Sonja Hood paid tribute to her predecessor, hailing Aylett's blue and white deeds as unparrelled.
"No single individual has had a greater impact on the North Melbourne Football Club than Dr Allen Aylett," Dr. Hood said within a prepared statement.
"He was a great onballer through the 1950s and '60s and he famously presided over our first successful era in the 1970s.
"It was a source of great pride for our football club when he became President of the VFL, overseeing the first steps to building the national competition we enjoy so much today.
"He came back home to lead the club from 2001 until 2005 and 'The Doc' will forever be remembered as a North Melbourne Legend.
"Our thoughts are with his family and friends during this difficult time."
AFL Chief Executive Gillion McLachlan added his own doff of the cap, stating that Aylett's vision beyond Victoria's borders truly changed the game.
"Allen Aylett was a giant of our game and had a vision that Australian Football should be played in every state and territory," Mr. McLachlan said.
"He was an innovator who continued to energetically drive change in our game and forge a path where so many Australians are today able to play and watch our game.
"He was not only one of the great ideas men in our game, but also a wonderful man whose passion for football and family knew no bounds."
Vale, Allen Aylett - 1934-2022