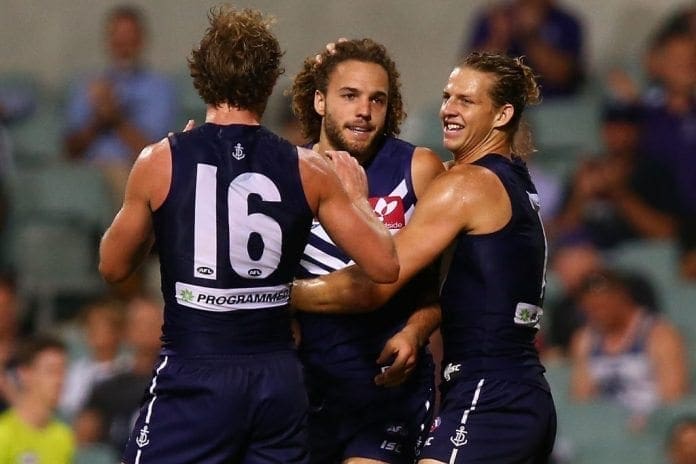 Following two drubbings to start the season, including an 89-point loss to Port Adelaide last weekend, Dockers coach Ross Lyon has swung the axe.
Lyon confirmed to reporters on Thursday afternoon he will make six changes to the side that lost last Sunday and will blood two young debutants.
No.8 draft pick, Griffin Logue, and midfielder Harley Balic, who was drafted with pick No.38 in 2015, will be named to debut when teams are announced this evening.
Hayden Crozier, Tommy Sheridan, Brady Grey and Ethan Hughes will also come into the team.
"Six changes will be made this week," Lyon said.
"Harley Balic and Griffin Logue will debut. We think the changes will give us some real enthusiasm. It's exciting, in particular for the debutants.
"Balic is an inside mid, wins the ball well, he's strong overhead. Logue is an explosive, 194cm running back. There's real growth in Logue, he'll play against some real quality and get to learn.
"It's exciting, it's thrilling to see the debutants come through. But there's always the flip side of those going out.
"Crozier, Sheridan, Grey and Hughes also come in to the team. Outs will be confirmed at 4.20pm when the team is announced."
Fremantle take on the Western Bulldogs at Domain Stadium on Saturday night.
Full teams will be announced at 6.20pm AEST.