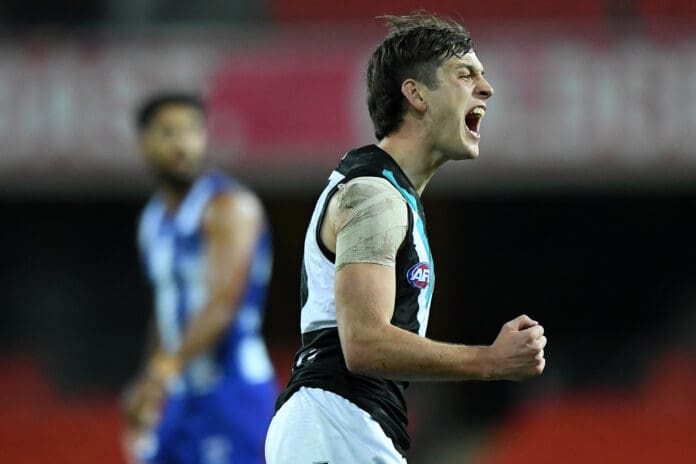 On paper, Hawthorn weren't meant to contend in 2021 as their list was between pushing for the eight and a complete overhaul, with the latter becoming more apparent with each passing week.
After initially suspending their supporter's disbelief in the wake of an improbable come-from-behind victory against Essendon in Round 1, the Hawks quickly fell in line with their pre-season evaluation and were seemingly in shambles until the latter stages of the season, where they concluded the year with a 3-1-2 record during the final six rounds.
Not even the game's greatest coach this century, Alastair Clarkson, could compensate for the club's shortcomings, inevitably moving on from his position after the well-documented and messy succession plan that was announced mid-year.
As club champion and new senior coach Sam Mitchell takes the reigns for 2022, he has an assortment of gaps to fill if he's to get the brown and gold contending for a flag in the near future.
If the Hawks could snatch up any player from another club without needing to offer any type of compensation, who would they pick up to bolster their young squad?
SEE ALSO:
-  If your team could steal one player: Adelaide Crows
-  If your team could steal one player: Brisbane Lions
-  If your team could steal one player: Carlton Blues
-  If your team could steal one player: Collingwood Magpies
-  If your team could steal one player: Essendon Bombers
-  If your team could steal one player: Fremantle Dockers
- If your team could steal one player: Geelong Cats
- If your team could steal one player: Gold Coast Suns
- If your team could steal one player: GWS Giants
Gaps in best 22
Hawthorn has a relatively established back six but lacks another long-term key defender outside of Denver Granger-Barras. Which if not addressed will cripple their defensive structure if their intercept/running defenders fail to impact the contest up the field.
Given the intensity that the young Hawks managed to exert around the footy, especially later in the season, they should be able to continue developing their defence without the immediate need to replace Hartigan.
Additionally, Hawthorn will be graced by the return of star defender James Sicily, who will no doubt further solidify this group. Still, this position will need to be addressed sooner rather than later if the Hawks are to reclaim the game's grandest prize.
Similarly, their midfield core is quite formidable on the inside but severely lacks on the wings. While they can slot veteran duo Chad Wingard and Jarman Impey in these positions, their talents are better utilised when positioned inside forward 50 and across half-back respectively.
Top pick Josh Ward can fill one of these voids on the wing but will no doubt still need time to develop and adjust to top-flight footy, meaning that he isn't a certainty to light the world on fire come Round 1, despite his elite speed and ability to play both inside and outside.
Even with Ward's addition to the side, this still leaves Hawthorn down a speedster/elite ball user on the other flank, which handicaps their ability to initiate transition offence.
The Hawks have some nice pieces up forward, but they do lack a genuine leading option who can consistently hit the scoreboard. By securing a young and somewhat established key forward, they can allow Justin Koschitzke to develop while not being subject to the opposition's strongest defender.
While Hawthorn did manage to bolster their list with the additions of their other draftees Sam Butler, Connor MacDonald, Jai Serong and Ned Long, in addition to trading for ruckman Max Lynch, they would benefit from the addition of an intermediate aged player who is approaching their prime. 
Candidates to steal
Options 1: Harris Andrews
HARRIS ANDREWS
Defender

Brisbane

2021 SEASON AVG

15.3
Disposals

7.9
Marks

3.3
Rebound50s
Andrews is a dual All-Australian and one of the league's premier defenders who disrupts the opposition in a plethora of ways from shutting out their best forward to intercepting errant passes.
Andrews would be an ideal steal for the Hawks as they can pair him with the impressive Granger-Barras, essentially adding a fail-safe and completing their back six.
By pairing the duo, Hawthorn would also be free to allow their more attacking defenders in Jiath and Day the freedom to push hard up the ground with less fear of being exposed on the counter-attack.
Option 2: Bailey Smith
BAILEY SMITH
Midfielder

Bulldogs

2021 SEASON AVG

23.6
Disposals

3.3
Tackles

2.9
Clearances
The man with the most famous mullet in the land would be an unbelievable pick-up for the Hawks.
Smith's running ability and aggressive pursuit of the ball fits the team's needs and identity that Sam Mitchell is trying to craft. He hits the scoreboard regularly for a midfielder and displays a knack for advancing the ball forward and efficiently inside 50.
Furthermore, he would compliment the accumulation style of Tom Mitchell and has already exemplified his ability to function effectively amongst a star-studded midfield.
Option 3: Zak Butters
ZAK BUTTERS
Midfielder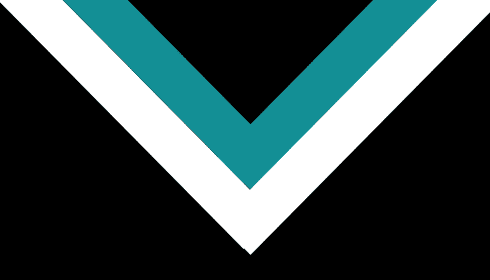 Port Adelaide

2021 SEASON AVG

18.8
Disposals

3.4
Tackles

2.6
Clearances
Butters has flashed brilliance his entire career and would've no doubt broken out last season if it wasn't for a syndesmosis injury that left him only able to partake in half the season.
He's crafty, skilful, and has an extremely high footy IQ. All things that would have Sam Mitchell and his coaching staff salivating.
Butters would also alleviate Hawthorn's reliance on their half-backs to deliver the ball forward in transition, adding class to an integral part of the field that they lack with their current midfield group.
Option 4: Oscar Allen
OSCAR ALLEN
Forward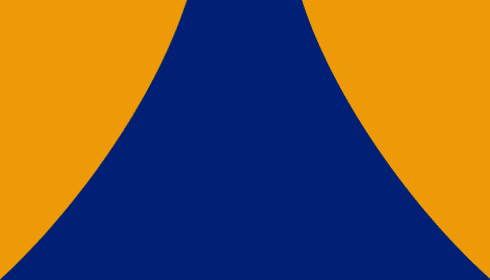 West Coast

2021 SEASON AVG

10.1
Disposals

4.8
Marks

1.3
Goals
Allen may have had the best key forward apprenticeship of all time as he's spent his entire career learning from Josh Kennedy and Jack Darling.
The 22-year-old's numbers may not jump out at you, but he's playing third fiddle in an absolutely stacked West Coast forward line and still manages to impact games.
Allen is the biggest gamble of the mentioned players but does provide Hawthorn with the greatest relief given how hard a genuine No.1 key forward is to come by. Also, his attack on the ball and defensive efforts are nothing to scoff at.
Verdict
The player who fills the most gaps and offers the best fit (not to mention the safest option) for the club's new direction is Bailey Smith.
Although he can't single handily fix the gaps in Hawthorn's list, Smith can do enough to make up the difference until the Hawks' eventually address their other areas of concern.
This holds true as Hawthorn is in desperate need of a genuine star on the wing, Smith offers that and much more as he hustles hard when defending while equally pushing forward with an assertive poise.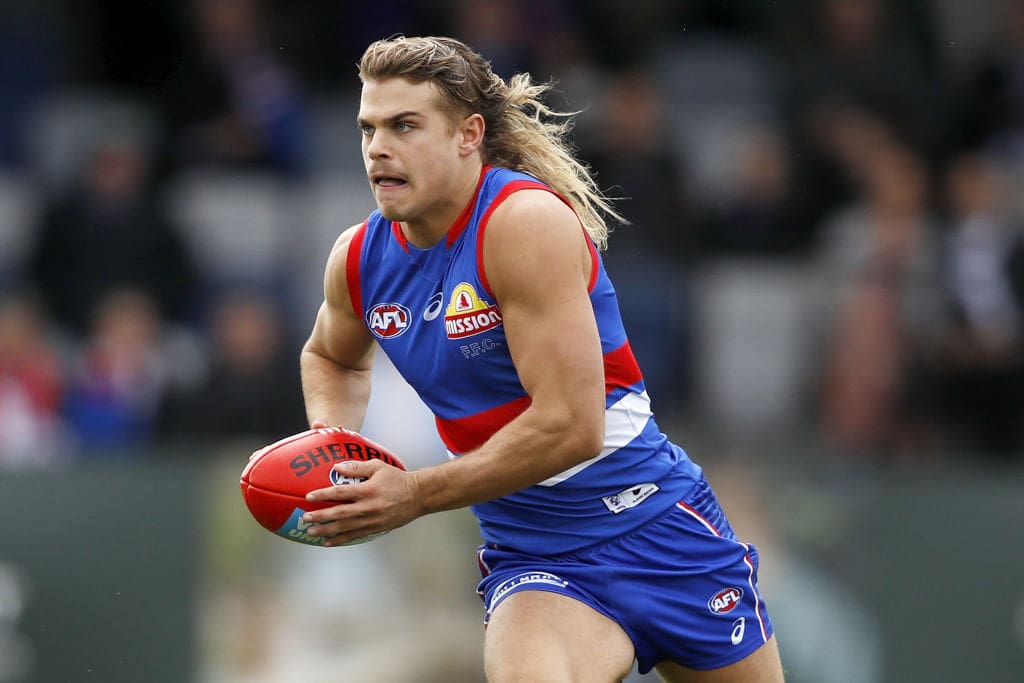 Next in the series, we'll take a look at Melbourne and their list as the reigning premiers prepare to hold down the fort and push for back-to-back flags in 2022.