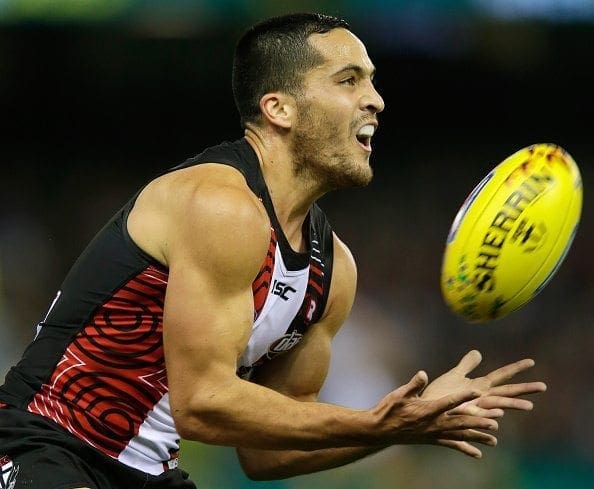 Ex-Hawthorn and St Kilda utility Shane Savage has hinted at a return to AFL footy via the mid-season draft.
The 30-year old played 165 games across 12 seasons for the Hawks and Saints before being let go by St Kilda following reductions in playing lists at the end of 2020.
He is currently enjoying playing footy for the Port Fairy Seagulls in coastal Victoria.
Savage recently spoke on the Unpluggered Podcast about his career journey and the slim prospect of resurrecting it by nominating for the AFL's upcoming mid-season draft on June 2.
At 30-years old, Savage is under no illusions and understands that an AFL lifeline is relatively unlikely at this point, noting: "unless a team is desperate for me, and they got onto me early... nah, I probably wouldn't nominate, and it's probably time to move on.
"But, in saying that, you're right, my body is in good nick, and if a team does need experience and a player that can come in and play straight away, then... maybe..." Savage hinted.
While speaking on Unpluggered, Savage revealed he "might have had a call from GWS," after he was let go by the Saints, but "nothing came of that."
"I thought there'd be a little bit more [interest]... maybe Covid, maybe not, I'm not too sure. Maybe my age, I'm not too sure, but it didn't quite go my way in the end."
SEE ALSO: Five trade targets for Collingwood
In the circumstance that Savage nominates, the aforementioned Giants could be interested, as well as, potentially, the ladder leading Melbourne, where ex-Saints coach Alan Richardson is currently general manager of AFL football performance.
Savage detailed his admiration for Richardson, stating "I was really hurt to see 'Richo' [sacked in 2019]" and continued; "I ended up playing some of my best footy under 'Richo'."
It isn't impossible to envision a scenario where Savage ends up a Demon, playing under Richardson again, and alongside the likes of Steven May, Jake Lever and Christian Salem in defence.
Meanwhile, GWS have lacked a gun rebounding defender since the departure of Zac Williams to Carlton during last year's trade period, with youngsters Lachie Ash and Isaac Cumming vying to fill Williams' shoes long-term.
RELATED: Stewart Loewe a Bomber? It nearly happened...
The New Zealand-born Savage played every game for St Kilda in 2019, but only appeared for the Saints twice in the pandemic-hit 2020 season, with his last AFL game being a strong performance with a signature long-bomb goal in the semi-final loss to eventual premiers, Richmond.
"That ball that I kicked, that was just full of anger, and just full of, like, all the pressure throughout the whole year. That was it. I was not passing that ball at all. As soon as 'Butts' (forward, Dan Butler) gave it to me, I just let go, launched it and yeah, got onto it really well... it was a special moment, my kids and my wife were up in the stands as well. I was glad I was able to have one more highlight before my career finished."
But despite only appearing in two games in 2020, Savage believes he was "in career-best form" and it just "didn't really go my way in terms of selection."
When asked about the spate of injuries (Geary, Paton etc) and loss of form (Coffield) to the St Kilda defensive unit to start the current season, Savage was circumspect.
"Yeah, that hurts. I'm not going to lie. It really sucks, seeing the Saints lose some quality halfbackers... but, knowing that I could have been there for depth, just really frustrates me, but there's obviously nothing I can do about that."