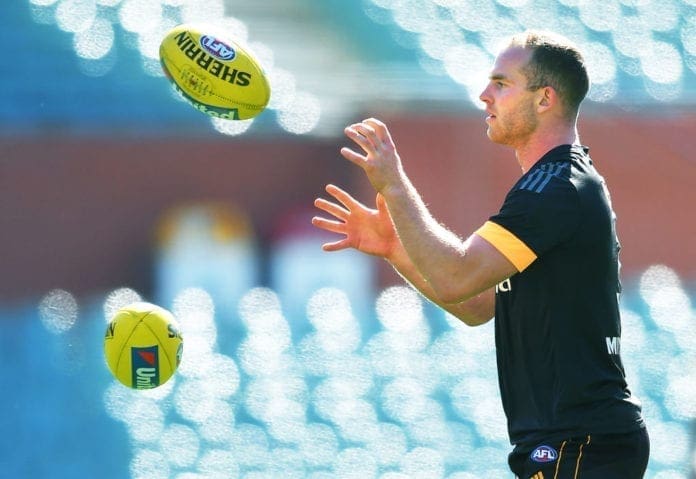 Hawthorn premiership captain Luke Hodge believes that no one is safe on his former side's playing list as they face an uphill battle in rebuilding. 
Hodge believes the Hawks are considering the futures of star players such as Tom Mitchell and Chad Wingard and whether the club will move them onto other potential suitors as they look towards the future.
"I think everyone would be on the table," Hodge told SEN's Wheatley. 
"Not your James Sicily's or your younger players but anyone who could go somewhere else and play in a premiership and have success .. (Isaac) Smith, (Luke) Breust and (Jack) Gunston have all been lucky and in the right position to play in premierships.
"You're probably looking at a Tom Mitchell, Jaeger O'Meara and Chad Wingard who have come to Hawthorn thinking they are ready to have a crack and go for a premiership.
"The goalposts have changed at the moment so I would be asking all of them (whether they wanted to move). When Alastair Clarkson does this, it's never an uncomfortable conversation. It wouldn't be 'you're on the trade table or you're staying', it would be 'what do you think would be best for you and the football club'.
"It's a mature conversation and they always come out with the same answer."
Hawthorn have turned an eye towards the future in recent weeks as they have played mainly young players, which has impressed the former captain.
However, he believes the club needs to keep heading in that direction over giving games to experienced players. 
"If they've been given a list of 36 for next year then that would make the decision pretty easy (to keep players on) but they're thinking that the list sizes are still going to be reasonably high and they'll have to cut it down over the next few years.
"I know they said that they weren't trading (Jack) Gunston, (Luke) Breust and (Isaac Smith) but there's a lot of other guys in that mix like Tom Mitchell who is 27, Chad Wingard is 27 and Jaeger O'Meara who is 26, are the going to hold onto all of them or even (have a chat about their future to them)?
"James Frawley is 32, Ricky Henderson is 31 and Ben McEvoy isn't going anywhere at 31, there's a lot those guys there who if they continue to stay in the team, they're going to be taking the spot of all the young guys coming through.
"These guys that are 26 and upwards to 32 are going to be taking the majority of your list again – it's a question of where Hawthorn are at. Are they going to commit to a rebuild and ask those boys if they want to go somewhere else or are they going to stick with those guys and try and build around them.
"It's a big call and a big couple of weeks for them."