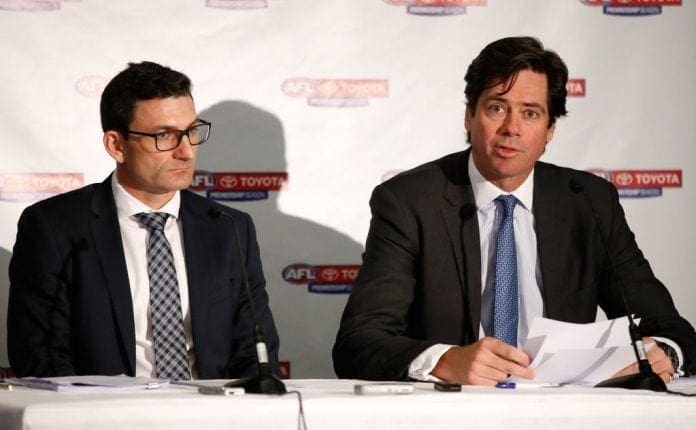 The protracted search to find a successor to departing AFL chief executive officer Gillon McLachlan is nearing a conclusion, according to reports, with six candidates said to be putting their hands up during the third round of interviews conducted by the league.
Kylie Rogers, Travis Auld, Brendon Gale, and Andrew Dillon are known candidates for the position, with the identities of the final two candidates undisclosed at this time.
According to 7News' Tom Browne, a third round of interviews, each spanning two hours, was conducted by the league beginning on Friday and continuing on Saturday.
The race to replace Gillon McLachlan is almost over. Chief Football Reporter @TomBrowne7 with the details. https://t.co/5zYfOfGqUb @7AFL #7NEWS pic.twitter.com/s1rpSWfMPV

— 7NEWS Melbourne (@7NewsMelbourne) March 17, 2023
Rogers, the AFL's commercial boss, participated in the first interview of the day, before Auld, the league's broadcasting guru, stepped up to the plate at around midday.
Gale, Richmond's highly-respected CEO, is set to undertake his interview on Saturday, as is apparent-favourite Dillon, whose current title at league headquarters is general counsel.
Browne claimed the remaining two candidates were a "mystery" to insider sources at this time and were not spotted in addition to Rogers and Auld on Friday.
McLachlan, who officially announced he was stepping away from the position in April 2022, has remained at his post to determine crucial league operations, none arguably more integral than finalising the circumstances surrounding Tasmania's AFL license.
With the arduous Tasmania situation seemingly nearing a conclusion, it would appear McLachlan's final order of business will be helping to identify his replacement.