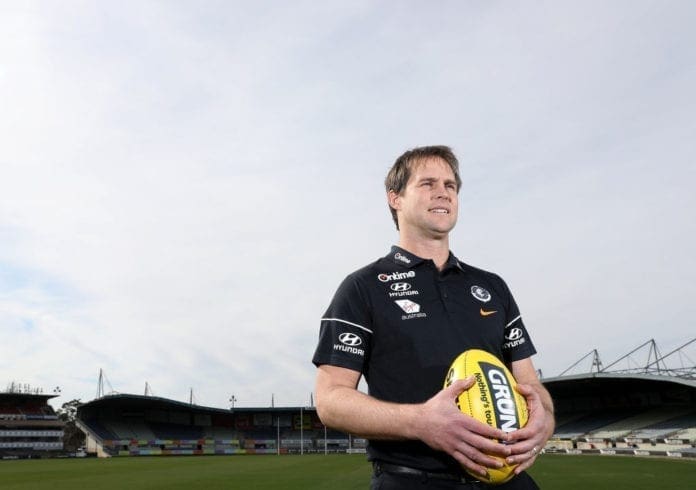 When David Teague took over as caretaker coach, the Blues were 1-10 and facing the red-hot Lions with a percentage of just 74.3.
The Blues were averaging just 67 points a game, but the tables have turned on the club's fortunes and this can be partially pinned down to the new look middle-class of the Carlton core.
Now the Blues are averaging 81 points per game and have a 87.2 percentage as well as adding six wins from 10 games. If the top eight had started in Round 11 the Blues would be in the mix for finals, as their only losses have come against the two premiership favourites and two games that went under a kick.
So whats the change sparking this?
Teague now has the job full time with a huge support of the fans, and a lot of this is down to the free flowing style of play that is allowing Harry McKay to run the forward line as well as a supporting cast around superstar Patrick Cripps. But the noticeable change has come with the middle order.
Levi Casboult is the best place to start. The man who many thought was on his last legs as a Blue has completely re-modelled his game and become an outstanding key defensive talent. The 29 year-old is in career best form, yet after over 100 games as a forward/ruck utility his best football is coming out of defence.
Known for his strong marking, Casboult is now a premier swingman in the competition, having added 11 goals and two 3 goal efforts whilst shutting down some of the competitions most dangerous forwards. He has added 1.7 marks per game more under Teague as well as an extra +3 disposals and almost 20 fantasy points more than what he was pre-round 11.
Jack Silvangi has just been re-signed and David Teague has been a large part of the reason why. Silvagni has been playing in tagging roles as well as drifting across the half-forward line where the promising son of a gun has flourished.
Carlton's No. 1 is finding the ball almost five disposals more as well as adding more scoring shots and tackles to his game. His confidence has skyrocketed and his ability to run with players such as Nat Fyfe has seen his once uncertain future look a lot more comfortable.
Teague's approach to aiding his midfield saw the return of Marc Murphy and Ed Curnow into the engine room, and the veterans of the Carlton team have showed their worth. Murphy, the former skipper, is now averaging almost 27 touches, over four inside 50's, over three clearances and a goal under Teague as his on-field leadership has been instrumental in the middle of the paddock, whilst being a helping hand for Cripps.
Lochie O'Brien and Will Setterfield have also seen vast improvements under the new boss who has shown confidence in the pair of outside ball winners. After being dropped twice under former coach Brendan Bolton, O'Brien and Setterfield have featured in every game for Teague, and their performances have shown.
O'Brien is finding the ball an added three disposals per game as well as scoring a goal in every game he has played since round 11. The 192cm Setterfield is marking the ball more than double what he was under Bolton and kicking the ball more efficiently.
All of the players mentioned make up a substantial part of the Carlton frame which you would classify as the middle class. Not quite the top of the tree (Cripps, Walsh, McKay etc...) but important moving forward and a large part of the success under Teague.
Players are playing with more energy, enthusiasm and in their preferred position which is helping Carlton win games. Who knows what the Blues can do in 2020 but the turn around this season has given fans plenty of hope.