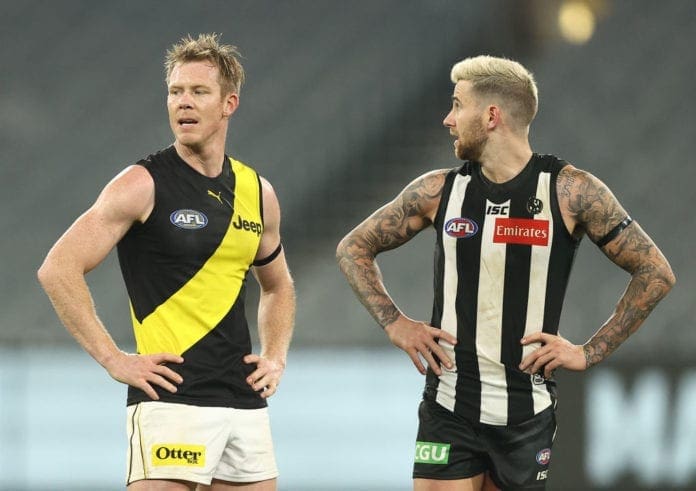 The AFL's newest two clubs, GWS and Gold Coast, will continue to be the league's most funded clubs in 2023, while a quartet of powerhouse clubs will again not receive additional funding.
All 18 AFL clubs are set to receive approximately $10.5-$11 million as part of the league's base distribution, with the Giants and Suns expected to receive more than double that value thanks to the league's variable funding model.
As revealed by The Age, the AFL will fund close to $25 million to GWS and Gold Coast for this year, seeing them pocket as much as $14.5 million in extra funding while bigger clubs in Collingwood, Richmond, West Coast and Hawthorn remain on base rates.
The Lions are said to be the third-highest funded club for this year, with the Queensland outfit having the largest debt in the competition.
North Melbourne are expected to pocket more than St Kilda to be the best-funded Victorian club this year, with the two clubs, along with Brisbane, expected to earn a total between $18-19 million.
At the other end of the 'value ladder', Essendon will pocket less than $1 million on top of the base rate to be the fifth least-funded club.
According to The Age, nine clubs are seen to be "financially robust", with the Magpies, Tigers, Hawks, Blues, Bombers and Cats leading the way in Victoria, with both Western Australian clubs and the Adelaide Crows also handed substantially less funding than the other half of the competition.
The base funding margin of $10.5-$11 million remains approximate amid ongoing negotiations between the AFL and its Players' Association over a new CBA. Clubs are expecting a salary increase of five per cent.
Approximate AFL Club Funding for 2023 (via The Age)