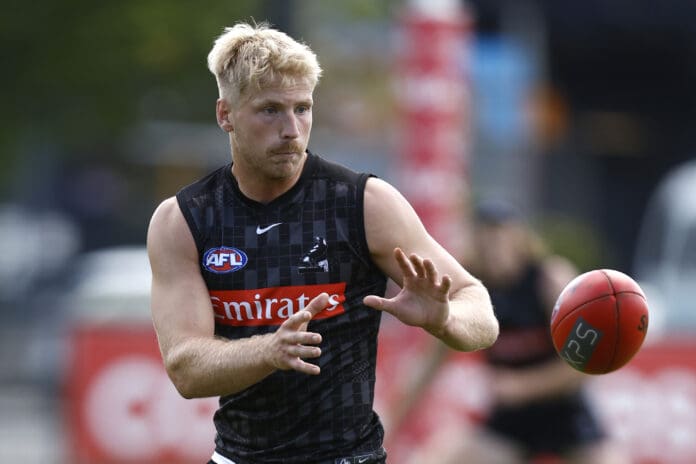 The impact of modern-day ruckmen has recently come into question, as Collingwood holds an outright spot on the AFL ladder without the majority of their rucking options.
Many teams are still relying on No.1 rucks - Adelaide has Reilly O'Brien, St Kilda Rowan Marshall, Melbourne now has the Gawn and Grundy duo and Essendon with Sam Draper.
However, when looking at the stats and overall impact this year, some teams are doing just fine without that first-string, particularly Collingwood.
When Mason Cox suffered a ruptured spleen and haematoma after Round 2, Collingwood still had their No.1 ruckman in Darcy Cameron fit and firing. Hours after Cox's injury had been announced, Cameron went down with an MCL injury against Richmond, with Collingwood confirming a 6-8 week stint on the sidelines.
The Pies then turned to off-season recruits Dan McStay and Billy Frampton to form a makeshift duo against Brisbane the following week, however struggled to combat the battle Brisbane's tall task provided.
As McStay also went down the following week against St Kilda with a finger tendon injury, it seemed like the Collingwood ruck crisis was just getting worse. However, value-for-money recruit Billy Frampton has proven that perhaps having an out-and-out ruck isn't as valuable as it once was.
Currently, Collingwood have scored the most points from centre clearances this year of any team, whereas St Kilda, Western Bulldogs and Fremantle - all teams with No.1 rucks - rank in the bottom four.
The Pies have come up against in-form rucks in Marshall, Draper and O'Brien in the last three weeks and they've won every game with Frampton as their ruck. Last week, Collingwood recorded 21 more clearances than Adelaide for the game, including five more centre clearances and now rank fifth in the AFL for average clearances.
Comparatively, Adelaide ranks 14th for average clearances - even with O'Brien, who's currently one of the best rucks in the AFL, ranking third for average hit-outs.
It was the same story the week before against Essendon, when Frampton recorded more hit-outs than both Draper and Andrew Phillips, whilst Collingwood recorded 11 centre clearances to Essendon's nine.
Essendon ranks equal 11th with Melbourne for clearances, a team who has two of the best modern-day ruckmen in Max Gawn and Brodie Grundy. However, some believe the Gawn-Grundy duo, touted in the pre-season to be a 'scary' combo, hasn't had the impact Melbourne would've hoped for.
When Gawn went down in Round 2, Melbourne would've been very happy with the Grundy pickup. He starred against West Coast, but it's important to note that West Coast currently sit 17th and are enduring an injury crisis, whilst that game was played without Nic Natanui.
Grundy's performance in Melbourne's loss against Essendon showed gaps in his game, particularly defensively, as Draper and Phillips combined for five goals.
"You go to your back-up ruckman (Grundy), who's a high-priced recruit. It's not about money, it's about what you have to deliver when you get those stripes on the shoulders," David King told Fox Footy post-game.
After rising to be the game's No.1 ruckman alongside Gawn back in 2018, Grundy's games during the 2022 AFL season ranked on par with his 2015 and 2016 results, averaging 17 disposals and 29.8 hit-outs per game.
Richmond previously proved that you can be successful without a conventional ruck, using 190cm Shaun Grigg in support of Toby Nankervis against Adelaide's Sam Jacobs in their 2017 drought-breaking premiership win.
Usually playing on the wing, Grigg used his footy smarts to limit the opposition ruckmen's hit-out impact. Grigg finished the 2017 Grand Final with 17 disposals, five clearances, nine contested possessions and a goal to top it off.
As Collingwood look set to regain Mason Cox from injury this weekend, and Darcy Cameron at the midway point of the season, it will be interesting to see how their game style changes.
For now though, they're faring pretty well.