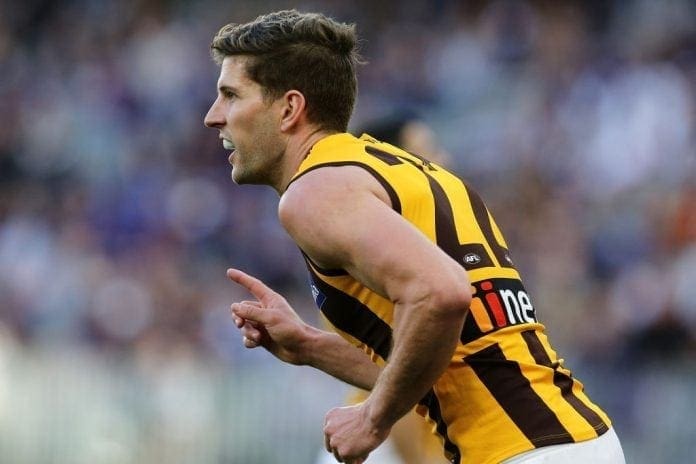 Hawthorn premiership hero Jordan Lewis has publicly floated the suggestion that coach Alastair Clarkson should allow veteran pair Luke Breust and Jack Gunston to find a new club during the trade period.
Speaking on SEN, Lewis said the Hawks are unlikely to contend for a premiership while the two premiership forwards are under contract and a trade could benefit both parties, with the rebuilding Hawks likely recieving valuable draft picks for the veteran forwards.
Gunston, who is turning 29 next month, has two years remaining on his contract, with the 30-year old Breust having one year remaining.
"There has to be a conversation in what those boys want," Lewis said on SEN.
"The conversation needs to be open with the club. Does the club think it will challenge in the next 2-3 years? From the outside looking in we don't think that will be possible.
"They need to give them the option – like we've seen (before) – to maybe explore other clubs if they feel the need to."
This is not the first time Breust has been linked to trade talks, with a move to Gold Coast floated in 2016 to help the Hawks secure Tom Mitchell and Jaegar O'Meara.
The move did not eventuate however, with Breust telling Clarkson at the time he wanted to finish his career as a one-club player.
To avoid similar fallout to the situation invoving Sam Mitchell and Lewis leaving Hawthorn in 2016, Lewis said Breust and Gunston should be given the choice to remain at the club for their rebuild.
"If they want to stay around and help rebuild this young list then that is totally fine as well," Lewis stated.
"But if they want to go to another club and potentially have more success, then I think they've earned that right."
"I think the hard decision is for the players from 28-32, if Hawthorn says they are not going to challenge over the next 3-4 years, do they – like we've seen before – given those players the option to move on?
"You sort of have to think about a Gunston or a Breust. Players who you would think have 3-4 years left in their careers. Giving them the ability to go elsewhere and have more success if they feel the need to. They are the important decisions they need to get right at the moment."