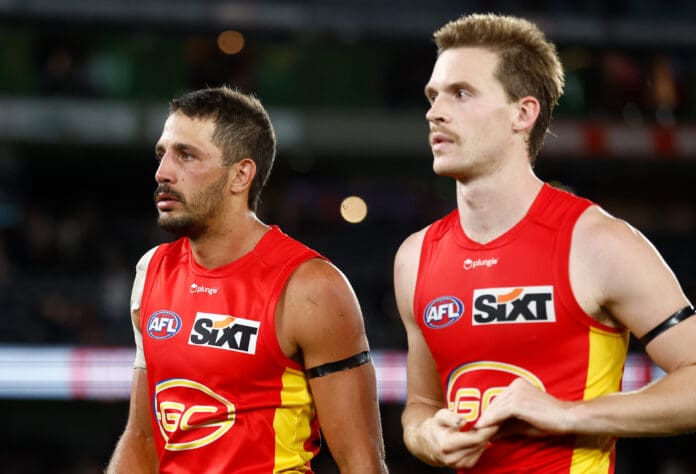 Gold Coast's Ben Long has been handed a three-game suspension by the VFL's Match Review Panel after being charged with rough conduct following an incident from a clash with Carlton's reserves over the weekend.
The VFL's MRP graded Long's actions as careless conduct, high impact and high contact, resulting in a three-game suspension that can be lowered to two matches with an early plea.
The fourth-quarter incident from Long on Blue Sam Philp came during Saturday's match between Gold Coast and Carlton at Heritage Bank Stadium ahead of the two clubs' AFL clash.
Should Long lodge an early plea, the Suns flanker will be unavailable for the club's next two finals matches, with the Queensland club having booked a second chance opportunity after claiming the VFL minor premiership.
The Suns are scheduled to face Brisbane in the second week of the competition's new-look finals system, with a win taking them to a preliminary final while a loss would mean they will take the long route and be required to play in a semi-final.
If Gold Coast can continue their impressive run of form through the coming weeks of the post-season, then Long might be next available for the 2023 VFL Grand Final.
The suspension will also make Long unavailable for the club's final AFL game of the 2023 season against North Melbourne.
The VFL is yet to confirm whether the Suns and Long will challenge or accept the charge.
Long's charge comes as young Richmond midfielder Tyler Sonsie faces a base penalty of a five-match suspension after being referred directly to the VFL Tribunal by the MRP.
A high strike on North Melbourne's Tom Cappellari will see Sonsie miss his side's finals run and likely the start of the 2024 season at both VFL and AFL level.
Elsewhere, Sonsie's teammate Rhyan Mansell can accept a reprimand for making careless contact with an umpire in Richmond VFL's win over the Kangaroos on Sunday.
Box Hill and Hawthorn-listed ruckman Lloyd Meek has been offered a one-game suspension for striking Frankston's Trent Mynott, with Meek able to reduce the sanction to a $600 fine and a reprimand with an early plea.
St Kilda's Oscar Adams can reduce a $300 fine to a reprimand after he was charged with use of abusive, insulting or obscene language towards an umpire while representing Sandringham on Sunday against Williamstown.
Lastly, Essendon's Carlos Egan can reduce a one-game suspension to a $250 fine and a reprimand with an early plea after being charged with striking Coburg's Samuel Mason.